Earlier this spring, Venetian Harbor was the 9/2 futures book favorite to win the Kentucky Oaks. But in an example of how a September Oaks/Derby can negatively affect a horse, the 3-year-old filly will sit out next week's Oaks.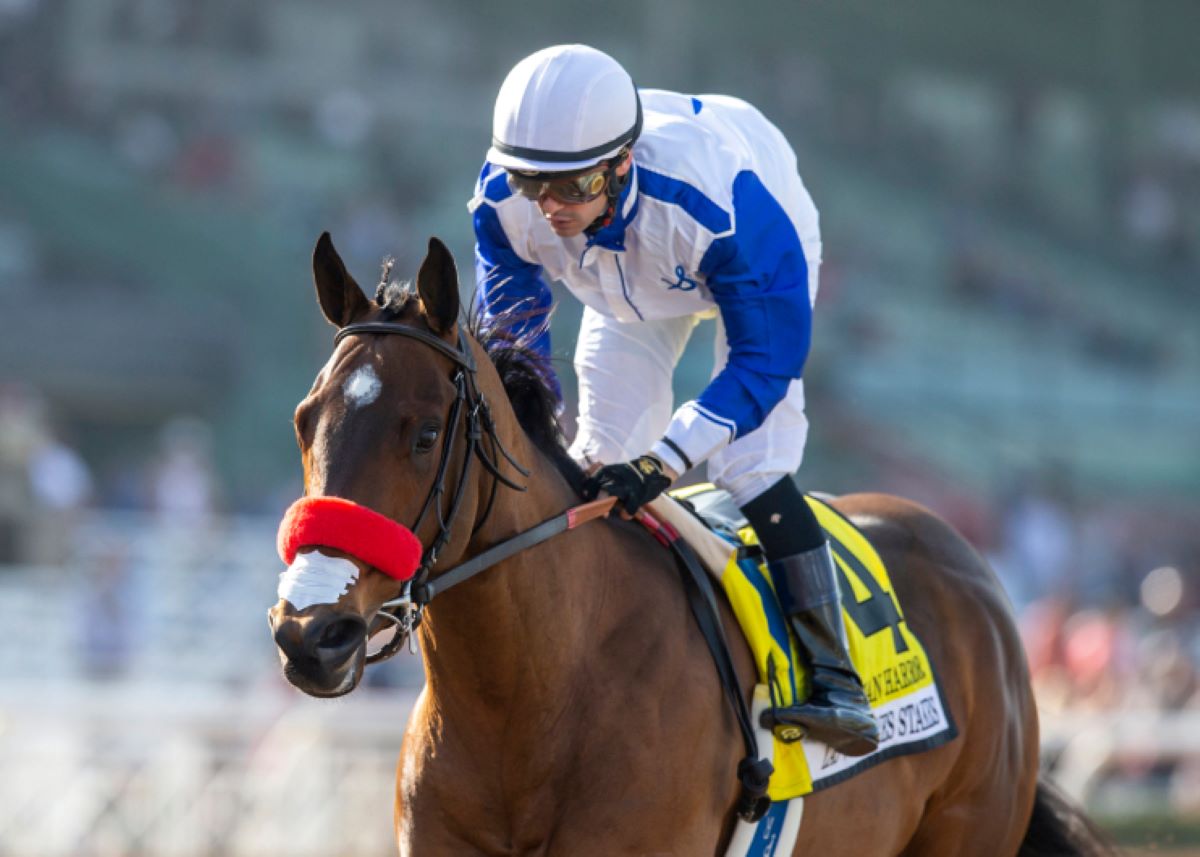 Instead, Venetian Harbor's trainer, Richard Baltas, is setting his sights on the Breeders' Cup Filly and Mare Sprint. He called this audible because of what transpired over the summer, which was Venetian Harbor completing the runner-up trifecta to the three current Oaks favorites, Gamine (1/2 in Oaks futures), Swiss Skydiver (7/2), and Speech (12/1).
Venetian Harbor lost her last three races to the aforementioned trio. Swiss Skydiver beat her at May's Fantasy Stakes at Oaklawn Park. Speech got her at the Ashland Stakes at Keeneland in July. Gamine completed the trifecta, beating her at the Test Stakes at Saratoga earlier this month.
Those three losses came by a combined 12 ½ lengths. Not only does Baltas want no part of those three, but he succinctly told Horse Racing Nation why.
They're That Good
"They probably could beat colts," he said.
In Swiss Skydiver's case, she has. The same weekend Venetian Harbor lost the Ashland to Speech, Swiss Skydiver beat all but Art Collector in the Blue Grass Stakes. The same Art Collector who likely leaves the Kentucky Derby starting gate as the second favorite in next week's Kentucky Derby.
Now, Venetian Harbor sits at 20/1 in Oaks overseas futures. She also sits as an example of the different ways horses mature over time, especially 3-year-olds. Venetian Harbor broke her maiden by 10 3/4 lengths as a 2-year-old last December at Santa Anita. In February, she won the Grade 2 Las Virgenes Stakes at Santa Anita by 9 1/4 lengths.
"Everything changed. We were looking at the Oaks before it was suspended," Baltas told Horse Racing Nation.
Venetian Harbor Victimized by COVID-19
At that time, Swiss Skydiver and Speech won only maiden races, and Gamine was a month away from breaking her maiden. When Santa Anita closed in late March due to the coronavirus, Baltas sent Venetian Harbor to Oaklawn, where she was a 9/10 favorite in the Fantasy.
Instead, 16/1 Swiss Skydiver prevailed by two lengths. In the Ashland, Venetian Harbor went off at 3/5, only to watch 4/1 Speech beat her by three lengths. Baltas decided to go to Saratoga, cut Venetian Harbor back to seven furlongs, and turn her loose in the Test Stakes.
Enter Gamine, off her 18 ¾-length, 110 Beyer Speed Figure romp in June's Acorn Stakes. Venetian Harbor hung with her over the first four furlongs before Gamine had seen enough. She blew Venetian Harbor off the track at the turn, winning by seven.
Two Wins and Four Seconds Hardly Equals Failure
Here's the rub. It's not like Venetian Harbor is over her hooves. She's a graded-stakes winning filly with good to very good Equibase Speed Figures – triple-digits in four of her six races. And she's never finished worse than second in those six races — two wins and four seconds.
When it comes to the effects of COVID-19 on horse racing this year, Venetian Harbor is the flip side of the coin from Gamine and Swiss Skydiver, who thrived with the longer Oaks season. She provides an example of what-could-have-been in a normal year.
"It's just been a tough campaign," Baltas said. "Sometimes when you have a really good horse, you've just got to take your time with them."