Steph Curry of the Golden State Warriors can add TV producer to his resume. Curry's new golf reality show, "Holey Moley", debuted last week on ABC and it combines elements of extreme Japanese game shows and psychedelic mini-golf with contestants running through obstacles while putting.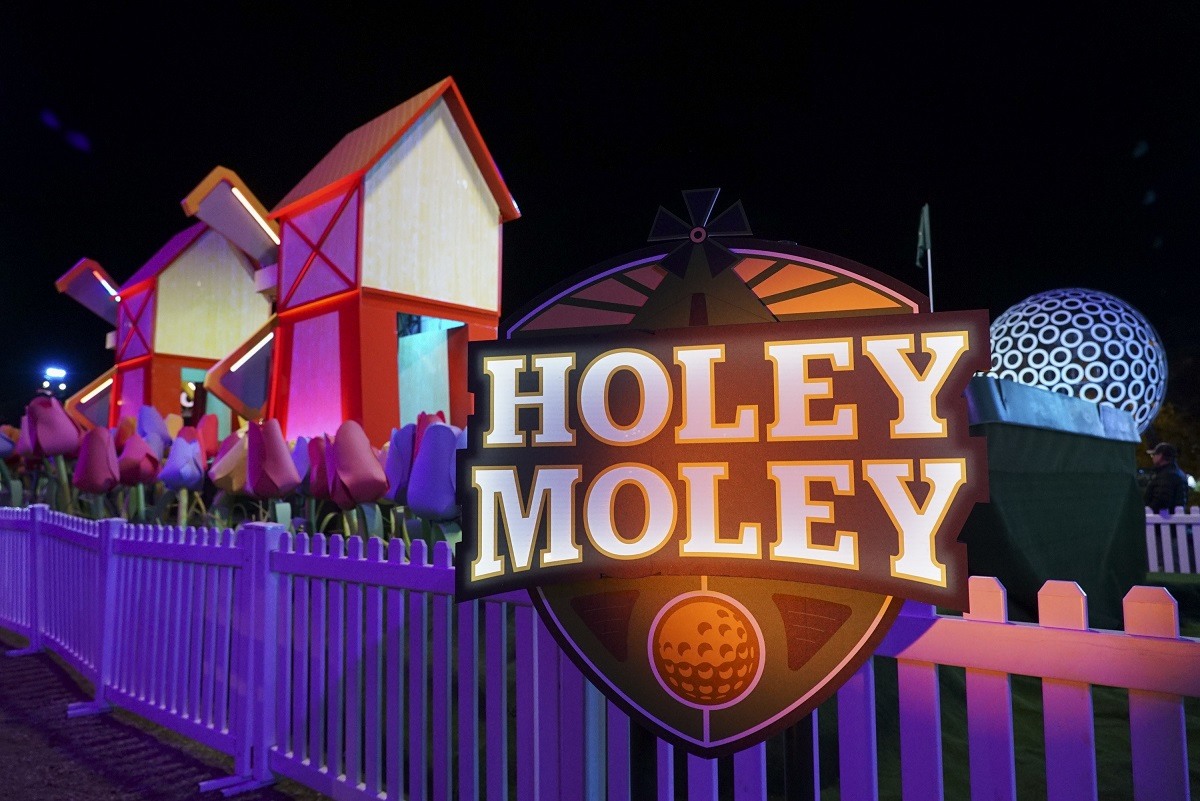 Curry is one of the executive producers on "Holey Moley", which is produced by Eureka Productions and Unanimous Media.
Monday Night Football host Joe Tessitore and actor Rob Riggle are the announcers with Jeannie Mai as the sideline reporter.
Steph Curry, who is an avid golfer, also makes a cameo in every episode. He claims to have designed the course that features elements of video game golf and extreme obstacle courses.
"Holey Moley" is a wacky reality show competition that is not for traditional golf fans. If you prefer the hushed tones of The Masters, then this extreme reality show will be too loud for your refined tastes.
However, if you're up for something wacky and goofy, or if you're sitting around ripping bong hits while quoting "Caddyshack", then Steph Curry's new mini-golf show will be up your alley.
What Is Holey Moley?
"Holey Moley" has been described as extreme technicolor mini-golf. Golf.com was not so kind and called it "a technicolor assault on our intellect."
The concepts sounds cool to play after you've been tripping on magic mushrooms at a Phish concert and you're looking for something to do at 3 o'clock in the morning.
The course features holes peppered with vibrantly colored gigantic obstacles. It feels like you're playing on a miniature course with Alice in Wonderland.
Each episode begins with 12 contestants that square off in a heads-up battle. There's a subtle element to "Let's Make a Deal" with some contestants dressing up in goofy outfits. If they survive the first hole, the next six move onto the second hole. If they survive that match up, the final three advance to the final championship round.
The winner of the third and final round receives $25,000 and a coveted plaid green jacket. They also win a gold left-handed putter.
There is an element of "Ninja Warrior" to the show. On the first hole, contestants had to run through an oversized windmill. On the second hole, two golfers had to climb atop a slippery hill similar to a popular Japanese game show.
In the first episode, Steph Curry appeared as part of the hole. Contestants got to choose whether Steph Curry or a special robot would complete a pitch shot onto a basketball court-like green.
New episodes of "Holey Moley" appears on ABC on Thursdays. Streamable options are available on ABC apps and Hulu.