Kenny McPeek has what you call a Kentucky Derby embarrassment of riches coming courtesy of Dash Attack, who won Saturday's Listed Smarty Jones Stakes at Oaklawn Park. And the dynamic trainer is still trying to put the talented pieces together.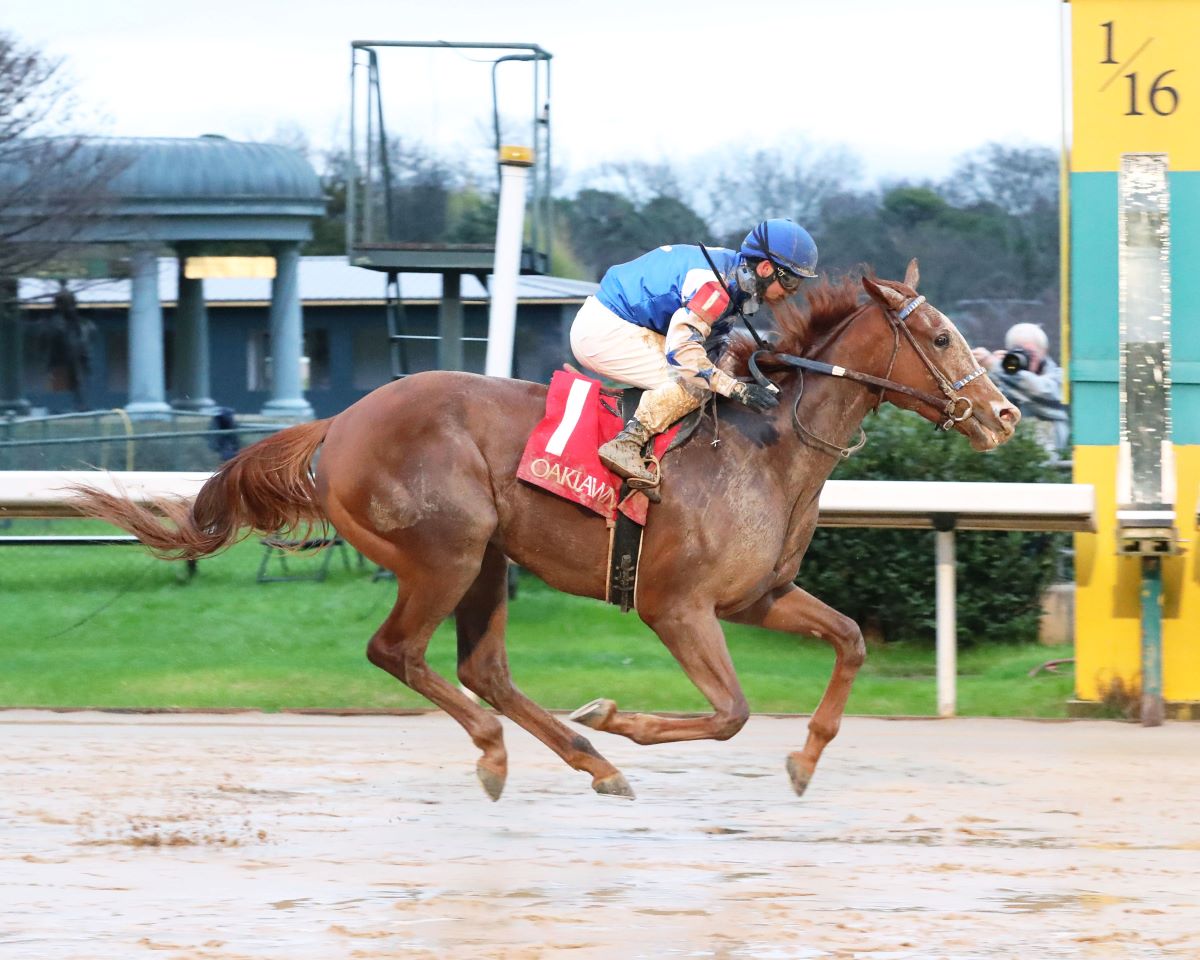 That's because, on Saturday, McPeek added another piece to an increasingly complex Derby puzzle. This, after Dash Attack remained unbeaten in two races with a two-length victory over a deep Smarty Jones field.
The victory in a record 13-horse Smarty Jones field put Dash Attack on the Derby points board, with 10. He joins stablemates Smile Happy and Rattle N Roll in the second spot on the points ladder. In points, the McPeek trio trails only Pappacap's 12 upon entering the new year. Rattle N Roll is second, Smile Happy fifth, and Dash Attack eighth, based on stakes earnings, which serves as the tiebreaker.
Smile Happy staked his spot with a victory in the Grade 2 Kentucky Jockey Club Stakes at Churchill Downs. Rattle N Roll staked his with his score in the Oct. 9 Grade 1 Breeders' Futurity at Keeneland. Not to be forgotten is Tiz the Bomb, who broke his maiden by 14 ¼ lengths at Ellis Park last summer before winning turf stakes races at Kentucky Downs (the Black-Type Kentucky Juvenile Mile) and Keeneland (the Grade 2 Bourbon Stakes).
Dash Attack puts McPeek in unfamiliar territory
And just like that, Dash Attack presented McPeek a pleasant – albeit it, unfamiliar – problem.
"He definitely jumped into the conversation," McPeek told Oaklawn's Robert Yates about Dash Attack. "Most years, you would want to have all these horses separated in different years. I've always watched guys like – whether it was Wayne Lukas years back – and there's others, obviously, Bob Baffert, and others. You look up and all of a sudden, you've got that group of horses and they're all coming together. Look, a lot can happen. We're just going to try and keep it steady and not overthink it, and let the horses take us where they're going to take us."
Dash Attack's victory at 7.70/1 paid $17.40. It gave the Munnings colt his first score against previous winners and followed his maiden-breaking 1 ¼-length victory at Oaklawn on Dec. 5, which came at 10.60/1.
It also came late in Dash Attack's 2-year-old season because of "little issues early," as McPeek phrased it. But McPeek has made up for lost time by putting Dash Attack through seven workouts since Nov. 3. The last two of those – five-furlong breezes — came at Oaklawn on Dec. 21 and 27.
Patience is paying off
"He just was immature. We actually sent him to the farm a couple of times because I felt like he wasn't ready," McPeek said. "He's just a little bit later bloomer, but he's always been a big, strong, gorgeous horse to look at and be around. I think our patience has paid well. If we had pressed him earlier in the year, he certainly wouldn't be doing what he's doing now."
As for the rest of McPeek's 3-year-old armada, Smile Happy turned in a Saturday morning 38.46-second three-furlong work. Tiz the Bomb went three furlongs in 37.84. Both came at Gulfstream Park, where McPeek has a string. The trainer told Oaklawn last month that the Jan. 29 Grade 3 Southwest Stakes at Oaklawn is a consideration for Smile Happy.
"Nothing is set in stone with this, with any of them, as you know," McPeek said. "Right now, Smile Happy is still just getting ready … The next couple of weeks, we'll step him up. We'll figure it out. If they go together, they go together. If they don't, they don't.
McPeek, not Baffert, picky about which preps to run
That tactic would separate him from Baffert's MO when it comes to his Derby prospects. The Hall of Fame trainer, who is suspended from Churchill Downs, is known for moving his 3-year-olds around the country to keep them apart as long as he can.
Baffert did, however, run two of them, Newgrange and Rockefeller, together in the Grade 3 Sham at Santa Anita on Saturday. The pair ran 1-2 in the Sham, with Newgrange beating his stablemate by nearly three lengths. However, because Baffert colts are ineligible for Derby points, the pair remained off the points board.
As for McPeek, he's enjoying his newfound problem. Between Oaklawn and Gulfstream, he has a plethora of options for all of his horses; both tracks have three more Derby preps apiece.
"I'm in a pretty enviable position right now," McPeek said.