Unlike many of its early Kentucky Derby prep predecessors, Saturday's Grade 3 Sham Stakes at Santa Anita Park brings the recent Derby chops with it.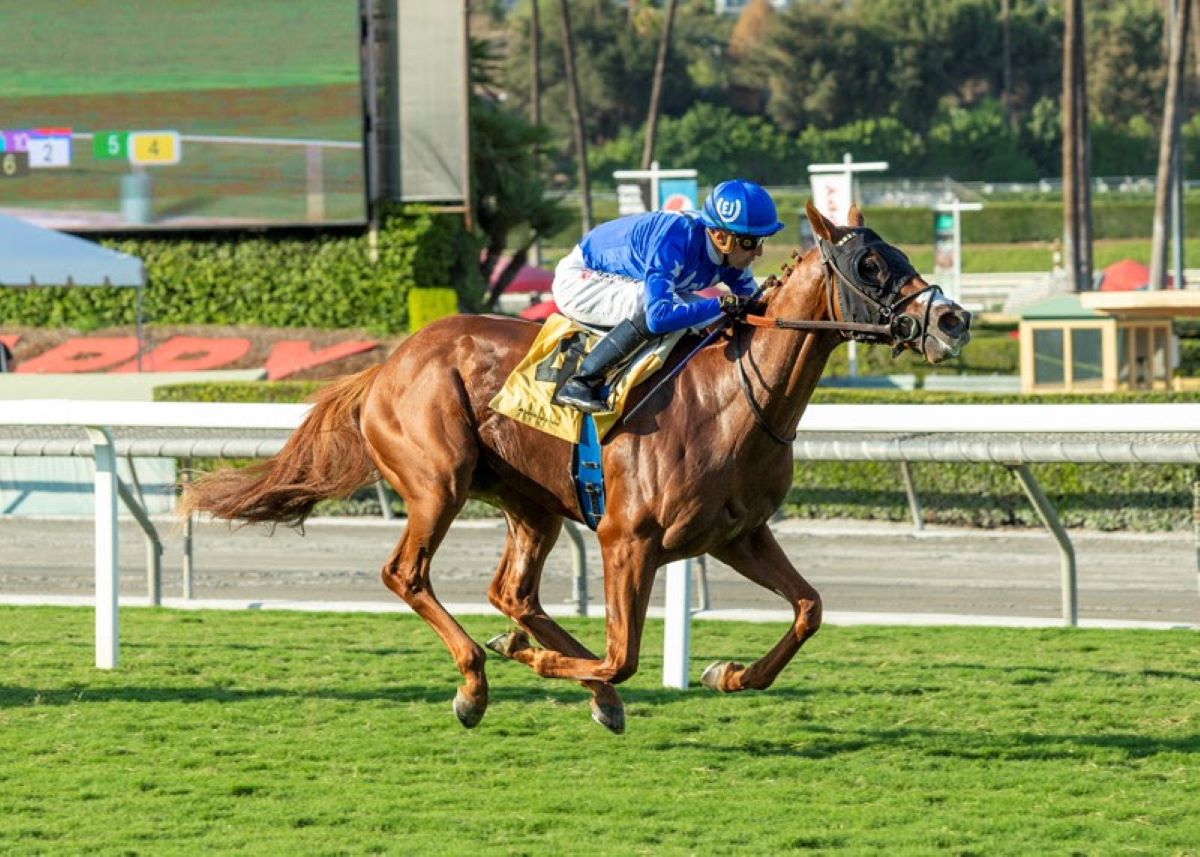 How recent? How about the last two Derby champions? The one-mile Sham, which offers 10-4-2-1 Derby qualifying points to the top four finishers, gave you 2020 Derby winner Authentic and 2021's Medina Spirit. And the late Protonico colt finished second to Life Is Good in  last year's Sham.
Life Is Good missed the Derby due to an ankle injury. He merely contented himself winning the Breeders' Cup Dirt Mile with perhaps the most impressive performance in the Breeders' Cup.
This year's Sham offers only five starters. In theory, that means four would come out with Derby points. But two of your contestants: 2/1 Newgrange and 8/5 morning-line favorite Rockefeller, come from Bob Baffert's barn. That means they are ineligible for Derby points due to Baffert's suspension from Churchill Downs.
Two turf expats make their dirt debuts
That produces only some of the intrigue in this year's Sham, set for 4 p.m. PT. The five-horse field contains two colts making their dirt debut: Mackinnon (3/1) and Degree of Risk (12/1), the longest shot in the field. And it contains one of the more interesting colts on the Derby trail: Oviatt Class (7/2).
Owned by Colorado Avalanche defenseman Erik Johnson and named after his teammate, Nathan MacKinnon, Mackinnon (lower-case k) owns three victories in six career starts (3-1-1). He captured the Zuma Beach Stakes at Santa Anita in October and the Del Mar Juvenile Turf Stakes in September. That set up the son of American Pharoah for a solid third in the Breeders' Cup Juvenile Turf. That came with a sterling 106 Equibase Speed Figure that leads this field.
Trainer Doug O'Neill immediately put Mackinnon to work on dirt. Since Nov. 27, Mackinnon worked out five times on dirt. Two of those (Dec. 6 and Dec. 12) were five-furlong bullets. His last two (Dec. 19 and 26) were fourth out of 55 and 61 respectively over five furlongs. He offers value, especially with two Baffert colts as money-eating competition.
Degree of Risk runs to his name in this field
The other turf expat, Degree of Risk, carries just that. He's 1-2-2 in six starts: all on synthetic or grass. This includes a maiden victory on synthetic at Arlington Park in July and a runner-up in the Gold Rush on the Golden Gate Fields Tapeta. He does have a third in a Grade 1: September's Summer Stakes at Woodbine.
But the Cairo Prince colt also has uninspiring dirt workouts. He hasn't cracked one minute over five furlongs in his two works at that distance.
That segues into Baffert's two entries, the two favorites. The more familiar of the pair is Rockefeller, who is 2-0-0 in three starts. The lone board miss came via a fourth in the Grade 1 American Pharoah Stakes Oct. 1 at Santa Anita. Rockefeller's stablemate, Corniche, won that race as a springboard to capturing the Breeders' Cup Juvenile a month later.
Could Rockefeller cash in at the Sham?
Rockefeller parlayed that race into a victory in a weak Grade 3 Nashua Stakes at Aqueduct. He passes for what early speed exists here. His Equibases are comparable to the rest of this field, which makes his Baffert-based lack of value problematic.
A better Baffert choice is Newgrange, both from a value standpoint and a potential standpoint. You have to go on potential, because Newgrange owns only one start. That one, however, was a Del Mar maiden-breaking debut Nov. 28 at six-furlongs. The fact Baffert chose to run him here is telling, as is John Velazquez in the irons. Baffert doesn't rush horses into Derby preps.
Then, there's the closer: Oviatt Class (7/2). He's been a wise-guy choice in every race. And except for his maiden-breaking victory on third ask in late August, he's disappointed his breakout-hoping backers. Oviatt Class finished third in the American Pharoah and fifth in the Breeders' Cup Juvenile. Perhaps due to his closer status, Oviatt Class displays a tendency to contend without actually being a major factor.
Grade 3 Sham Stakes/Santa Anita Park
Morning Line (Jockey/Trainer)
Mackinnon, 3/1 (Juan Hernandez/Doug O'Neill)
Oviatt Class, 7/2 (Kent Desormeaux/Keith Desormeaux)
Newgrange, 2/1 (John Velazquez/Bob Baffert)
Rockefeller, 8/5 (Flavien Prat/Bob Baffert)
Degree of Risk, 12/1 (Umberto Rispoli/Eoin Harty)
Witness his closing rally in the Breeders' Cup Juvenile. In case you didn't, trainer Keith Desormeaux will recap it for you.
"We were so excited and pumped up expecting a huge race based on the way he'd been training," Desormeaux told Santa Anita's Ed Golden. "He was 20/1 on the morning line and ended up 9/1, so he was a hot horse, an insider's horse, and I think the gamblers were right on. But he didn't produce and I don't have an answer. The horse is doing great and I think he's go ta huge year ahead of him, so we've taken our time, let him freshen and the Sham seems like a good spot to get it rolling."