Echo Zulu was the 2-year-old everyone couldn't wait to see run at 3. Now, the four-month wait to see the Champion 2-Year-Old Filly will end on Saturday when Echo Zulu leads a six-filly contingent into the Grade 2 Fair Grounds Oaks.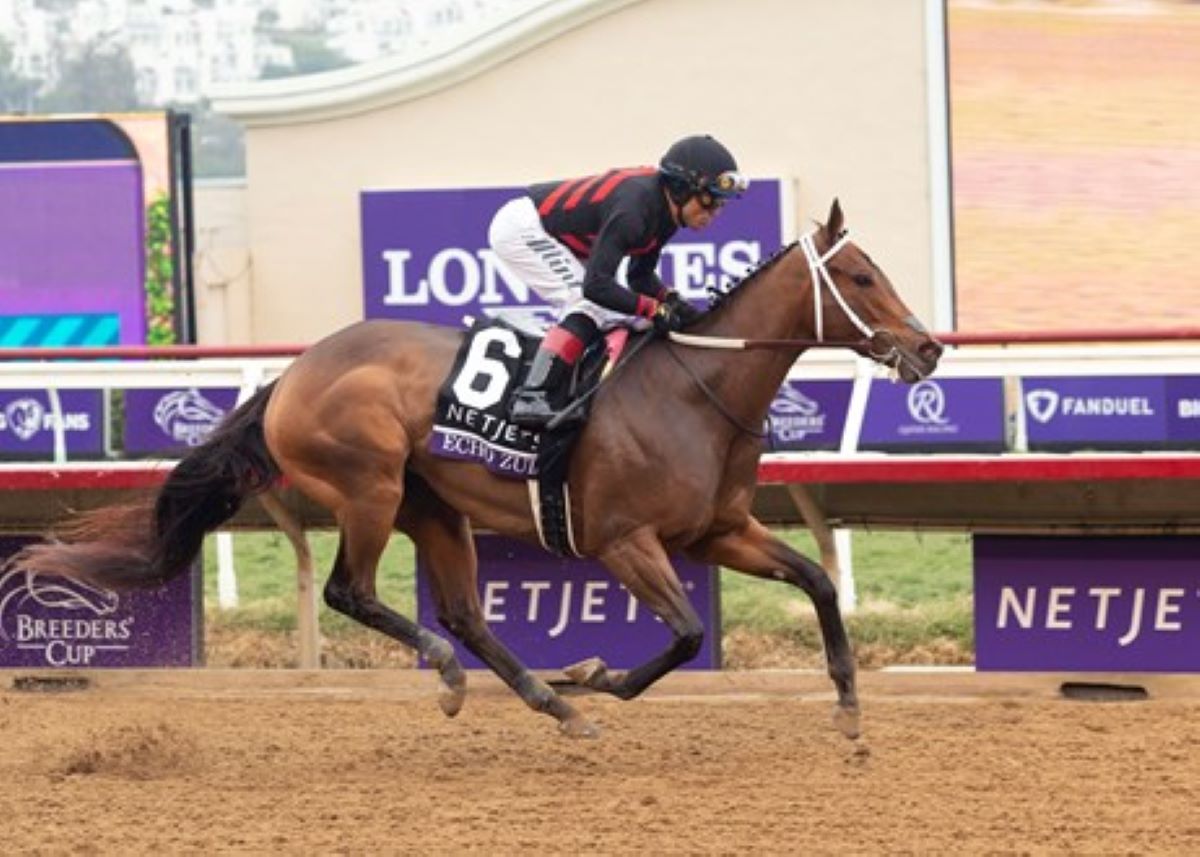 From a betting standpoint, horseplayers are likely to either look elsewhere or find ways to go vertical here. The unbeaten Gun Runner filly opened at 3/5 on the morning line in her first race since blowing away the Breeders' Cup Juvenile Fillies field at Del Mar on Nov. 5.
It's not like Echo Zulu has been a value magnet anyway. That 5 1/4-length Breeders' Cup blitzing of the field came at 4/5. A month earlier, Echo Zulu destroyed the Grade 1 Frizette field at Belmont Park by 7 1/4 lengths at 3/10. And in September, she laid waste to her Grade 1 Spinaway rivals at Saratoga by four lengths at 3/5.
At least her maiden-breaking debut at Saratoga last summer came with remarkable value you won't see again: 4/1. Echo Zulu won that by 5 1/2 lengths. Put it all together and Echo Zulu won her four races by a combined 22 lengths.
Never worse than second in four races
Just as impressively is how she's won. Echo Zulu has never been worse than second at any call. She's led at 16 of the 18 calls in those four races.
"We are excited to get started with her," trainer Steve Asmussen told Fair Grounds. "She is doing extremely well. She has put in some impressive moves over the racetrack and she just trains beautifully, like she always has. She drew the rail, so we have to get away from there cleanly. Joel (Rosario) will have a good ways to the first turn to get her in good position. She has handled everything extremely well that we have thrown at her up to this point."
The 1 1/16-mile Fair Grounds Oaks is one of the front-row Kentucky Oaks preps, offering 100-40-20-10 qualifying points to the May 6 race for 3-year-old fillies. Even though Echo Zulu hasn't run since November, she sits sixth on the Kentucky Oaks ladder with 30 points, courtesy of her Spinaway and Frizette wins.
The Oaks is limited to 14 fillies.
Asmussen planting proper Oaks seeds
"We are giving the Fair Grounds Oaks its fair due," Asmussen said. "I don't want to talk about the next one until she runs in the Oaks here, but certainly, we have high hopes this year for her."
Asmussen owns three of these trophies on his mantle, with Lady Tak (2003), Summerly (2005), and Untapable (2014). The latter two were owned by Echo Zulu's co-owner, Winchell Thoroughbreds.
Brad Cox owns the last two with Bonny South (2020) and Travel Column (2021). He counters with Turnerloose (6/1), who comes in after springing a 17/1 upset in the Grade 2 Rachel Alexandra last month. The Eclipse Award-winning trainer holds no illusions about what kind of front-running speed Echo Zulu brings.
Better seeing her now than later
"It's going to be a tough test, but we expect her to run well," Cox said. "She's already earned enough points to get into the Kentucky Oaks. I guess it's better to run against her (Echo Zulu) now than if she had another month of training under her belt. We will take our shot. it's a short field and we should be in a good position. Hopefully, we are more fit, and the one race we had this year will carry us a little and she can get there."
Bret Calhoun, who brings in 5/1 Hidden Connection — one of Echo Zulu's Breeders' Cup Juvenile Fillies victims — took an equally sanguine approach.
"If you're going to face the champ, this is the time to do it," Calhoun said. "She's a great filly, but she is at a little bit of a disadvantage as far as recency goes."