Unlike her 2-year-old male counterparts, who were slugging it out on both coasts on Saturday, Echo Zulu left no doubt as ti who the best juvenile filly in the country is right now.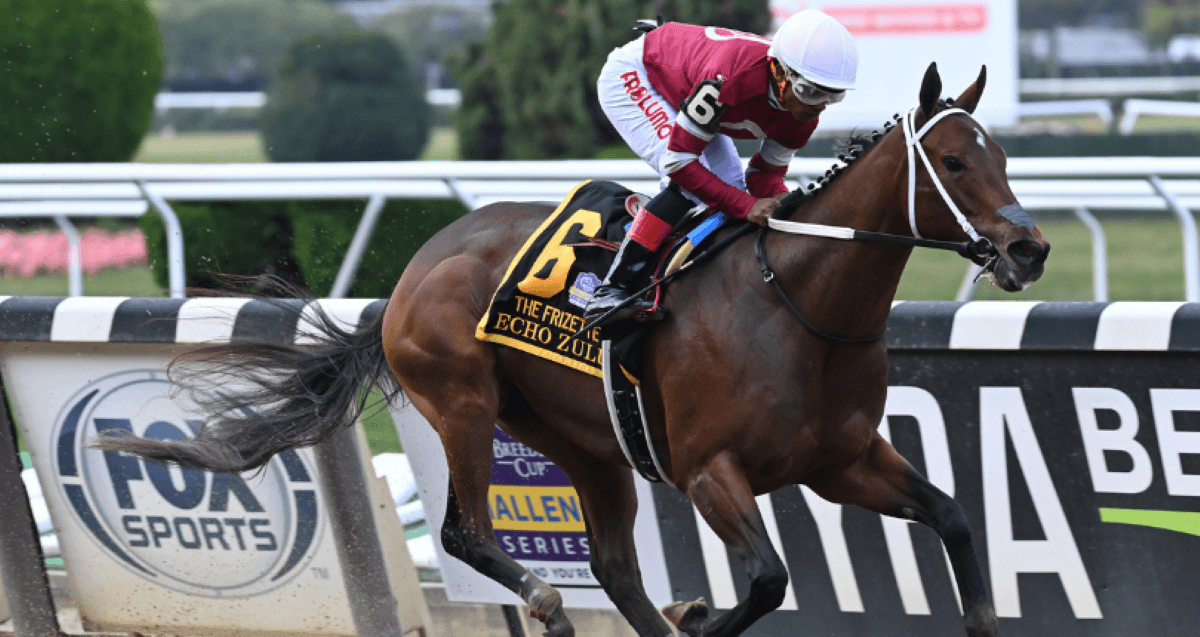 This statement came in Sunday's Grade 1 Frizette Stakes at Belmont Park where she dismissed her rivals by 7 ¼ lengths over the one-turn mile. That victory, Echo Zulu's third in as many races, brought trainer Steve Asmussen his fourth Frizette title.
"It's amazing. She's a special filly and she's by Gun Runner," Asmussen told the New York Racing Association. "How much better can it get? She's better than good."
How much better the daughter of 2017 Horse of the Year Gun Runner can get is an open-ended question. It's also a question the rest of the 2-year-old filly class may try to answer next at the Dec. 5 Breeders' Cup Juvenile Fillies at Del Mar. That's where Echo Zulu punched her ticket to run with her Saturday romp.
Echo Zulu teased her rivals
This latest victory came after Echo Zulu rolled out to a quick 22.38-second quarter mile. When Joel Rosario pulled chief rival Gerrymander alongside, Ricardo Santana Jr. aboard Echo Zulu, took a look. Then, he turned Echo Zulu loose at the quarter-pole.
And that was that. At the three-sixteenths pole, Santana took another look and saw nobody around him. He eased Echo Zulu up over the final sixteenth, bringing her home with a 90 Beyer Speed Figure.
"How she did it (shows) she has some ability and she proved it today," Santana said after the race. "She broke good and was waiting for the company. When the company got to her, she took off again. She's really special … It felt like I was walking, how she was doing it. She was really impressive for a 2-year-old. I had a lot of horse. I never needed to ask her, that's how much horse I had."
Taking the Spinaway-Frizette double is rarefied air
Echo Zulu hasn't needed much asking in any of her three races. She broke her maiden in mid-July at Saratoga by 5 ½ lengths over five furlongs. She followed that with a four-length win in the Sept. 5 Grade 1 Spinaway on Saratoga's closing weekend. By backing that up with her 7 ¼-length Frizette score, Echo Zulu is 3-0 by a combined 16 ¾ lengths.
She's also the first horse since Adieu in 2005 to pull off the Spinaway-Frizette double. That tells you how difficult it is winning the two premier New York juvenile filly Grade 1s.
"This filly obviously has a tremendous amount of ability, and I think the big jump is to get to this level," Asmussen said. "The Spinaway and the Frizette – that sort of foundation and doing it multiple times gives you a tremendous amount of confidence. My worry was the Spinaway, off one 5 ½-furlong race with the lack of seasoning. The Spinaway and Frizette have eased all those tensions. Now, it's just up to how fast everybody is."
Connections getting rich, bettors, not so much
A $300,000 purchase at the 2020 Keeneland September Yearling Sale, Echo Zulu has already banked $440,000 in her three wins, with a healthy windfall awaiting her and her connections in the $1 million Breeders' Cup Juvenile Fillies.
That windfall doesn't extend to bettors. Echo Zulu paid $2.70 as the Frizette's 1/5 favorite. She paid $3.30 as the 3/5 favorite in the Spinaway. Much like Echo Zulu on the track, the days of her paying $10.20 – like she did in her maiden victory — are long gone.