Russell Westbrook set a new NBA record with the 182nd triple-double of his career, passing Oscar Robertson on the all-time career list, which he set with 181 triple-doubles back in 1974.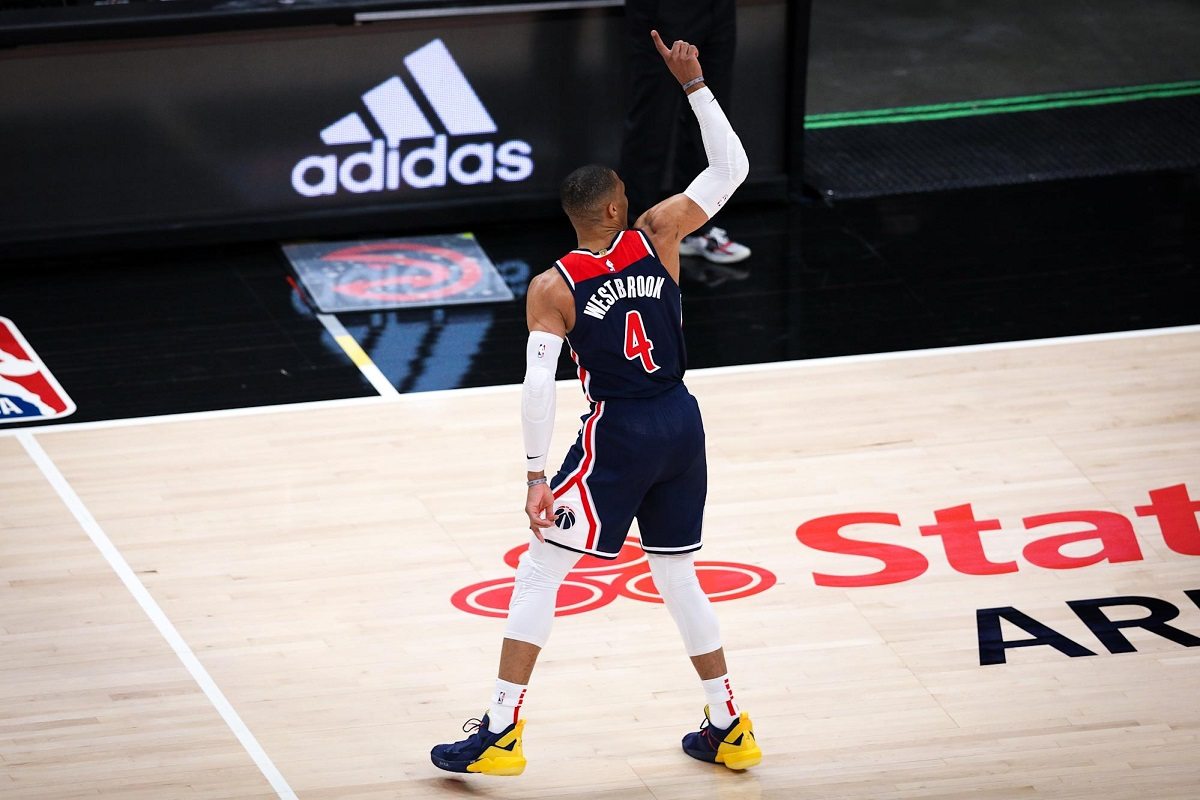 Westbrook scored 28 points, dished 21 assists, and pulled down 13 rebounds for the Washington Wizards in a 124-123 loss against the Atlanta Hawks.
Westbrook is on pace to average a triple-double this season with 22 points, 11.6 rebounds, and 11.5 assists per game. This marks the fourth time he averaged a triple-double over an entire season.
---
NBA All-Time Triple-Double Record
| | | |
| --- | --- | --- |
| 1 | Russell Westbrook | 182 |
| 2 | Oscar Robertson | 181 |
| 3 | Magic Johnson | 138 |
| 4 | Jason Kidd | 107 |
| 5 | LeBron James | 99 |
| 6 | Wilt Chamberlain | 78 |
| 7 | Larry Bird | 59 |
| 8 | James Harden | 58 |
| 9 | Nikola Jokic | 56 |
| 10 | Fat Lever | 43 |
---
Only four players are members of the Triple-Double Century Club, including Westbrook, Robertson, Magic Johnson, and Jason Kidd. LeBron James, currently #5 on the all-time list, is one triple-double short of the Century Club.
The last time someone broke an NBA all-time record occurred 10 years ago when Ray Allen set the record for all-time 3-pointers.
1️⃣8️⃣2️⃣ TRIPLE-DOUBLES 😤👏

Russell Westbrook is officially the NBA's all-time triple-double leader! #WES182OOK | @russwest44 pic.twitter.com/exvo3JNhNY

— Washington Wizards (@WashWizards) May 11, 2021
---
RWB Triple-Doubles: By the Numbers
Here are some random Westbrook stats:
His first triple-double occurred in March 2009 during his rookie season with the OKC Thunder
He's posted 36 triple-doubles this season
Westbrook posted a triple-double in four consecutive games
Last week, Westbrook posted only the third triple-double in NBA history with 20-plus rebounds and 20-plus assists
Westbrook averaged a triple-double three consecutive seasons with the Oklahoma City Thunder between 2016 and 2019
His teams (Thunder, Rockets, Wizards) went 136-46 in games where Westbrook scored a triple-double
Westbrook broke the triple-double record in 949 career games — a much faster rate than Robertson, who played 1,040 NBA games
---
Big O's 47-Year Record
It's been 47 years since Robertson, also known as The Big O, played in the NBA. Stat nerds didn't refer to triple-doubles when Robertson played. It's a modern basketball term created by geeks who crunched the numbers and studied old box scores to determine Robertson set the NBA triple-double record with 181.
"If I knew it would be such a big thing, I would've tried to do it more often," joked Robertson.
Robertson played 10 seasons with the Cincinnati Royals and finished his career after four seasons with the Milwaukee Bucks in the early 1970s. He retired in 1974.
Robertson was rooting for Westbrook to break his record.
"He's one of the elite guards in basketball, and I think it's ridiculous that some sportswriters criticize him because he has not won a championship," said Robertson. "Players don't win championships by themselves."
Robertson only averaged a triple-double once in his career, but he came close three other times. In 1961-62, the Big O averaged 30.8 points, 12.5 rebounds, and 11.4 assists per game.
Aside from LeBron, James Harden (58) and Nikola Jokic (56) are the only current players in the top 10 on the NBA all-time triple-double list. Wilt Chamberlain and Larry Bird are also among the Hall of Fame legends on the all-time triple-double list.
The Big O, Magic, and more congratulate Russ!#WES182OOK | @russswest44 pic.twitter.com/eObUZ3Pmv2

— Washington Wizards (@WashWizards) May 11, 2021