Russell Westbrook only scored 14 points in a high-octane 154-141 victory for the Washington Wizards over the Indiana Pacers, but he etched his name in the NBA history books with a rare triple-double by dishing 24 assists and pulling down 21 rebounds.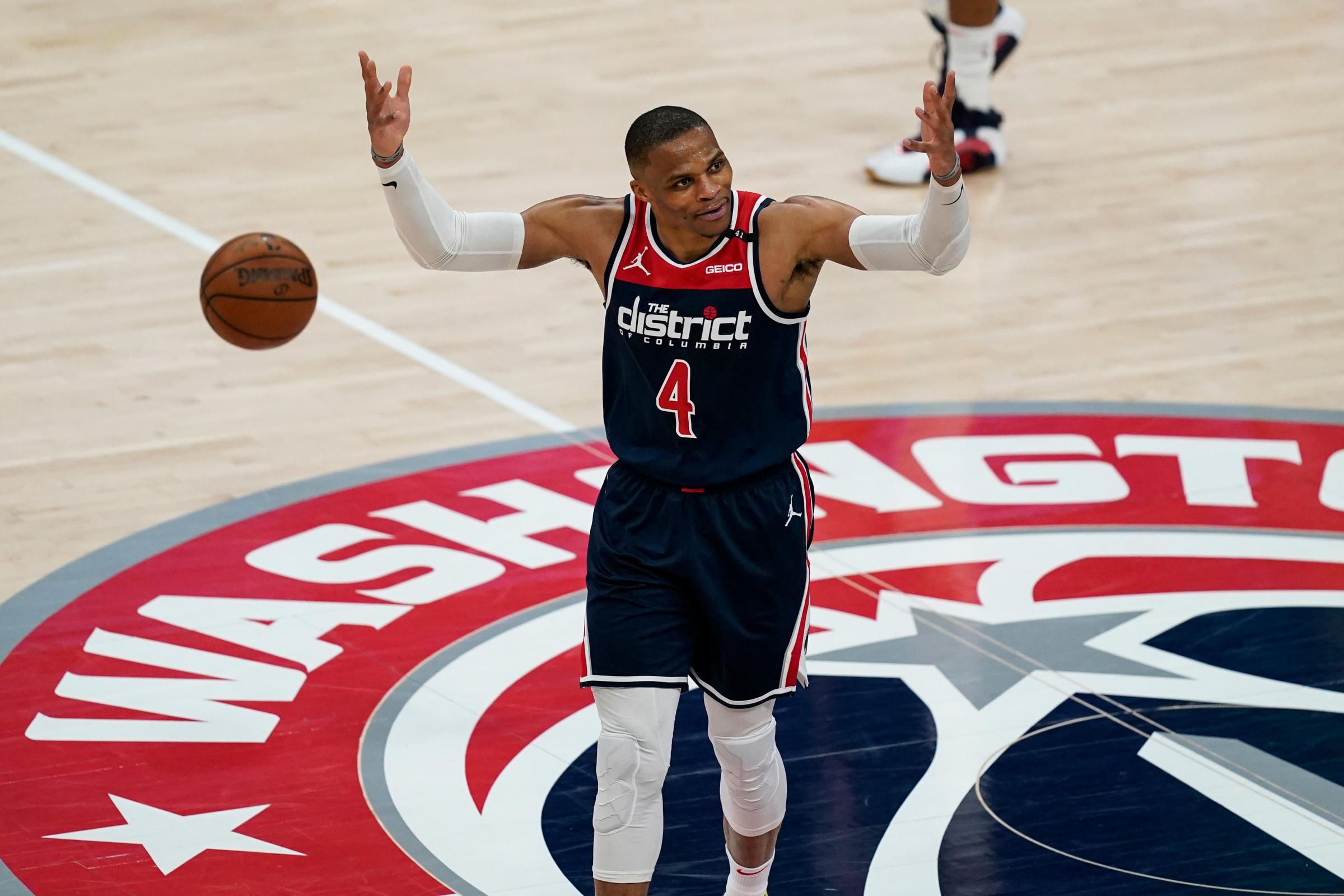 Westbrook tied his career-high with 24 assists. He also set a new career-high with 21 rebounds.
Only one other player in NBA history achieved an epic triple-double with 20 rebounds and 20 assists. Whenever you're on an exclusive list with Wilt Chamberlain, you must be in good company.
"He's amazing, superhuman at times," said Washington head coach Scott Brooks. "Point guards don't do what he does. They're not built that way."
The crazy thing is that Westbrook achieved a triple-double with 20 rebounds and 20 assists once before. Two years ago with the Oklahoma City Thunder, Westbrook tallied a rare 20-20-20 triple-double against the LA Lakers with 20 points, 21 assists, and 20 rebounds.
Westbrook: Another Day, Another Triple-Double
Westbrook notched his 32nd triple-double of the season and he now has 178 in his career. He needs four more triple-doubles to pass Oscar Robertson on the all-time career list.
"If I knew triple-doubles would be such a big stat in the future, I would've tried for more," joked Robertson many years ago.
Westbrook averages a triple-double this season with 21.8 points, 11.3 rebounds, and 11.2 assists per game. He leads the NBA in assists.
"Me personally, I feel like I'm the best playmaker in this league," admitted Westbrook.
"There's a lot of pressure on him to perform, and he comes out and does it," said Domantas Sabonis from the Pacers.
According to ESPN's stats and information squad, Westbrook could finish the season with 0 points, 0 rebounds, and 0 assists every remaining game, and he'd still finish the season with a triple-double.
Russell Westbrook will average a triple-double in a season for the 4th time in his career. Oscar Robertson is the only other player to do this & he did it once in 1961-62.

He could record 0 pts, rebs & 0 asts in every game the rest of the season & still average a triple-double. pic.twitter.com/kOzjsVAzCw

— ESPN Stats & Info (@ESPNStatsInfo) May 4, 2021
Pacers/Wizards Insane Shootout
The Pacers and Wizards combined for 295 points in a regulation game, which smashed the consensus total of 246 over/under. A total of 17 players scored in double digits. Eight members of the Pacers tallied double digits, whereas nine players from the Wizards notched at least 10 points in the victory.
Caris LeVert from Indiana led all scorers with 33 points. Sabonis added 32 in the loss for the Pacers. He hauled down 19 rebounds and dished nine assists, just falling short of his own triple-double. Three players off Indiana's bench contributed 15 points apiece, including backup point guard TJ McConnell, who missed a triple-double with nine rebounds and eight assists
Rui Hachimura, who recently returned to the starting lineup after recovering from a minor injury, led the Wizards with 27 points. Bradley Beal struggled from long range and still scored 26 points in the victory.
All five starters for the Wizards scored at least nine points in the win, whereas five bench players scored at least 11 points.
This exciting game could be a preview of the Eastern Conference Nine-Ten Game in the play-in tournament. The Pacers slipped to 30-34 and currently sit in the #9 spot in the playoff race.
"It was a must-win game for us, and we all understood that," explained Westbrook.
With the victory, the Washington Wizards improved to 30-35 and are only a half-game behind the Pacers. The Wizards hold down the #10 spot in the East and padded their lead to three games over the Toronto Raptors (27-38) on the bubble.
Check out more cool highlight videos and other installments of NBA High Guys.