Two of the favorites in the Pogchamps online chess tournament breezed through the quarterfinal round on Monday, as both Hutch and Voyboy scored 2-0 wins.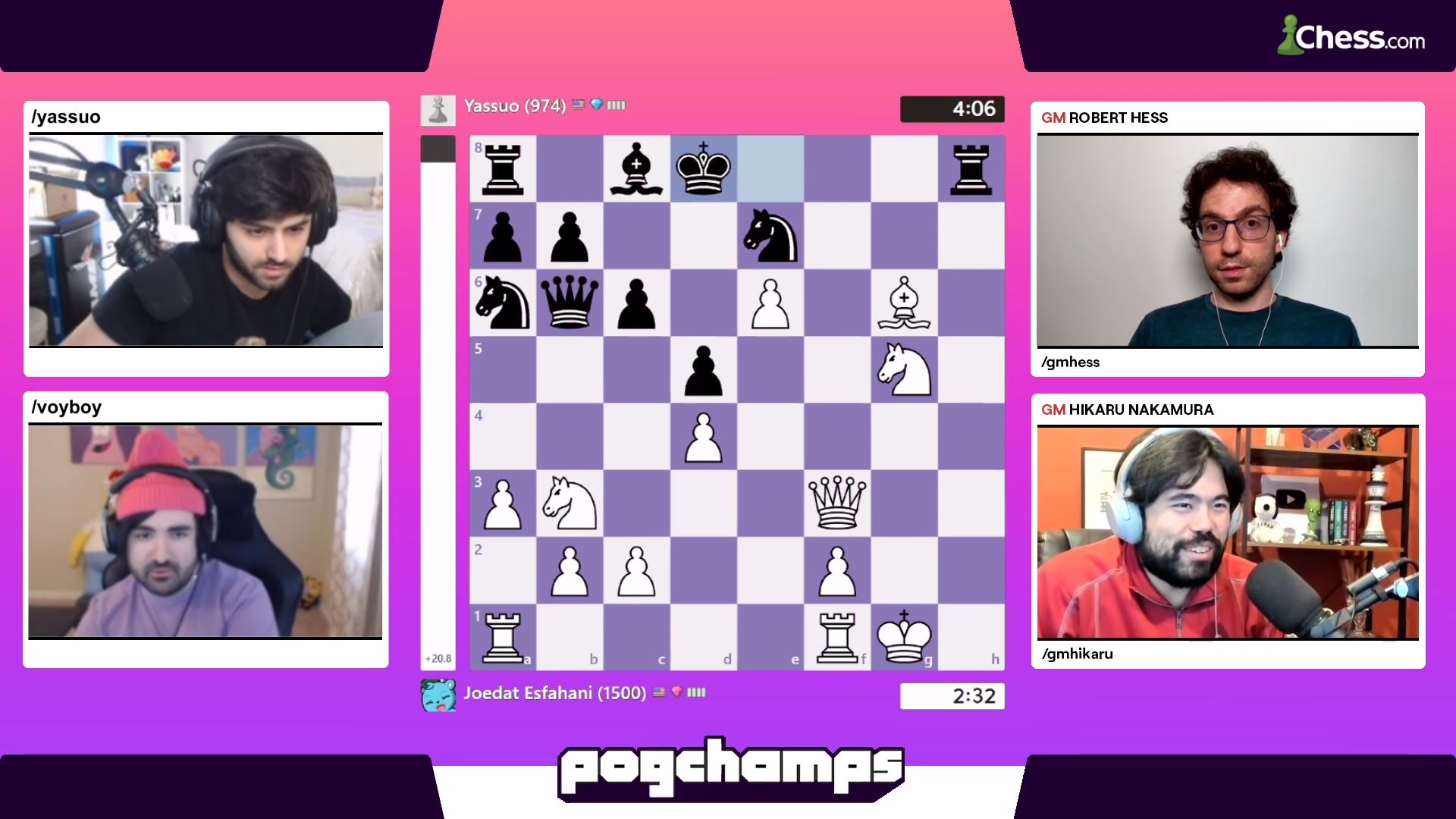 Neither of the Twitch streamers found themselves in any real trouble in either of their games, defeating far lower-rated opponents to move on to the Pogchamps final four.
Hutch Powers Past Improving NateHill
Hutch came into his quarterfinal as a massive favorite against Fortnite streamer NateHill. But NateHill made the match more competitive than many expected. Hutch took advantage of a blunder early in the first game to go up a piece, but then had to show good technique to convert the win as NateHill avoided any serious errors for the rest of Game 1.
As a lifelong chess fan, I can't even begin to describe how cool it is for me to hear two Grandmasters say these kinds of things about my moves. pic.twitter.com/9xEgXmIe6q

— Hutch (@hutchinson) June 16, 2020
NateHill held on to some hope of forcing a tiebreaker, as he had the white pieces in Game 2. Playing the same opening with colors reversed, NateHill managed to get a decent position early on before blundering a pawn.

In this position, NateHill could have nearly equalized by moving his queen to e4 or c4. He played knight to c4 (Nc4) instead, which Hutch punished with Nf4, forking White's king and queen. NateHill resigned two moves later in the face of a forced checkmate, handing Hutch a 2-0 win.
Voyboy Breaks Through Yassuo's Defense to Advance
Yassuo faced a similarly difficult challenge in his quarterfinal against another Pogchamps favorite in Voyboy. In Game 1, Yassuo steered himself into a solid but cramped position as Black, keeping Voyboy at bay for the first 14 moves of the game without any pieces coming off the board. His defense cracked soon thereafter, however, and Voyboy crashed through with a mating attack to take a 1-0 lead.
♜ @Voyboy is playing some impressive chess right now. Finds checkmate against @Yassuo. #PogChamps ♜ pic.twitter.com/M7LGpiWltw

— Chess.com (@chesscom) June 15, 2020
Yassuo needed a win with White to keep the match alive. And while the two traded blunders early in the game, Voyboy took a free bishop on his ninth move to gain a decisive advantage. Upon losing more material, Yassuo resigned after just 16 moves, sending Voyboy through to the semifinals.
MoistCr1tikal Advances in Pogchamps Consolation Bracket
While they may not have gotten the results they wanted in the group stage, the eight players in the Pogchamps consolation bracket are still competing for thousands of dollars in prizes.
MoistCr1tikal became the first to advance to the lower bracket semifinals on Monday, defeating Erobb 2-0 to go through. MoistCr1tikal won the second game in just eight moves after Erobb blundered his queen, bringing a swift end to the match.
Boxbox vs. Forsen Highlights Tuesday's Pogchamps Action
Tuesday's only championship quarterfinal pits Group D winner Boxbox against Group C runner-up Forsen in what could be a highly competitive match. Boxbox is the favorite, but Forsen has shown a solid grasp of tactics and could mount a challenge.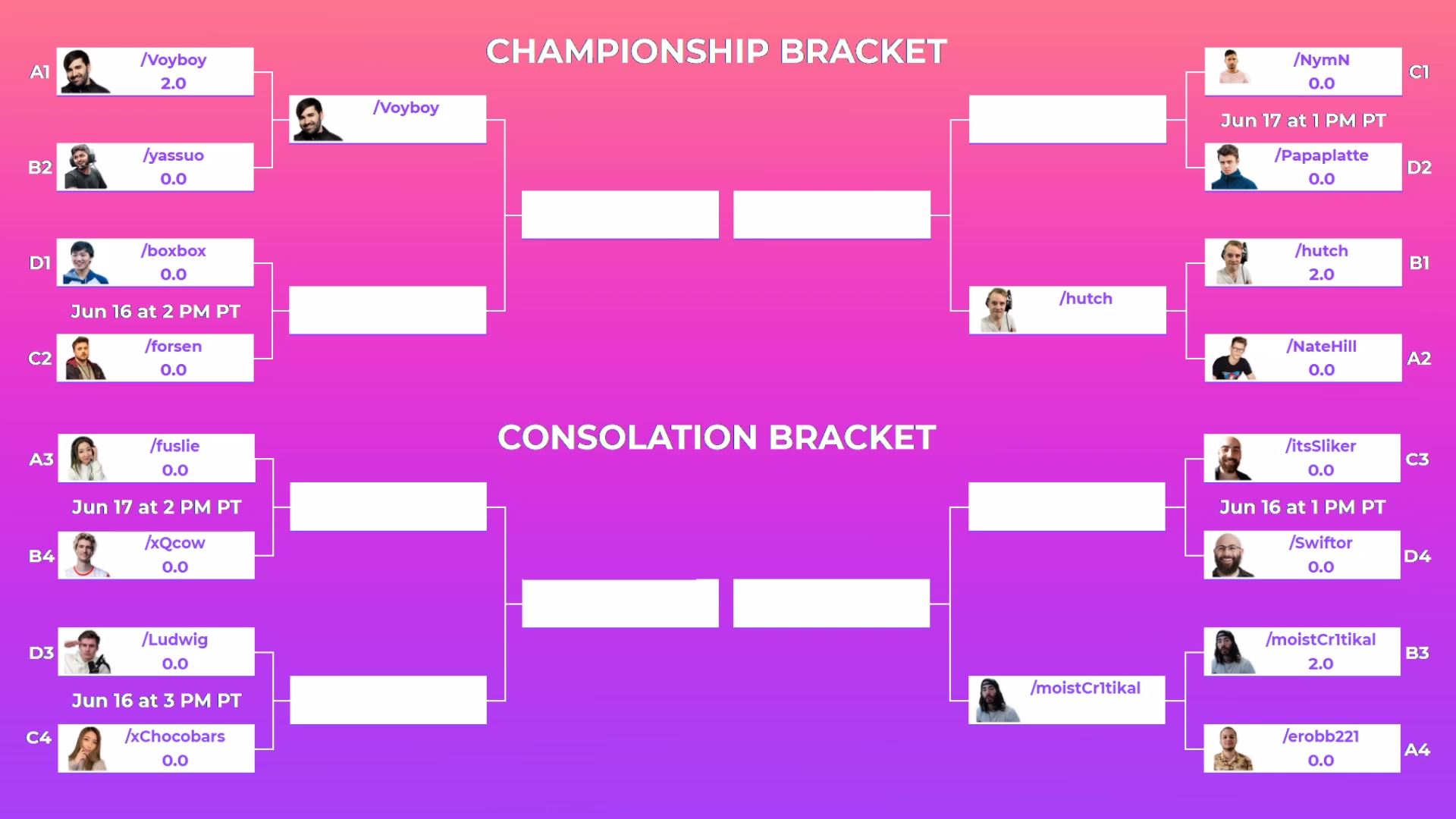 That matchup is sandwiched between two consolation-bracket quarterfinals. First, SlikeR will take on Swiftor, with the two players agreeing to play just a single game to decide who advances. Later, fan-favorite Ludwig will battle xChocobars, who is still looking for her first win in Pogchamps.