Eight Twitch streamers remain in contention for the $10,000 top prize in the Pogchamps online chess tournament, which wrapped up its group stage on Sunday.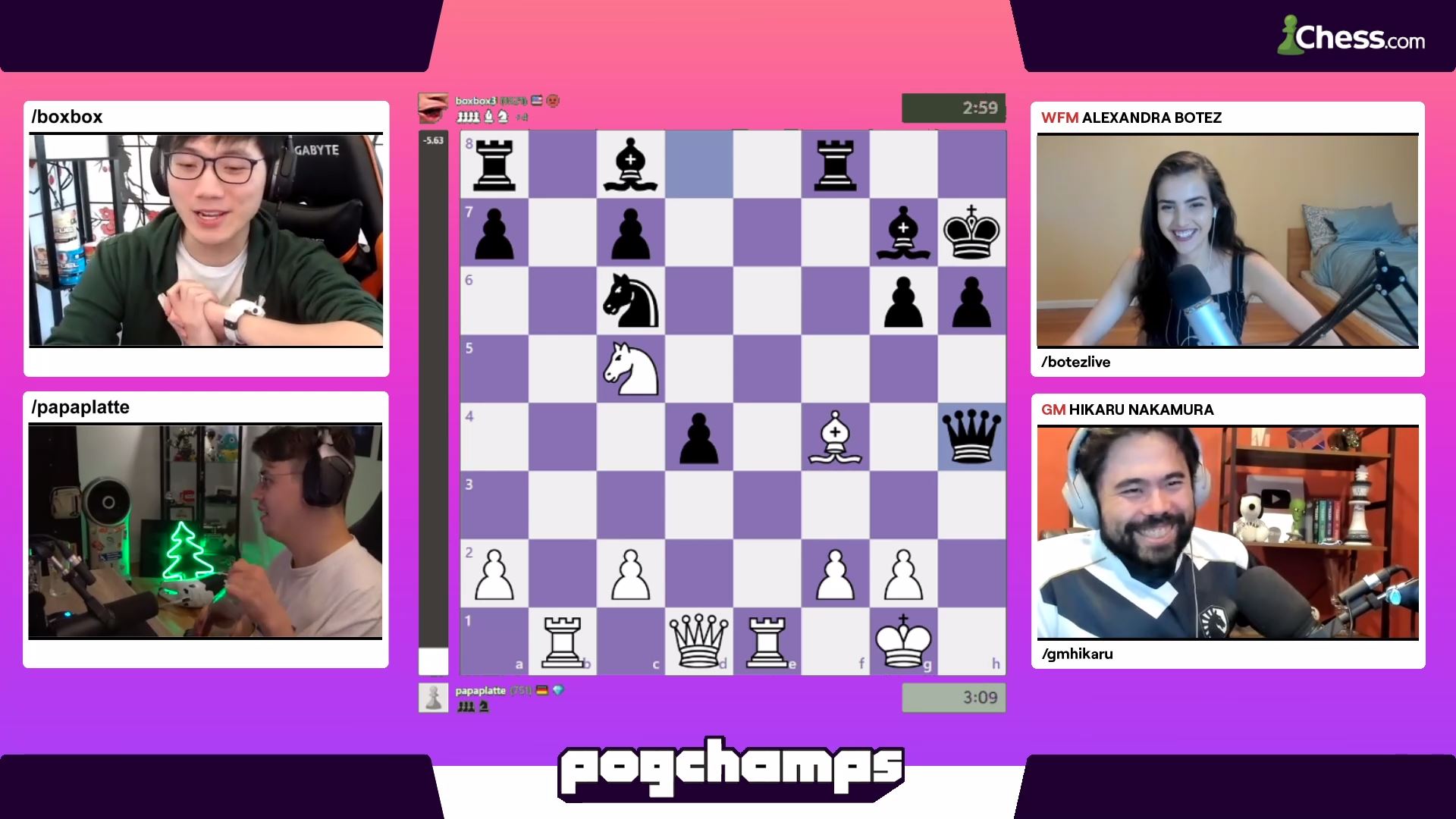 All 16 participants are still fighting for something, as the bottom two players from each pool have moved on to a consolation bracket with a $4,000 prize for first place.
Streamers Improve, Impress as Group Stage Wraps Up
Pogchamps began on June 5, featuring a variety of popular Twitch personalities – many of whom possessed little or no chess experience before the tournament started. Each competitor fought through three, round-robin games in the group stage, earning three points for a win and one point for a draw.
Nobody would mistake these players for grandmasters, but a little coaching goes a long way. Throughout the tournament, the level of play has improved noticeably, while the number of blunders has dropped. That has led to interesting games where most moves are reasonable – though blunders can pop up at any moment, especially when players are under time pressure.
In the end, Voyboy (a League of Legends streamer), Hutch (Call of Duty), NymN (Variety), and Boxbox (League of Legends) emerged as the four group winners, each taking home a $1,000 bonus for their success. They'll each face a group runner-up in the championship quarterfinals. Each knockout series will consist of two games – with each player taking White and Black once each – with a blitz tiebreaker following, if necessary.
Pogchamps Brings Chess to the Masses
Most people in the chess and Twitch communities see Pogchamps as an unqualified success. On Sunday, the chess category on Twitch set a new high for concurrent viewers, powered by Pogchamps, Clutch Chess, and a variety of other chess streamers.
It's a new all-time high for concurrent viewers in the Chess category on @Twitch!

Thanks to all 140,000+ of you who are tuned in to chess right now whether it's #Pogchamps #ClutchChess or any of the amazing streamers in the category, your support is invaluable in growing chess! pic.twitter.com/pu3WuIbJyI

— Chess.com (@chesscom) June 14, 2020
That doesn't mean that the praise has been universal. Some have criticized Pogchamps for putting inexperienced chess players on such a big stage, either because it could be embarrassing for them, or because of a belief that the spotlight should stay on elite players.
But Grandmaster Hikaru Nakamura, who has served as a host and a coach for Pogchamps, dismisses those concerns.
"Everyone doesn't have their whole life to spend playing the game," Nakamura said, via Wired. "Things happen in life and you have normal jobs and whatnot. So for me, it's more important to bring the game to everyone than be like, 'I'm better than these people.'"
Sportsbooks aren't offering Pogchamps odds, unlike major online events like the Magnus Carlsen Tour or Clutch Chess. But favorites have emerged after the knockout rounds.
Hutch and Boxbox have proven to be the most fundamentally sound players in the field, and it would be no surprise to see them meet up in the championship final. Meanwhile, Variety streamer Fuslie looks strong heading into the consolation bracket: with a win and a draw, she has the best record of anyone not to advance to the championship side. Fusile held a huge advantage over NateHill in her final game before stumbling and settling for a draw.
The Pogchamps knockout rounds begin on Monday, with the tournament set to wrap up on Friday, June 19.