Two competitive matchups in Group C finished up the group stage and finalized the Pogchamps bracket on Monday, as TFBlade and Dogdog managed to qualify for the championship stage of the tournament.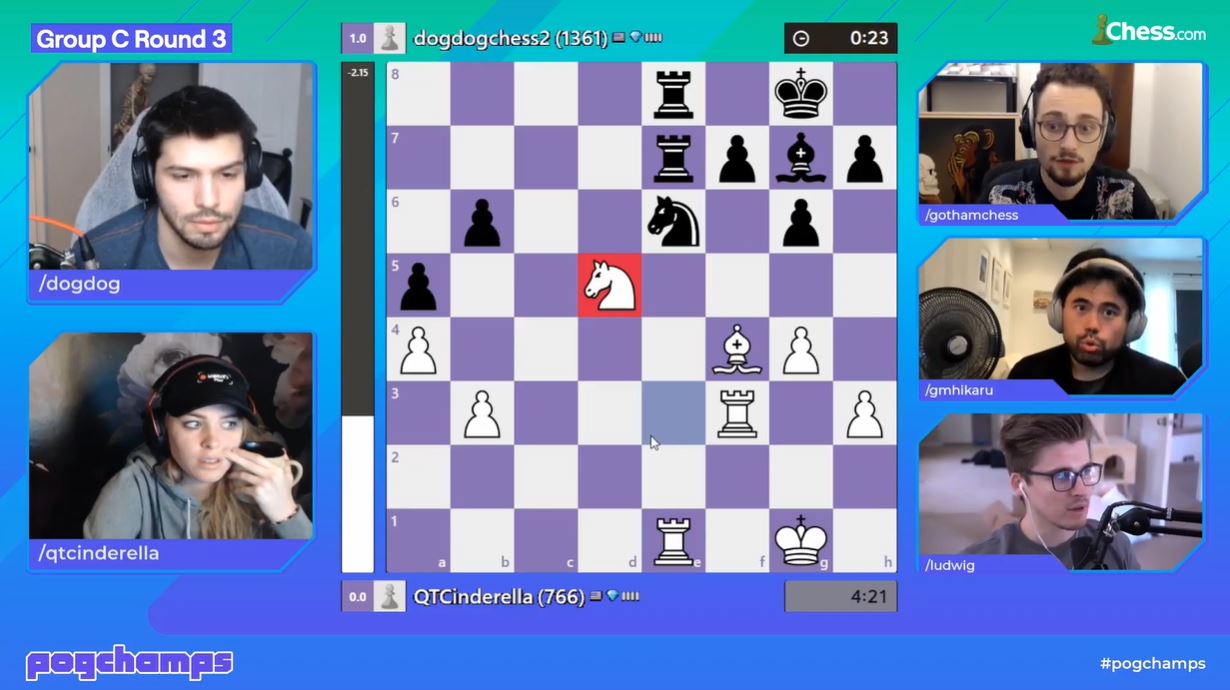 Coming into Monday's action, three players still had chances of qualifying for the championship bracket out of Group C.
Dogdog Survives Upset Bid by QTCinderella
Dogdog appeared to be in the best shape as he only needed to beat QTCinderella, who had yet to win a single game in Pogchamps, to clinch advancement to the Championship Bracket.
But QTCinderella built up a dominant position with Black in the opening game, launching what could have been a devastating kingside attack. While QT didn't find the best moves, she held on to a solid position until Dogdog finally came back with less than a minute left, taking advantage of a blunder to find a checkmate in one move and take the game.
That wasn't enough to clinch the match, however. QTCinderella again came out on fire in Game 2, holding on in a difficult position until Dogdog again found himself in time trouble. This time, QT took full advantage, reaching a winning endgame before Dogdog let his time expire.
Huge 500-point upset as @qtcinderella wins game two against top seed @dogdog!

We are headed to armageddon and @LudwigAhgren has some coaching advice! 👨‍🏫#pogchamps is live on https://t.co/d7eYWvnVMF! pic.twitter.com/DbR0rQCjek

— Chess.com (@chesscom) August 31, 2020
That sent the match to Armageddon, with Dogdog needing a win to clinch a spot in the championship Pogchamps Bracket. QT took the white pieces and the extra minute, but this time, Dogdog played both quickly and accurately to secure a win. Dogdog earned two points and clinched a spot in the championship bracket, while QTCinderalla took her first point of the tournament with the tiebreak loss.
"I just want to play my fiancée [ItsHafu], I think that would be hilarious," Dogdog said after the match. "As long as I get to her … but I don't know if I'm making it to the finals!"
TFBlade Gets Clutch Win, Reaches Championship Bracket
That result left TFBlade and Zexrow fighting for the final spot in the championship bracket. Zexrow came in with a two-point edge, meaning TFBlade had to win in regulation in order to leap over him. TFBlade looked to be in great shape in the first game, but allowed a stalemate in a tricky winning position.
"Don't st…" – @GMHikaru

"ONOUOEUNOTNEHAOUDH" – commentators!

Insane finish! Now @tfblade must win! pic.twitter.com/Zk3FgD9sI9

— Chess.com (@chesscom) August 31, 2020
That meant TFBlade needed a win in Game 2, with Zexrow advancing to the championship bracket on any other result. The two played an excellent game, working into a drawish endgame until Zexrow missed a rook fork, losing a knight and, eventually, the game, giving TFBlade a 1.5-0.5 victory in the match.
"I don't think I'm either a favorite or scared of anyone, because if you go into your game afraid of your opponent, you really don't have good odds of winning the game," TFBlade said afterwards about his chances in the championship bracket.
With the Pogchamps bracket now set, viewers can look forward to the quarterfinals beginning on Wednesday.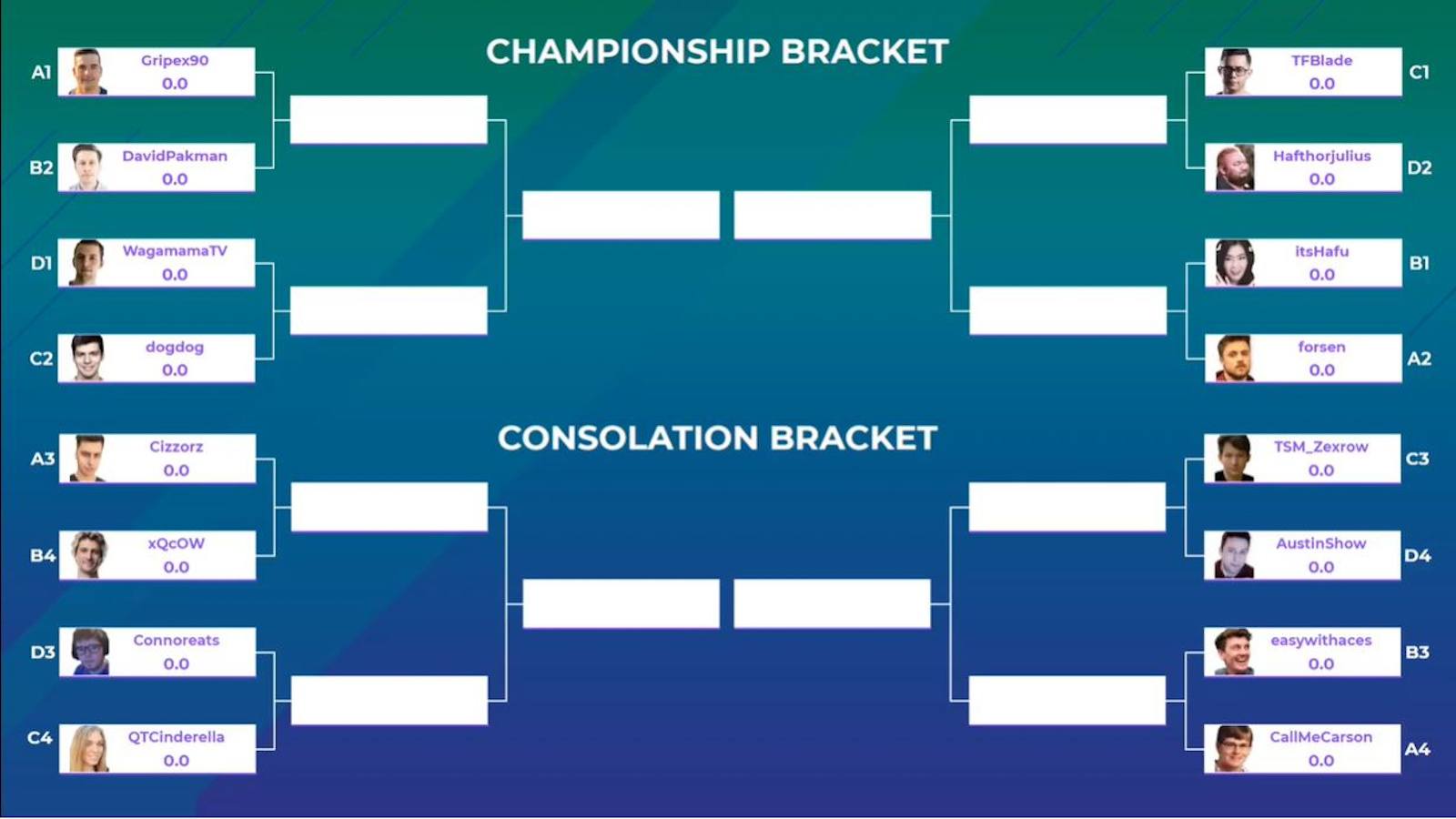 Already, the quarterfinals feature some mouthwatering matchups. ItsHafu may come into the championship bracket as the favorite to win Pogchamps, but draws a difficult first-round battle against Forsen. Meanwhile, Cizzorz and xQc face off in the consolation bracket quarterfinals, with the winner emerging as a threat to win the lower half of the tournament.
The winner of the Pogchamps tournament will take home $10,000, while the consolation bracket winner will earn $3,500. Other finishers also pick up prizes, while each group stage winner claimed a $1,000 bonus.