League of Legends streamer Boxbox managed to outplay Hearthstone streamer Forsen in a blitz tiebreaker to advance in the championship bracket of the Pogchamps chess tournament on Tuesday.
That was one of three matches played on Tuesday. Here's a breakdown of all the Pogchamps action, including two contests from the consolation bracket.
Forsen Comes Up Short After Impressive Performance
Heading into the knockout rounds, many pegged the clash between Forsen and Boxbox as the premier match of the quarterfinals. While Boxbox looks to be one of the favorites to win Pogchamps, Forsen entered the tournament with a fair amount of chess experience.
Still, Boxbox held a nearly 300-point rating advantage going into the match, a gap that typically proves decisive. But Forsen came out strong in Game 1, earning a clear advantage out of the opening with the black pieces. Forsen never had a material advantage, but his position was overwhelming until an untimely pawn push cost him a piece. There were still tactical tricks left to play, but Boxbox worked through them calmly, taking a 1-0 lead in the match.
♜ What a crazy finish! @BoxBox plays 32.Ne3 to secure the win vs @Forsen! ♜ #PogChamps pic.twitter.com/87WvIy36ud

— Chess.com (@chesscom) June 16, 2020
Forsen continued his strong play in Game 2. Boxbox tried switching to the Caro-Kann Defense, but that landed him in a world of trouble, especially after Forsen found 14. f7+, a pawn push that left Boxbox's king badly exposed. In just 20 moves, Forsen checkmated Boxbox to tie the match at one game each.
That took the match to a three-minute blitz tiebreak, with Boxbox getting white as the higher seed. Boxbox launched a blistering kingside pawn storm, trapping one of Forsen's knights. Forsen then blundered further under time pressure, and Boxbox finished the game with a checkmate while still having 44 seconds on his clock. You can play through the tiebreaker game below:
With the win, Boxbox advances to the Pogchamps semifinals, where he'll play Voyboy on Thursday.
SlikeR, Ludwig Advance in Pogchamps Consolation Bracket
Earlier on Tuesday, SlikeR played Swiftor in a consolation bracket semifinal. The two players agreed to play only a single game, with SlikeR taking white as the higher seed.
SlikeR opened the game by playing for a quick four-move checkmate. But Swiftor defended correctly and achieved a solid position before blunders cost him two pieces. Still, Swiftor looked primed to score an upset win when SlikeR hung his queen on his 16th move.
♕ @Sliker hangs his queen but @Swiftor doesn't see it!!! @Sliker is very happy about that. 🤣 #PogChamps pic.twitter.com/lm5zGBQ6oz

— Chess.com (@chesscom) June 16, 2020
Much to SlikeR's relief, Swiftor missed that opportunity. SlikeR went on to win by checkmate in 28 moves, and will advance to play MoistCr1tikal in the consolation semifinals.
Meanwhile, Ludwig scored a 2-0 victory over xChocobars in their quarterfinal. Ludwig won the first game in a rook-and-pawn endgame, which gave him another chance to pull out Dvoretsky's Endgame Manual, continuing the best running joke in Pogchamps.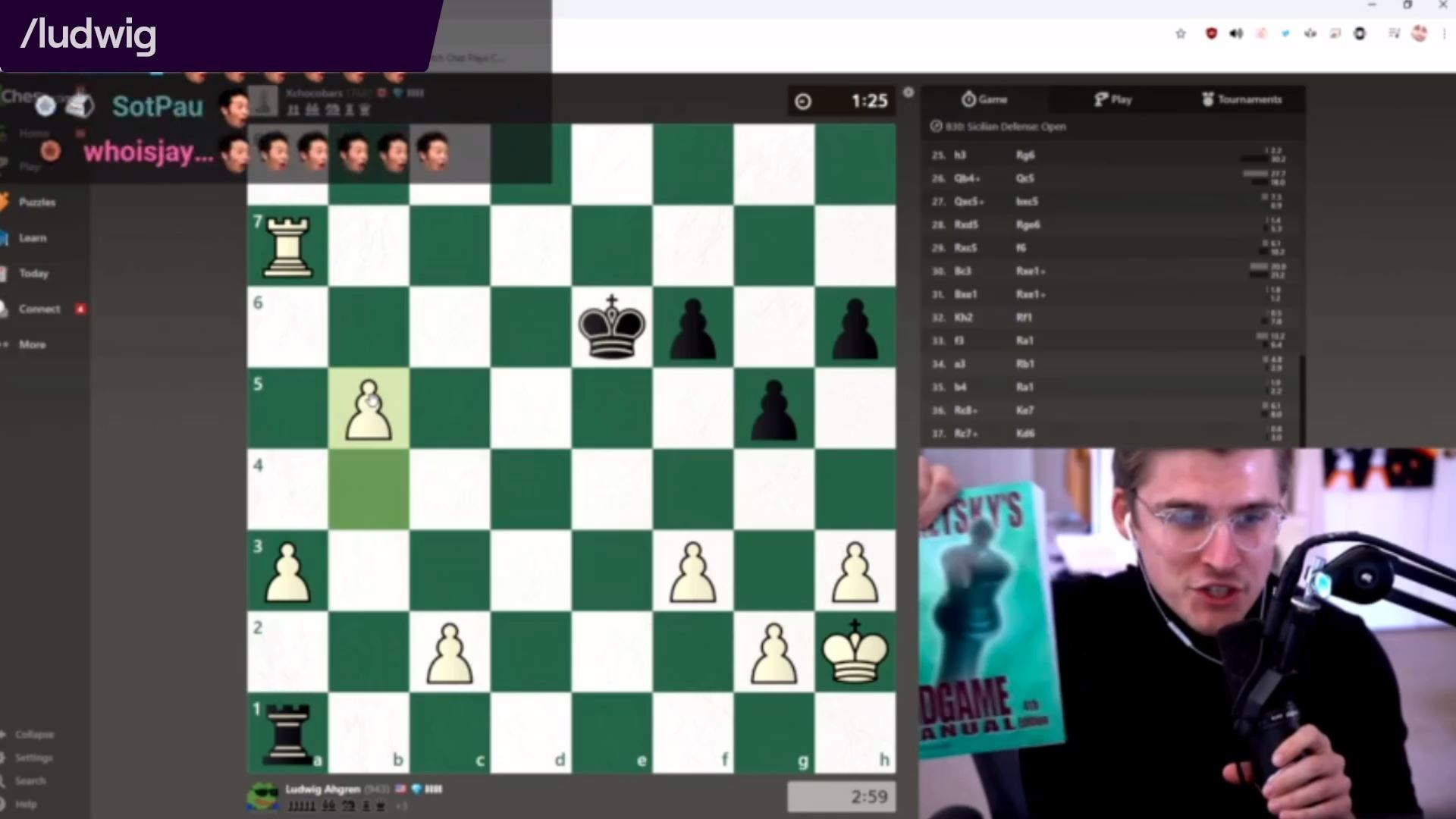 "Hikaru said I could spend a life and not understand two pages," Ludwig said during the endgame of Game 1, holding up Mark Dvoretsky's seminal work. "Are you seeing this Hikaru? I understand every word!"
With the win, Ludwig moves on to play the winner of Wednesday's match between xQc and Fuslie.
Wednesday's Pogchamps action also features the last championship bracket quarterfinal, with Group C winner NymN battling Group D runner-up Papaplatte. Players who reach the championship semifinals are guaranteed at least $3,000 in prize money, while those making the consolation final four will take home a minimum of $2,000.