ItsHafu confirmed her standing as the player to beat in Pogchamps 2 after reaching the championship bracket semifinals with a dominant victory over Forsen on Friday.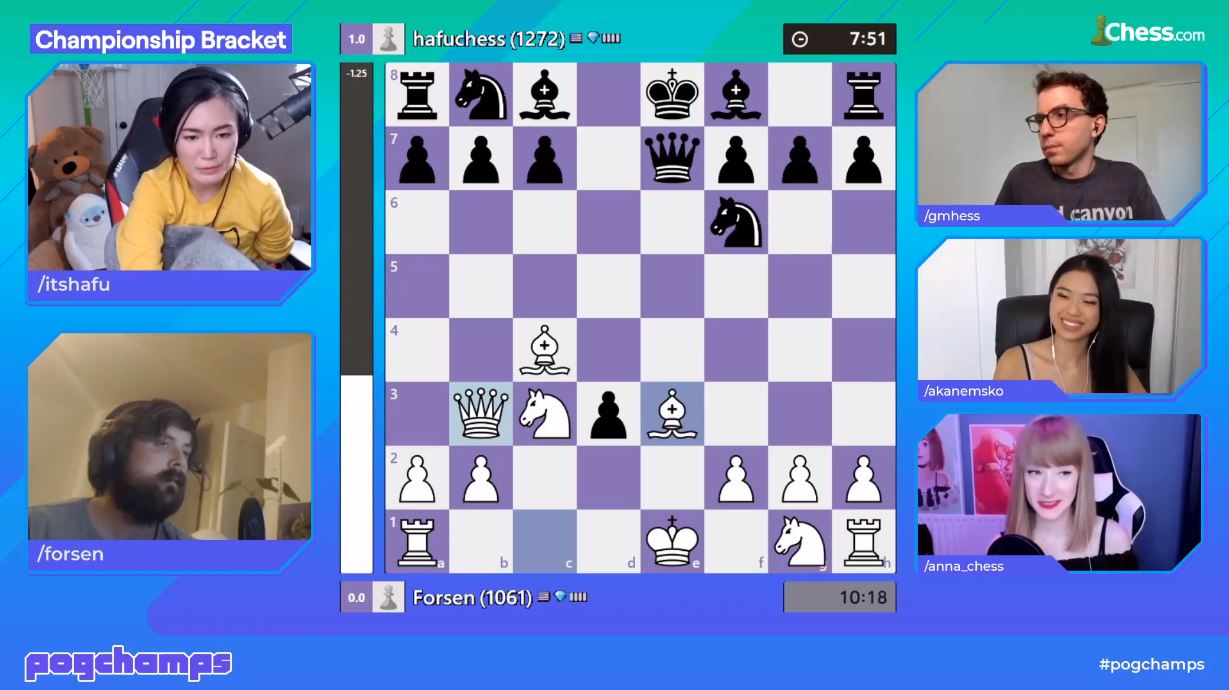 Hafu defeated Forsen 2-0 in impressive fashion, calculating well and remaining calm under pressure in both games against one of her most dangerous opponents in the event.
Hafu Stays Undefeated in Pogchamps
In the first game, Hafu took White and played a calm line in a Two Knights Defense. Forsen quickly tried to create problems for Hafu on the queenside, but never had a real attack, even after sacrificing a piece. He then hung his queen, handing Hafu an overwhelming edge that she converted into a checkmate.
Forsen fought back in the second game, surprising Hafu with the move 2. c4 in the French Defense. While the idea was dubious, Hafu faltered in a line she was unfamiliar with. Forsen gained a superior position and won an exchange, though Hafu retained some chances thanks to an advanced passed pawn.
But Forsen fell far behind on the clock in the complications. He began playing off the five-second increment while Hafu still had over two minutes of thinking time remaining, allowing her to find the answers to several Forsen errors. In the end, Forsen resigned after going down two queens in the endgame.
The 2-0 win sends Hafu to the Pogchamps semifinals, where she'll face TFBlade. Despite her success – Hafu has yet to lose a game in the tournament – she says she still feels incredibly nervous about each and every match.
"Honestly, I feel sick every time I play," Hafu said. "I actually feel physically ill … I never feel this way competing in anything else. I don't know why – I feel so much pressure in this."
Zexrow Advances to Consolation Semis
In Thursday's other match, Zexrow had little trouble getting past AustinShow, one of the least experienced players in Pogchamps 2. Austin played perhaps his best game of the tournament to start the match, playing a solid opening in Black before Zexrow took advantage of some tactical complications and, ultimately, checkmated Austin while up a rook in the endgame.
"I didn't even know you could lose a game that quickly!" 😲@AustinOnTwitter hasn't studied his chess classics: @xQc vs. @MoistCr1TiKaL, 2020#pogchamps study material 👨‍🏫 ➡ https://t.co/CXIobx0lx6 pic.twitter.com/m6zrXUIZY0

— Chess.com (@chesscom) September 4, 2020
Game 2 ended very quickly, with Zexrow landing a modified version of the Scholar's Mate on Austin to win in just six moves. Zexrow will now face Easywithaces in the Pogchamps consolation semifinals.
"I 100% think so," Zexrow said when asked if he could win the consolation bracket. "I'm sure of it, I can definitely win."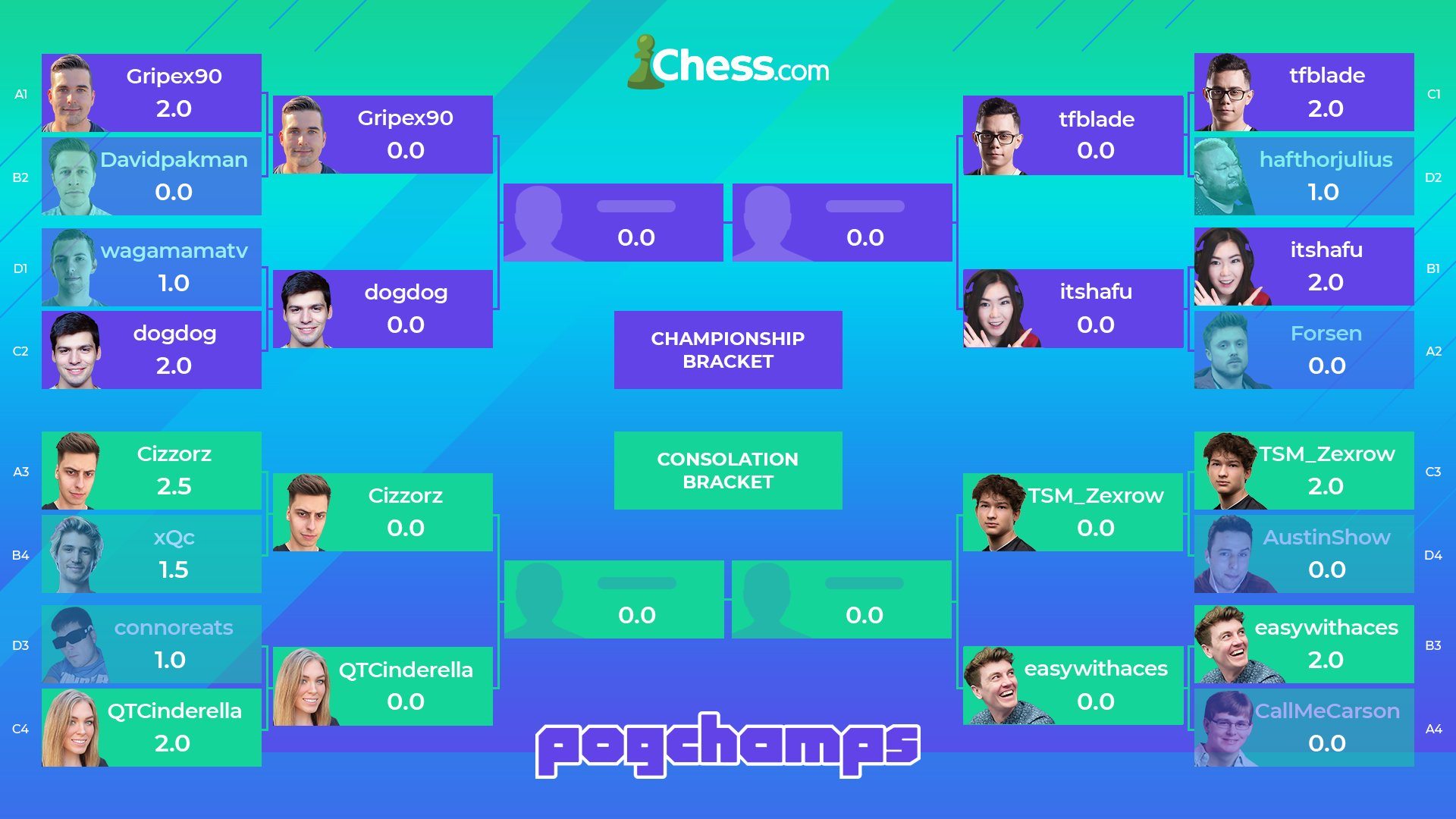 The Pogchamps tournament will wrap up over the next two days. All four semifinal matches will play out on Saturday, with the winners competing in the finals on Sunday. The overall Pogchamps winner will take home $10,000, with the consolation bracket winner earning $3,500.