Two of the top players in Pogchamps won again on Wednesday, as both Itshafu and WagamamaTV showed why they are considered favorites to win the online chess tournament.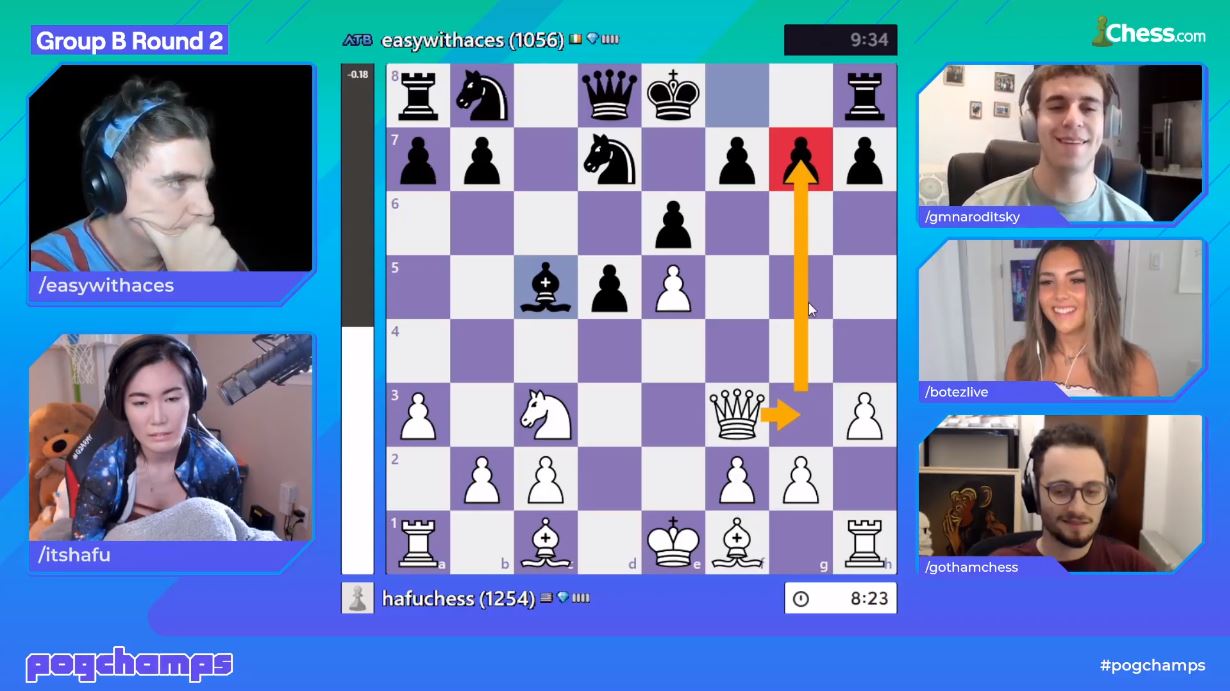 Itshafu turned back a strong challenge from Easywithaces, while Wagamama easily defeated Connoreats, both by 2-0 scores.
Thor Hammers AustinShow for First Win
Hafthorjulius made up for his opening round loss to Wagamama by easily handling an overmatched AustinShow in Wednesday's first Pogchamps contest. The man who played The Mountain on HBO's Game of Thrones methodically took advantage of Austin's mistakes, scoring two checkmates to secure the win.
"It's an honor to be a part of this event," Hafthorjulius said afterwards when asked about his Pogchamps goals. "I'm going to do my best in each and every game. I know there's a lot of talented people playing, so if I want to be able to win, I have to keep practicing … I want to improve, I want to get better, and hopefully if I'm able to improve enough, I'll take it all the way.
Tuesday's other Group D matchup was equally lopsided. Wagamama took advantage of mistakes early in both games against Connoreats, finishing off the second with a checkmate in just 13 moves.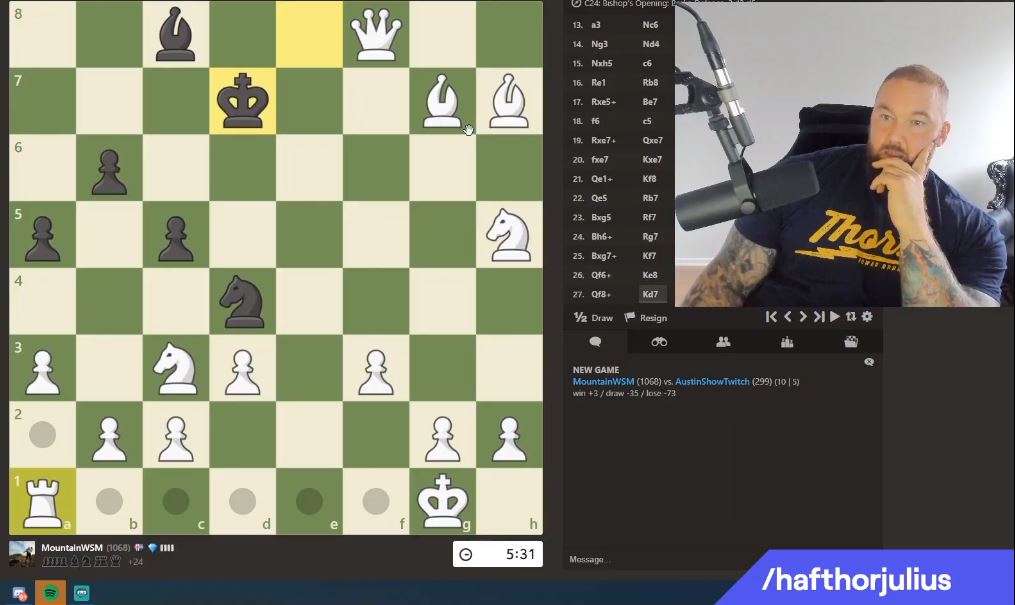 Those results guarantee Wagamama a spot in the Pogchamps Championship Bracket, as he is already on six points and can't finish any lower than a two-way tie for first in the group. The other spot will go to the winner of Sunday's matchup between Hafthorjulius and Connoreats, while the loser will head to the Consolation Bracket with Austin.
ItsHafu Impresses with Accurate Play
ItsHafu and Easywithaces met up in Wednesday's marquee Pogchamps matchup. While Hafu was clearly the favorite, Easywithaces played a solid Caro-Kann Defense as Black and managed to win a pawn. He held that advantage deep into the game, only to hang a rook on his 26th move. Hafu took full advantage, winning by resignation just a few moves later.
"I haven't played against the Caro-Kann very much, so even though I tried to study the lines, it doesn't really matter once the game really starts," Itshafu said during a post-match interview with both players. "You ruined my pawn structure, you had everything going – I think that first game was yours. I just got lucky you missed one thing."
Easywithaces reached a solid position with White in Game 2 as well. But one wrong move saw his entire kingside fall apart, and Hafu won by checkmate in 29 moves.
Hafu now has six points and will go through to the Pogchamps Championship Bracket. The winner of Saturday's matchup between David Pakman and Easywithaces will also advance.
---
Pogchamps Standings
| | | | |
| --- | --- | --- | --- |
| Group A | Group B | Group C | Group D |
| Gripex90 (5 points) | Itshafu (6) | TFBlade (3) | WagamamaTV (6) |
| Cizzorz (4) | Davidpakman (3) | Zexrow (2) | Hafthorjulius (3) |
| Forsen (3) | Easywithaces (3) | Dogdog (1) | Connoreats (3) |
| CallMeCarson (0) | xQc (0) | QTCinderella (0) | AustinShow (0) |
Bold – qualified for Championship Bracket. Italics – qualified for Consolation Bracket.
---
"Pakman's good as well," Easywithaces said after the match. "One of us is going to be in the Loser's Bracket. It's not Consolation, nobody wants to be there. I hope it's you and I hope it's not me!"
Pogchamps continues on Thursday with two Group C matches. Group leader TFBlade takes on Dogdog, while QTCinderella looks to get on the board against Zexrow.