The second edition of the Pogchamps online streaming chess tournament begins on Friday with 16 of the most popular Twitch streamers on the planet battling it out for bragging rights and a $10,000 grand prize.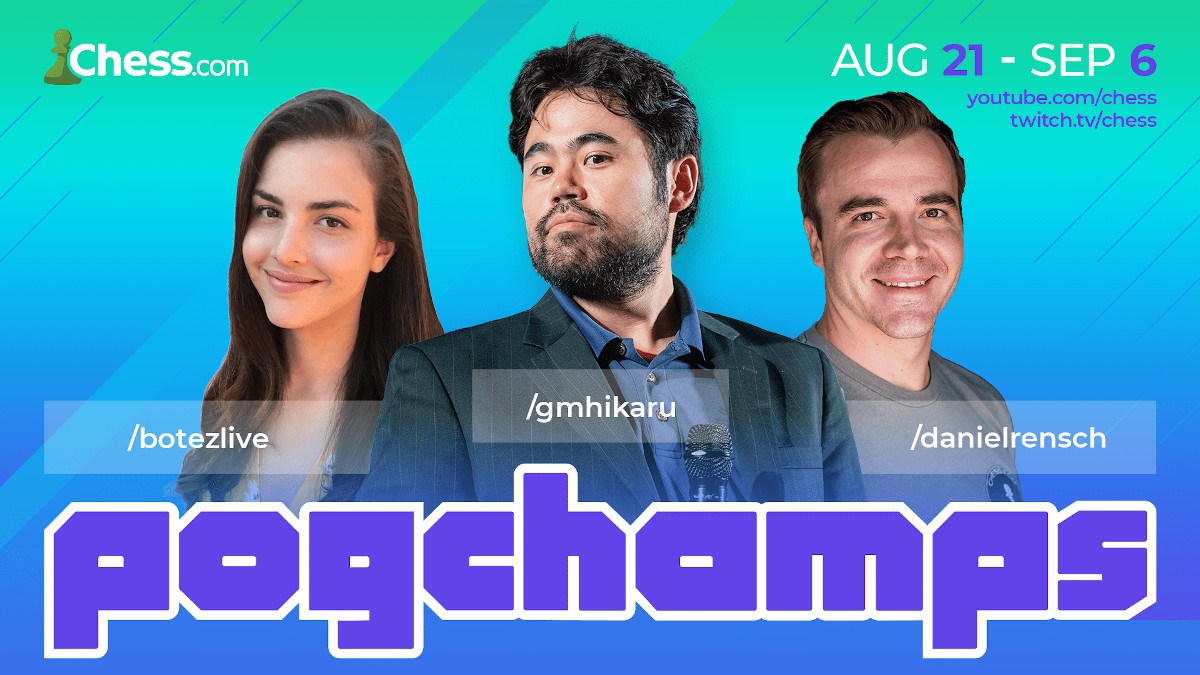 While the tournament shares many similarities with the first Pogchamps event, the sequel also features a few new wrinkles designed to spice up the competition.
Group Stage Expanded with Two-Game Matches
League of Legends streamer Voyboy won the first Pogchamps tournament, which ended in June. But he won't defend his title: this time around, there are 14 new streamers taking part, along with returning favorites Forsen and xQc.
The basic format remains unchanged. Pogchamps will begin with the 16 players divided into four pools. The top two finishers in each pool will advance to the Championship Bracket, while the bottom two will go to the Consolation Bracket where there's still a $3,500 prize for the winner. Each group stage winner also earns a $1,000 bonus.
The group stage will play out slightly differently than in the first event. This time, every match will consist of two games at a time control of 10 minutes plus five seconds per move.
If a player wins the mini-match, they will earn three points, while their opponent gets none. In the case of a 1-1 tie, the match will go to an Armageddon tiebreak game. The winner of the tiebreak takes two points, while the loser gets one. Players will advance to the Championship Bracket based on their total number of points earned.
Pogchamps Broke New Ground for Online Chess
Organizers determined the group seedings on Monday, resulting in the following pools:
| | | | |
| --- | --- | --- | --- |
| Group A | Group B | Group C | Group D |
| Gripex90 | itshafu | dogdog | hafthorjulius |
| Cizzorz | Davidpakman | Iwilldominate | wagamamatv |
| Forsen | easywithaces | tfblade | mixkif |
| CallmeCarsonlive | xQc | qtcinderella | AustinShow |
Pogchamps will retain that basic format for the knockout brackets, with players competing in two rapid games before a tiebreaker, if necessary. The tiebreaker will consist of three-minute games with a one-second increment, meaning players will have a better chance of finishing their games rather than deciding a winner strictly via the clock. The higher-seeded player will get White in the first blitz tiebreaker, with colors alternating on a draw until someone wins.
The group stage begins on Friday, with two or three matches on the schedule each day. The first day of play includes battles between Gripex90 and Cizzorz, Forsen and Callmecarsonlive, and Itshafu vs. Davidpakman.
While sportsbooks are unlikely to offer any betting on Pogchamps 2 – there were no odds listed for the first tournament – that probably won't hurt the event in terms of fan engagement. Pogchamps attracted a massive audience, with more than 87,000 concurrent viewers watching the action at its peak, making it one of the most popular online chess tournaments of all time. Chess.com is also offering a fantasy contest for the event.
♜ Pogchamps starts Friday and now you can build a team of streaming superstars with our Pogchamps Fantasy Contest!

💰We're giving away over $1,000 in cash prizes in addition to free diamond memberships!

👉Draft your fantasy team here: https://t.co/rXVMr6XAbG pic.twitter.com/qzMkerHbNH

— Chess.com (@chesscom) August 19, 2020
Chess.com will stream Pogchamps 2 via its channels on Twitch and YouTube, with many individual players also streaming their games on their own channels.