Voyboy hung on by the smallest of margins to defeat Hutch in the Pogchamps championship bracket, winning the online chess tournament and its $10,000 first prize.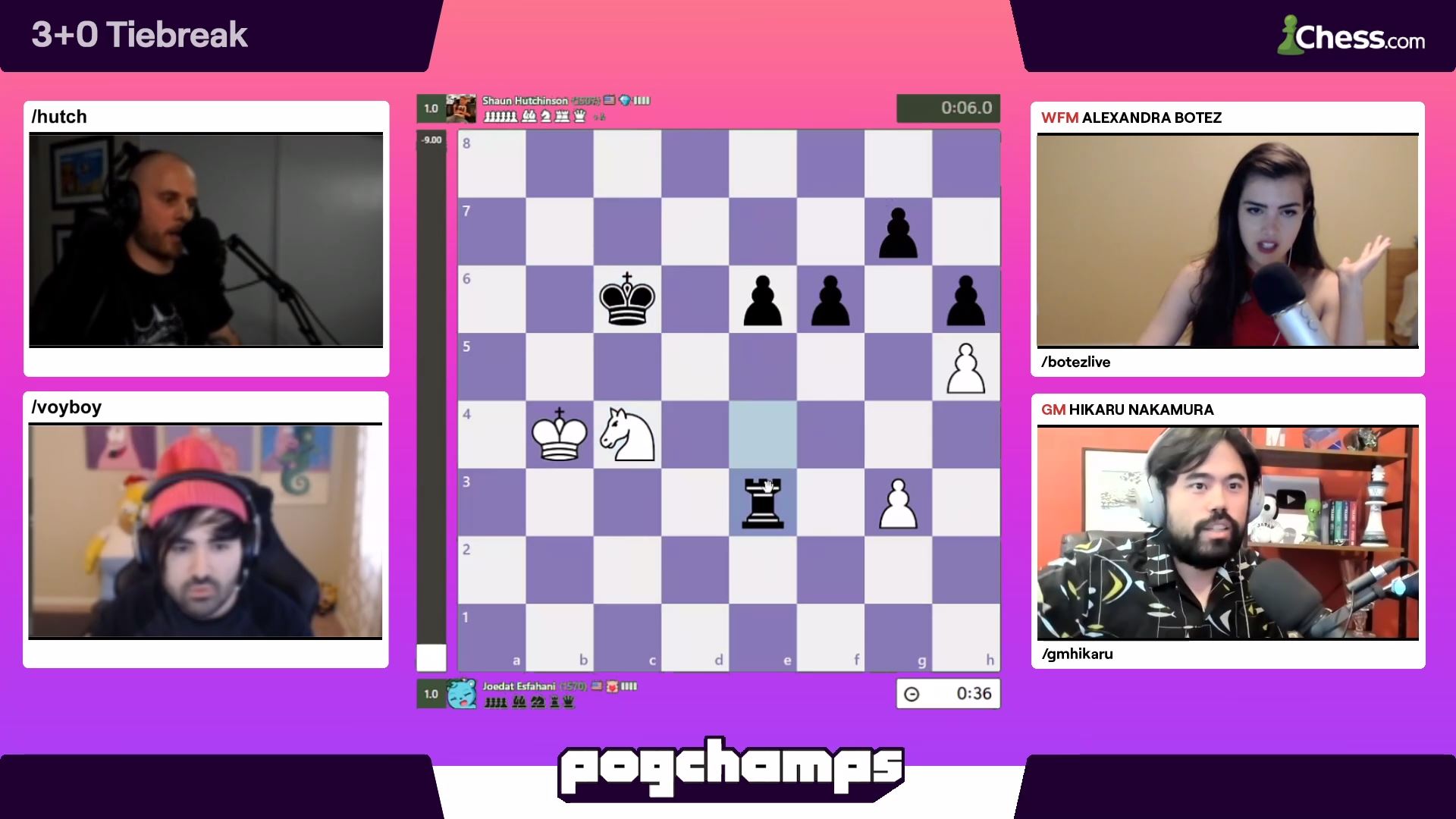 Hutch won the first game of the final, handing Voyboy his first loss of the tournament.
Pogchamps Finals Both Go to Tiebreakers
Voyboy went up a piece inside 20 moves, but Hutch had more than enough compensation, unleashing a devastating attack to prove that he was actually better a few moves later. While the two reached an equal endgame, Voyboy uncharacteristically hung his queen, then instantly resigned.
With his back against the wall, Voyboy struck early in Game 2. On move 13, Hutch blundered, allowing a check that came with a discovered attack. Faced with losing a full rook, Hutch resigned.
That took the final to a three-minute blitz tiebreaker. Hutch had the better of the game, but was down to only a few seconds on his clock. Rather than eliminate Voyboy's final two pawns to ensure at least a draw (and a second tiebreak game), Hutch queened a pawn and tried to play on for a win. When he ran out of time, Voyboy still had mating material on the board, giving him the win.
🤯 WHAT A CRAZY FINISH!! 🤯@hutchinson runs out of time in the tiebreak game which means @Voyboy wins the #PogChamps! pic.twitter.com/exT283NUU0

— Chess.com (@chesscom) June 19, 2020
In the consolation final, MoistCr1tikal won in a tiebreaker after a thrilling match. After losing the first game after hanging his queen, Ludwig struck back with a dominant performance in Game 2. The tiebreaker was a back-and-forth affair, but MoistCr1tikal found a fortuitous checkmate to put away the match and win the $4,000 prize as the consolation bracket winner.
Magnus Carlsen Tour Resumes with Chessable Masters
While the stars of Twitch stole the show in Pogchamps, some of the world's top chess players were back in action beginning Saturday in the Chessable Masters, the third event on the Magnus Carlsen Tour. This round of the online series slots 12 grandmasters into two pools of six, with the top four from each group reaching the playoffs.
Each group will play a double round-robin of rapid games to determine who goes through. The field played its first round of games over the weekend.
---
Chessable Masters Odds – Group Winners
Group A
Vladislav Artemiev (3.5 points): +200
Daniil Dubov (3.0):  +300
Magnus Carlsen (2.5): +200
Hikaru Nakamura (2.5): +450
Alexander Grischuk (2.0): +2000
Pentala Harikrishna (1.5): +10000
Group B
Maxime Vachier-Lagrave (3.0): +200
Anish Giri (3.0): +400
Fabiano Caruana (2.5): +400
Ding Liren (2.5): +300
Ian Nepomniachtchi (2.5): +600
Teimour Radjabov (1.5): +5000
Odds via Bwin
---
In Group A, Vladislav Artemiev went undefeated on his way to picking up 3.5 points and taking the early lead. Daniil Dubov sits in second with three points, while Magnus Carlsen and Pogchamps commentator Hikaru Nakamura both put up even 2.5/5 scores to stay in playoff position.
Magnus Carlsen Chess Tour debutant Vladislav Artemiev races to 2/2 after beating Lindores Abbey Rapid Challenge winner Daniil Dubov: https://t.co/ulMVQKVreO #c24live #studychess pic.twitter.com/wyNFNQa4Yk

— chess24.com (@chess24com) June 20, 2020
On Sunday, Maxime Vachier-Lagrave and Anish Giri jumped out to the early lead in a tight Group B. Both scored three points out of five, while Fabiano Caruana, Ding Liren, and Ian Nepomniachtchi are all on 2.5 points.
Peter Svidler spots MVL's beautiful mate before it happens on the board! https://t.co/oKgT6WxMNA #c24live #StudyChess pic.twitter.com/0tgnJZeLtv

— chess24.com (@chess24com) June 21, 2020
Despite a rocky start, Carlsen remains the +100 favorite to win the Chessable Masters, according to online bookmaker Bwin. Nakamura (+600) sits as the second choice, ahead of Dubov (+1000) and Vachier-Lagrave (+1000).