The rescheduled rivalry game between No. 7 Indiana and Purdue was called off for good Tuesday as both programs remain shut down with COVID-19-related issues.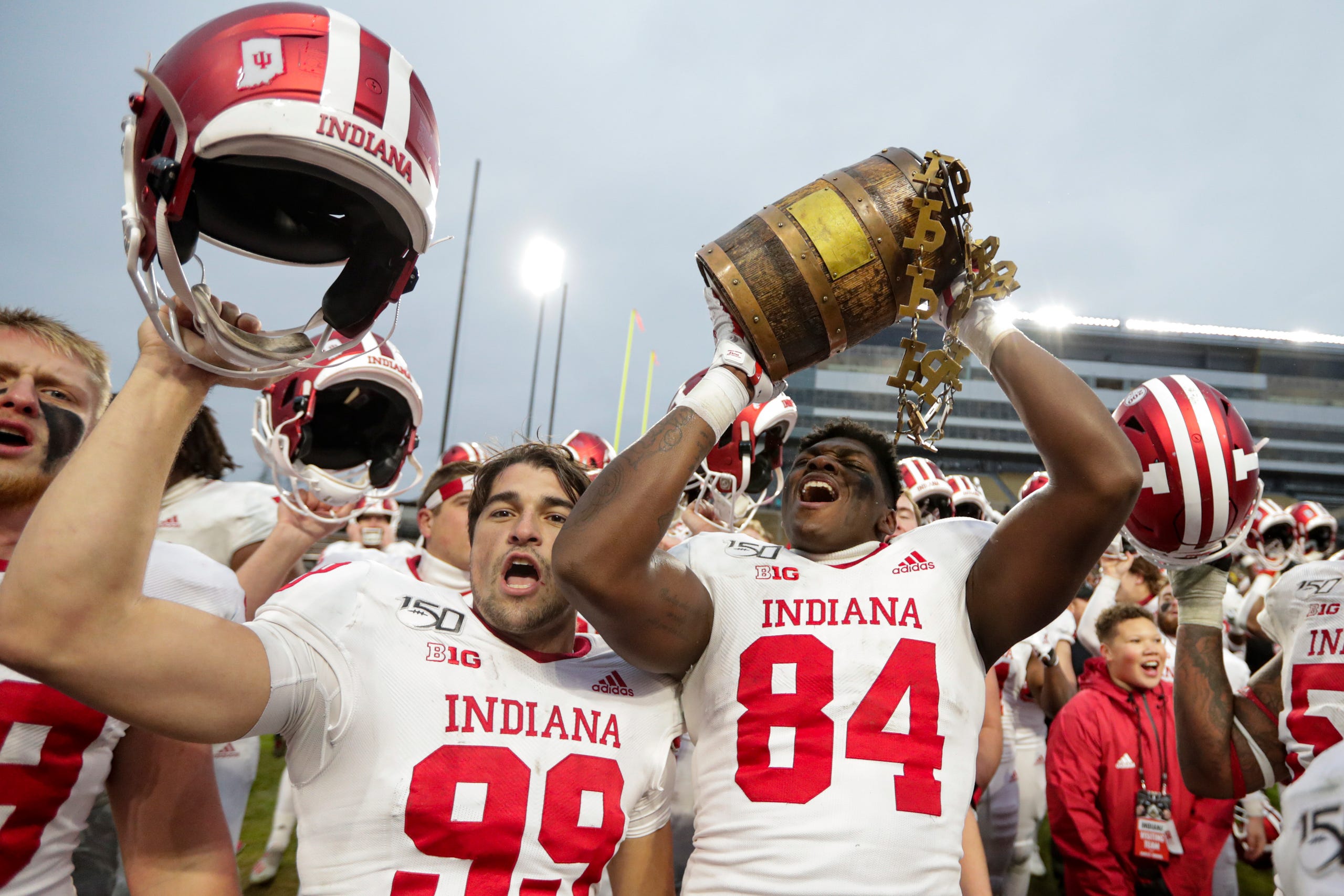 The rivalry game started in 1891 and has taken place every season, except in 1903. That year, the game, scheduled on Oct. 31 at Washington Park in Indianapolis, was canceled after one of the trains carrying the Purdue football team collided with a coal train on the north side of the city. In all, 17 Purdue football players, coaches, alumni, and team supporters were killed.
Indiana Has Outside Shot at 'New Year's Six' Bowl Game
Purdue athletic director Mike Bobinski and Indiana athletic director Scott Dolson issued a joint statement Tuesday that said, "We are not able to play Friday. As we stated last week, we know the history and tradition of this great rivalry game and how much it means to our current students, alumni, and fans. Both universities worked extremely hard to play, but at this time, it just isn't possible."
The disappointment is gravest on the shoulders of Indiana, which surprised the Big Ten finishing the season at 6-1. The Hoosiers were also the only Football Bowl Subdivision school to finish perfect against the spread with a cohort of more than three games played.
The conference did an about-face last week, changing its rules to lower the number of games eligible to allow No. 5 Ohio State (5-0) instead of Indiana to represent the conference's East division against the West's winner, No. 14 Northwestern (6-1).
Depending on the conference championship results this weekend, including who wins the Big Ten Championship Game, Indiana could still end up in a New Year's Six bowl game. It would be the program's first entry into a New Year's Day contest since the 1968 Rose Bowl.
---
Big Ten Championship Game Details
When: 12 p.m. ET, Saturday, Dec. 19
Where: Lucas Oil Stadium, Indianapolis, Indiana
Watch: FOX
---
Iowa vs. Michigan Off, Wolverines Finish Season At 2-4
Elsewhere in the Big Ten, Iowa vs. Michigan was called off Tuesday due to a continued rise in COVID-19 cases at Michigan, which has been sidelined for the entire month of December.
Notably, it's the first game the No. 15 Hawkeyes (6-2) will miss this season due to COVID-19-related issues. The Hawkeyes were 14-point favorites heading into the contest.
The cancellation ends the season for a troubled Michigan team that finished 2-4, with questions about whether Jim Harbaugh will return in year six of his seven-year deal in Ann Arbor.
Bowl Season Delayed as Frisco is Called Off
Bowl season was set to kick off on Saturday with The Frisco Bowl between SMU and Texas-San Antonio, but that too is off as SMU is dealing with COVID-19 issues of its own.
Texas-San Antonio announced they'll now play in the First Responder Bowl on Dec. 26 against an opponent who's yet to be determined.
The Frisco Bowl joins nine other bowl games, five of them on the West Coast, in canceling. The Rose Bowl's plans to host the semifinal for the College Football Playoff on New Year's Day are also likely in jeopardy due to Southern California's current lockdown rules prohibiting family and close friends from attending the game.
The only bowl possibilities for Pac 12 teams are in Texas at either the Alamo Bowl on Dec. 29 in San Antonio, or at the Armed Forces Bowl on Dec. 31 in Fort Worth.