The field for Saturday's Listed Stakes Oaklawn Mile brings three familiar candidates with eclectic stories of redemption to a race that punches far above its weight class.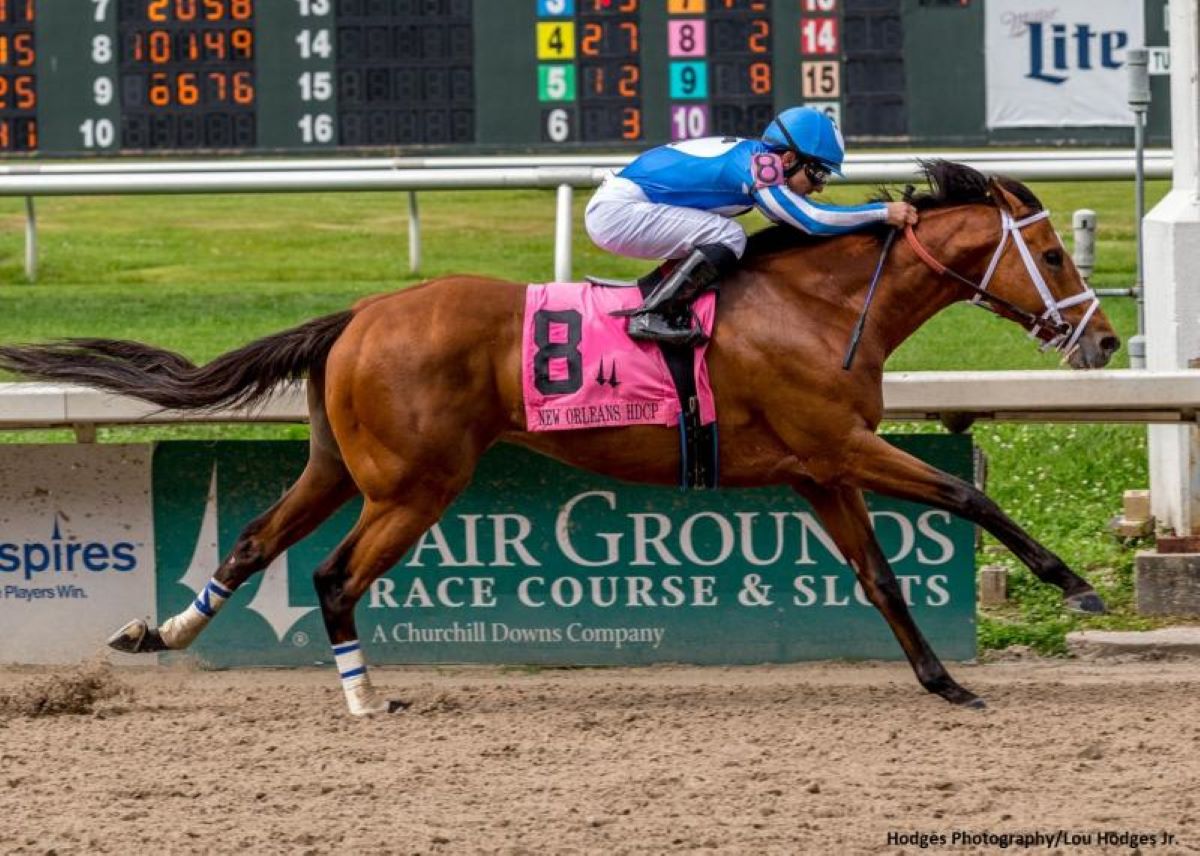 There's By My Standards, who makes his 2021 debut as the 5/2 favorite at the site of one of his 2020 victories. Hard to imagine a horse coming off a $1 million year with a Gibraltar-sized chip on his flank. But last year's winner of the Grade 2 Oaklawn Handicap has two pressing issues for 2021.
The first: win a Grade 1. By My Standards won three Grade 2s last year — the aforementioned Oaklawn Handicap, the New Orleans Classic Stakes at Fair Grounds, and the Alysheba Stakes at Churchill Downs. Those were three of his four 2020 victories. But none were Grade 1s.
"Obviously, our main objective this year is to win a Grade 1," trainer Bret Calhoun told Oaklawn's Robert Yates. "A lot of Grade 1s aren't until a little later in the year, so we've got to find us a roadmap, the best possible way to win a Grade 1. We just wanted to get a race under his belt, get him started, and then see where our options are from there."
The Grade 1s started off well in 2020
By My Standards ran three Grade 1s last year. In the first, he finished second to Improbable in the Whitney at Saratoga. OK, so far. No harm losing to the Champion Older Horse of 2020 in one of the country's elite older-horse races.
Then, the wheels fell off, which brings us to the 5-year-old son of Goldencents' second pressing issue. That's figuring out what happened in the last two Grade 1s, when By My Standards ran nowhere near his standards. Those questions started with his dismal eighth in the Breeders' Cup Classic where he finished 14 lengths behind Authentic.
He followed that a month later placing a non-threatening seventh in the Clark Stakes at Churchill Downs. That loss, by nearly eight lengths to Bodexpress, confounded Calhoun, since it came against easier competition than the Breeders' Cup Classic on a familiar track.
Oaklawn Mile allows Calhoun to figure out what happened
"Not really sure why he didn't perform up to our expectations the last couple of races," Calhoun said. "The Breeders' Cup, you can kind of throw that out a little bit. The track was a little strange, extremely biased, speed-biased, so I don't know what to make of that. The last race, he didn't fire either. Honestly, he couldn't have been training better. I would have never pointed toward those spots if he wasn't just training fantastic, which he was. We were a little puzzled by it."
That brings us to Rushie (3/1). Like By My Standards, who ran nine times in 2020, Rushie's connections weren't shy about sending him out. He raced seven times as a 3-year-old, winning three, including the Grade 2 Pat Day Mile on the Derby undercard. Rushie finished third to Honor A.P. and Authentic in the Santa Anita Derby, and third to Art Collector and Swiss Skydiver in the Blue Grass Stakes – albeit by 8 ¼ lengths.
Again, nothing wrong with that. Going into the Breeders' Cup Dirt Mile, Rushie hit the board six times in six races against quality competition. Then, he got to Keeneland and couldn't keep up with the insane fractions Knicks Go posted.
Rushie's Breeders' Cup didn't go well either
Rushie was no better than seventh at any call before he made a mild move in the stretch. He picked off Art Collector for seventh – 6 ½ lengths behind Knicks Go.
It says plenty about Rushie that this off-the-board finish came with a career-best 103 Equibase Speed Figure, meaning there is plenty in the tank. Two bullet workouts at Santa Anita: a 46-second half-mile on March 20 and a 59-second five-furlong sprint, bear that out.
Then, there's Wells Bayou (4/1). Unlike his two counterparts, he's already spoken in 2021, finishing third as the Grade 3 Louisiana Stakes favorite in mid-January. Barely holding off Sonneman for third wasn't what trainer Brad Cox had in mind when he turned loose last year's Louisiana Derby winner on his home course.
Oaklawn Mile gives Wells Bayou needed reps
Instead, Wells Bayou got bumped at the start and never found the rhythm his front-running style needs. He finished behind Title Ready and Blackberry Wine, the latter of whom joins him in the Oaklawn Mile field.
Unlike By My Standards and Rushie, Wells Bayou ran sparingly last year, due to injury. He ran only four times in 2020 and took the rest of the year off after his fifth in the Arkansas Derby's second division in early May. Cox clearly wants to see the Lookin At Lucky progeny setting the pace and dictating terms.
After Wells Bayou came down with a minor illness, Cox scratched him out of the Grade 3 Mineshaft Stakes at Fair Grounds in mid-February. Cox pointed him for the Essex Handicap at Oaklawn in March, then pointed him away after Wells Bayou suffered a minor foot injury.
'One thing after another'
"Just been one thing after another with him," owner Lance Gasaway told Yates. "It's horrible. We were worried about getting him back. Brad had told me: 'He said Lance, I don't know if we're going to make it back, like in December.' He just got so big. He grew so much and put so much weight on, I think it just took longer to get him in shape."
Gasaway owns Wells Bayou with his father, Clint. He said Cox told him this is likely to be a conditioning race.
Regardless, like the connections for By My Standards and Rushie, he doesn't want to see 2021 pick up where 2020 ended.