By My Standards ran his last race – June's Grade 2 Stephen Foster at Churchill Downs — exactly by his standards. He chalked a 102 Beyer Speed Figure, tying his career-best mark. He raced exactly out of trainer Bret Calhoun's playbook, even down to the strong gallop-out afterward.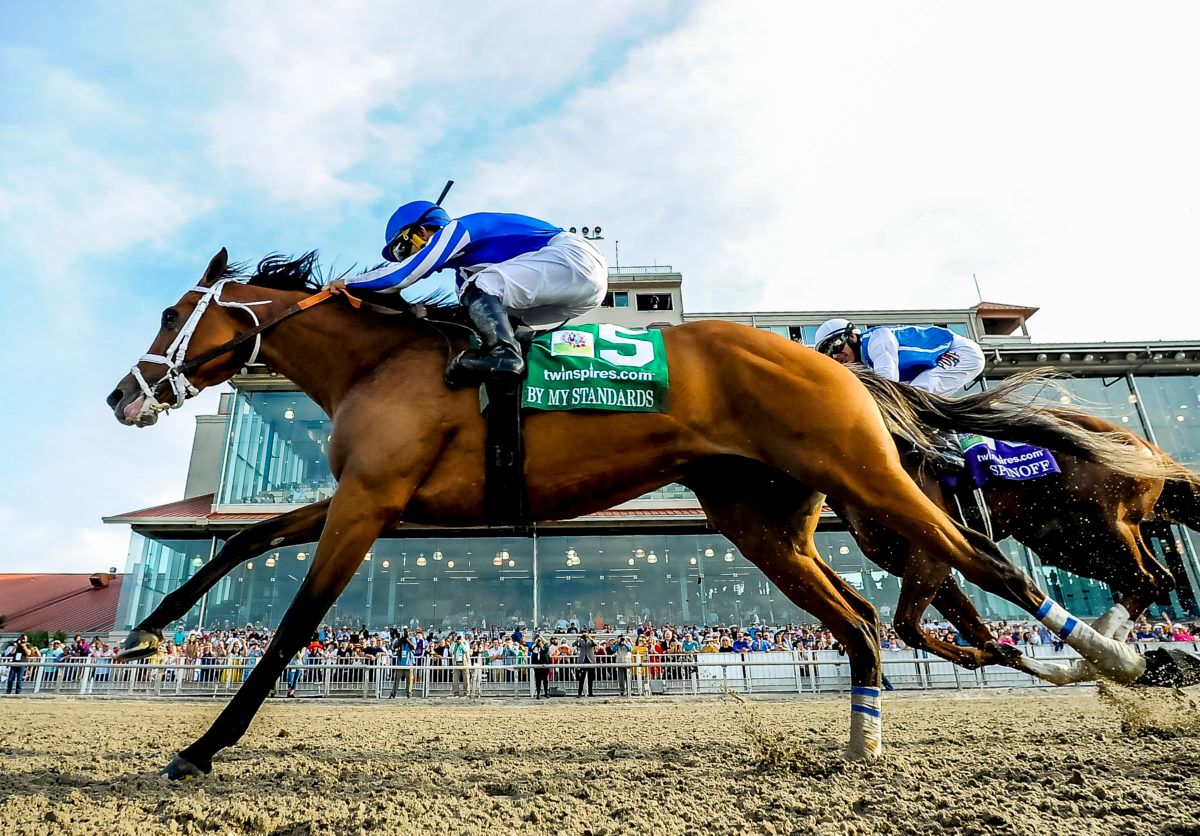 This should have been By My Standards' fourth consecutive win, setting himself up nicely for Saturday's Grade 1 Whitney Stakes at Saratoga. Instead, the 4-year-old colt did everything right, but win. Now, By My Standards will attempt to rectify that oversight in the 1 1/8-mile Whitney, one of America's most prestigious races for older horses.
It won't be easy, not even for a horse like By My Standards, who hit peak form in 2020. Not when the large, looming, older, faster specter of Tom's d'Etat awaits in the Saratoga starting gate. He was the barrier between By My Standards and victory No. 4 when the two tangled in the Stephen Foster at Churchill Downs.
Tom's d'Etat won that race by 4 ¼ lengths, displaying tactical speed that caught Calhoun by surprise. He knew Tom's d'Etat was By My Standards' main threat, but Calhoun's front-row seat showed – to his awe — exactly how good the 7-year-old horse is.
"I thought he ran well," Calhoun told Horse Racing Nation. "I thought that he ran a very good race and I thought Tom's d'Etat ran a great race. I think tactically, we were surprised early that Tom's d'Etat was in front of us early, and they were modest fractions. I don't think there's any way in the world anyone's going to run Tom' d'Etat down off a half-mile in 48 (seconds)."
By My Standards Shows How to Come Back
That snapped By My Standards' three-race winning streak, one providing a blueprint for any horses facing a long layoff from a disappointing race. That layoff was nine months, and it came after By My Standards finished nowhere near his in the Kentucky Derby – a forgettable 11th.
Calhoun brought him back in February, turned him loose in an allowance at Fair Grounds in Louisiana, and watched him dismantle the field by six lengths. Six weeks later, By My Standards captured the Grade 2 New Orleans Stakes by three lengths.
That set By My Standards up for perhaps his best career win to date. At 9/2, he came from off the pace, seizing the Grade 2 Oaklawn Handicap by 1 ¾ lengths with a 102 Beyer.
Running Your Race — Yet it Wasn't Enough
It was enough on that early May day. It wasn't enough in late June against one of the best older Thoroughbreds in North America.
"We ran our race and caught a horse that ran a superior race," Calhoun said. "So you've just got to hope that we continue to progress and move forward. I was hoping that would happen that day, and like I said, I think he ran a very good race. He just ran into one that ran a better race."
That said, the Whitney sets up nicely for By My Standards. He's never finished worse than second in four starts at 1 1/8 miles – the Whitney distance. All three of his graded stakes wins came at that distance, including the two this year, and the second at the Stephen Foster. And in 10 starts, By My Standards missed the board once – at that 2019 Kentucky Derby. He's finished first or second eight times in 10 races.
"He does exactly what you ask him to do and puts plenty into his training in the mornings, but he's not over the top," Calhoun said. "If you want him to work slow, he'll work slow, and if you want him to work fast, he'll work fast without any encouragement at all."
After all, he has standards to keep.