Team USA lost again, but is it time to freak out with the Tokyo Olympics less than two weeks away? Over the weekend in an exhibition series in Las Vegas, Nigeria upset the Team USA men's basketball team stocked with NBA stars. Last night, Australia beat the Yanks after holding Team USA to just 83 points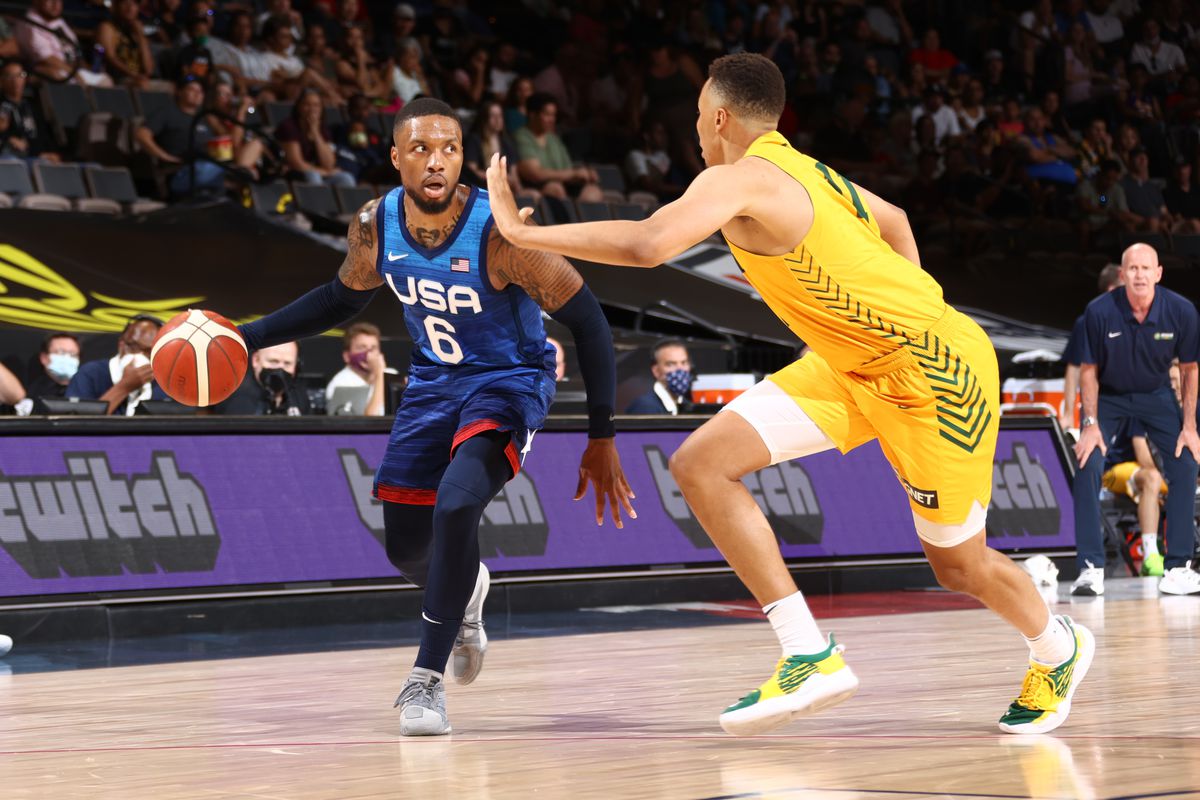 You won't get an argument from any basketball fan on the planet that Team USA has the best individual players participating in the Olympics, but this is a team sport. The current pastiche of All-Stars and NBA superstars has yet to gel as a team.
---
2020 Tokyo Olympics – Team USA Roster
Bam Adebayo (Miami Heat)
Bradley Beal (Washington Wizards)
Devin Booker (Phoenix Suns)
Kevin Durant (Brooklyn Nets)
Jerami Grant (Detroit Pistons)
Draymond Green (Golden State Warriors)
Jrue Holiday (Milwaukee Bucks)
Zach LaVine (Chicago Bulls)
Damian Lillard (Portland Trail Blazers)
Kevin Love (Cleveland Cavaliers)
Khris Middleton (Milwaukee Bucks)
Jayson Tatum (Boston Celtics)
---
For now, it's a bunch of millionaires doing ISO plays and not a full-formed team. Head coach Gregg Popovich has a lot of work ahead of him if the NBA studs expect to win a gold medal in Tokyo.
If you count Team USA's performance at the FIBA World Cup in 2019, where they finished in a humiliating seventh place, the Americans lost four out of their last five international contests. Is there something wrong with how Team USA throws together its roster at the last minute? Or has the world finally caught up? If you ask me, it's a little of both.
Nigeria upset
Nigeria defeated Team USA 90-87 in their first exhibition match over the weekend in Las Vegas. Gabe Vincent, who plays for the Miami Heat, led Nigeria with 21 points, while Caleb Agada added 17. A total of seven players from Nigeria had experience on NBA rosters, but this was a huge win for them against Team USA, even though it was only an exhibition game. Kevin Durant scored a team-high 17 points for Team USA in the loss. Jayson Tatum added 15 points, while Damian Lillard notched 14.
Team USA had just four practices before they took the court against Nigeria. They were shorthanded and missing three players with Devin Booker, Khris Middleton, and Jrue Holiday still playing in the NBA Finals. If you look at the current roster, there are only two players who played on the previous team that won a gold medal in Rio in 2016. There's a lot of new blood in the mix, but they've yet to develop chemistry.
"With four days of practice, there were a lot of things I liked out there, but in a way, I'm kind of glad it happened," said USA head coach Popovich. "That loss means nothing if we don't learn from it."
Team USA lacks an old-school center. Nigeria out-rebounded Team USA 46-34 and held the Americans to just seven offensive rebounds.
"It could be the most important thing in this tournament for us, to learn lessons from this and see what we did to move on, because it's a great group of guys, high character, and we'll figure it out," added Pops.
Aussie, Aussie, Aussie!
The eight-point loss to Australia stung because they're one of the teams with the best chance to win gold at Tokyo, aside from Team USA.
"We walked into this game expecting to win," said Australia's Joe Ingles, who plays with the Utah Jazz. "No disrespect to them, they're a hell of a team, obviously the guys they've got on their roster and Pop standing up there is always nice to see, but we came in here expecting to win the game and that's what we did."
Patty Mills, who played for Popovich with the San Antonio Spurs, led Australia with 22 points against Team USA. Ingles added 17 points. Ben Simmons decided to skip playing for Australia at the Olympics, which irked a lot of Aussies. Supposedly, he's working on his outside shot, but he recently bought a house in LA worth $17.5 million.
Lillard led Team USA with 22 points, while Kevin Durant added 17 points. KD and Dame combined for 10-for-20 from 3-point range. "I thought we were much better tonight, but some guys have to get their legs and rhythm back," explained Popovich. "We're sticking with the process."
"It is different, you go out there and the whole starting five are NBA players that are in the rotation," said Lillard. "This also isn't the first time I've seen Team USA be tested."
NBA stars with 6 gold, 1 bronze since 1992
Team USA won the gold medal in three consecutive Olympics, with victories in Beijing (2008), London (2012), Rio (2016).
In Athens (2004), Team USA was upset by Argentina and settled on the bronze medal, while Argentina won the gold. That marked the only time in Team USA history that NBA stars didn't bring home a gold medal after professionals were allowed to participate in the Olympics starting with the first Dream Team in 1992.
The first three versions of the Dream Team won gold, which includes the original Dream Team in Barcelona. The second and third iterations of the Dream Team crushed opponents with perfect records in Atlanta (1996) and Sydney (2000) before their debacle in Athens in 2004.
International teams have a specific national team that represents them, whereas Team USA throws together a bunch of NBA All-Stars to get the job done on their vacation.
"These teams are experienced and they've spent a lot of time together," said Lillard. "We are still working at becoming a team."
The NBA's current model of positionless basketball makes sense in the modern NBA, where players have to switch a lot on defense and big men have to shoot 3-pointers with deadly accuracy. In the international game, there's still an element of power basketball. You can't win games without winning the fight on the boards, and that's Team USA's biggest problem.
Plus, many opposing teams play zone defenses, which prevent Team USA from running ISO plays. If teams let Durant or Lillard go one-on-one, they'll lose every time. But, throw up a zone and it's a wrinkle that many stars aren't used to seeing in the NBA.