The NBA playoffs continue at Disney's World of Sports, but that hasn't prevented rumors from penetrating the bubble. Carmelo Anthony looked good in his stint with the Portland Trail Blazers this season, and Melo would love to stay in Rip City and continue to play alongside Damian Lillard and CJ McCollum next season. However, the Knicks are interested in Anthony and a "Melo Reprise" performance at Madison Square Garden.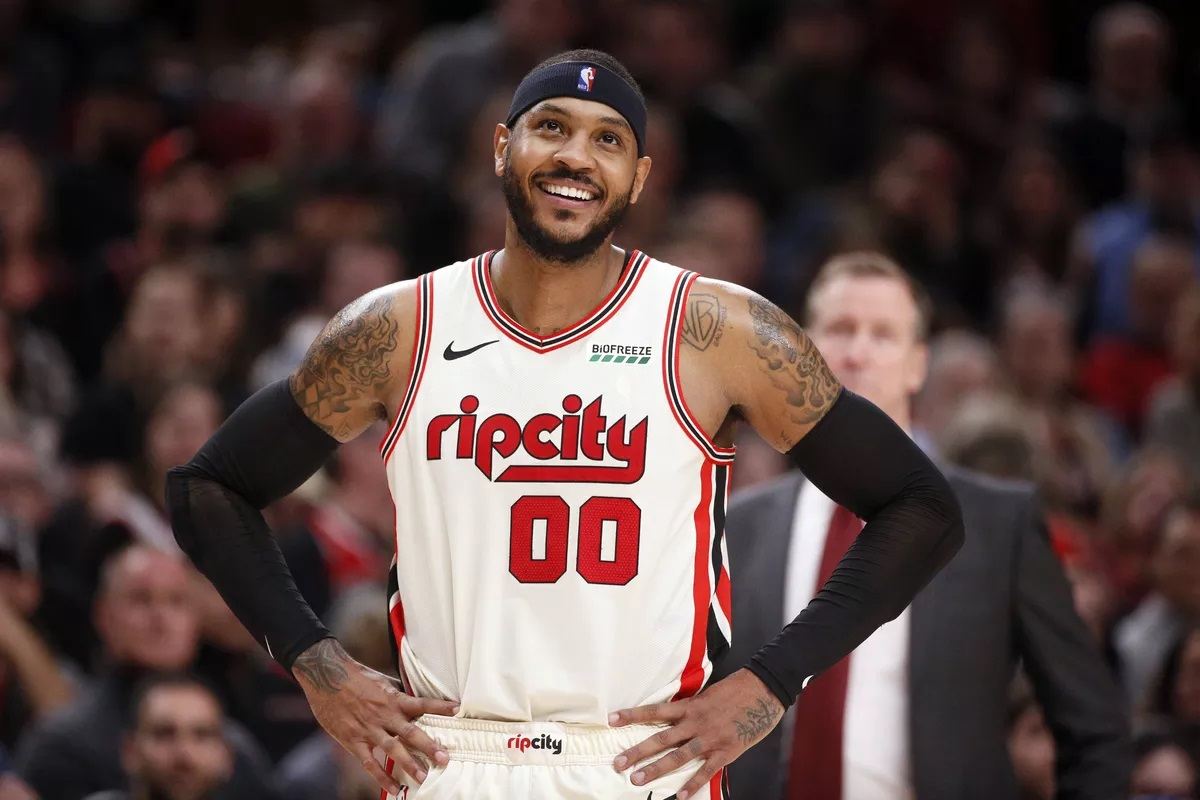 New Knicks general manager Leon Rose hasn't held back his adoration for Anthony, and mentioned that Melo is "on his radar" for next season. Rose would love to see Melo play one more season in New York City before he retires. Different outlets reported that Melo would also like to finish his Hall of Fame career with his hometown team.
However, based on the way Melo handled himself this season with the Blazers, he's convinced he could play for a couple of more years to become a 20-season NBA veteran.
For now, next season is on the table. Where will Melo end up? Portland? New York City? Los Angeles? Somewhere else?
Rip City Melo
Anthony, 36, started the 2019-20 season as an unsigned free agent. He joined Portland after the start of the season. A string of injuries, especially at the power forward position, decimated the Blazers. The Blazers were in a tough spot with a 3-8 record and took a flier on Melo.
Melo started 58 games averaging 15.4 points, 6.3 rebounds, and 1.5 assists per game this season with Portland. He got along with Portland's deadly scoring duo – Damian Lillard and CJ McCollum.
"If it was up to me, I'd love to play with him for the rest of his career," said McCollum. "I guess that's to be determined."
Portland has non-Bird rights to Melo and can re-sign him at 125% of this season's salary. He earned $2.1 million under a veteran's min-contract.
"I pray that it can be Portland," said Anthony. "I found a home in Portland. Whenever you find a situation that's comfortable and allows you to be who you are, you want to stay in that situation. There's no need to try different things when something is working."
"The fact that Melo came and played for the Blazers was special," said head coach Terry Stotts. "What he meant to the team and the way he conducted himself, the way he played. Obviously, in the bubble, he made some big shots and got us into the playoffs. I feel honored to have been able to coach him."
In five postseason games against the Lakers, Melo averaged 15.2 points, 5.1 rebounds, 2.1 assists, and 1.0 steals per game for Portland.
Melo NYC Daze
Anthony started his career with the Denver Nuggets, where he played for more than 7.5 seasons. In 2011, Denver traded to Anthony to the Knicks. Melo was going back home.
Melo played six full seasons with the Knicks, leading them to three-straight playoff appearances between 2011 and 2013. Since then, it's been a disaster with the Knicks.
In 2013, Melo averaged 28.8 ppg in 12 postseason games with the Knicks. That was the last time the Knicks actually won a playoff series.
Melo spent a season with the Oklahoma City Thunder, but the chemistry didn't mix well with Paul George and Russell Westbrook. In addition, head coach Billy Donovan dropped Melo from the playoff rotation and he barely contributed off the bench.
Melo experienced a disastrous 10-game run with the Houston Rockets at the start of the 2018-19 season. The Rockets quickly realized their mistake and parted ways with Melo. He didn't play the rest of the season.
Back in 2014, Melo exploded for a career-high 62 points against the Charlotte Bobcats at MSG.