The Toronto Raptors and Boston Celtics seek to extend their leads to 3-0 in their respective series, while the Brooklyn Nets and Philadelphia Sixers will do everything they can to avoid falling in the hole 0-3. The other two games on Friday include teams deadlocked at a 1-1 tie heading into Game 3. Luka Doncic and the Dallas Mavericks upended the Los Angeles Clippers in Game 2 to even the series at 1-1. After an overtime victory in Game 1, the Denver Nuggets are reeling from a blowout in Game 2 against the high-scoring Donovan Mitchell and the Utah Jazz.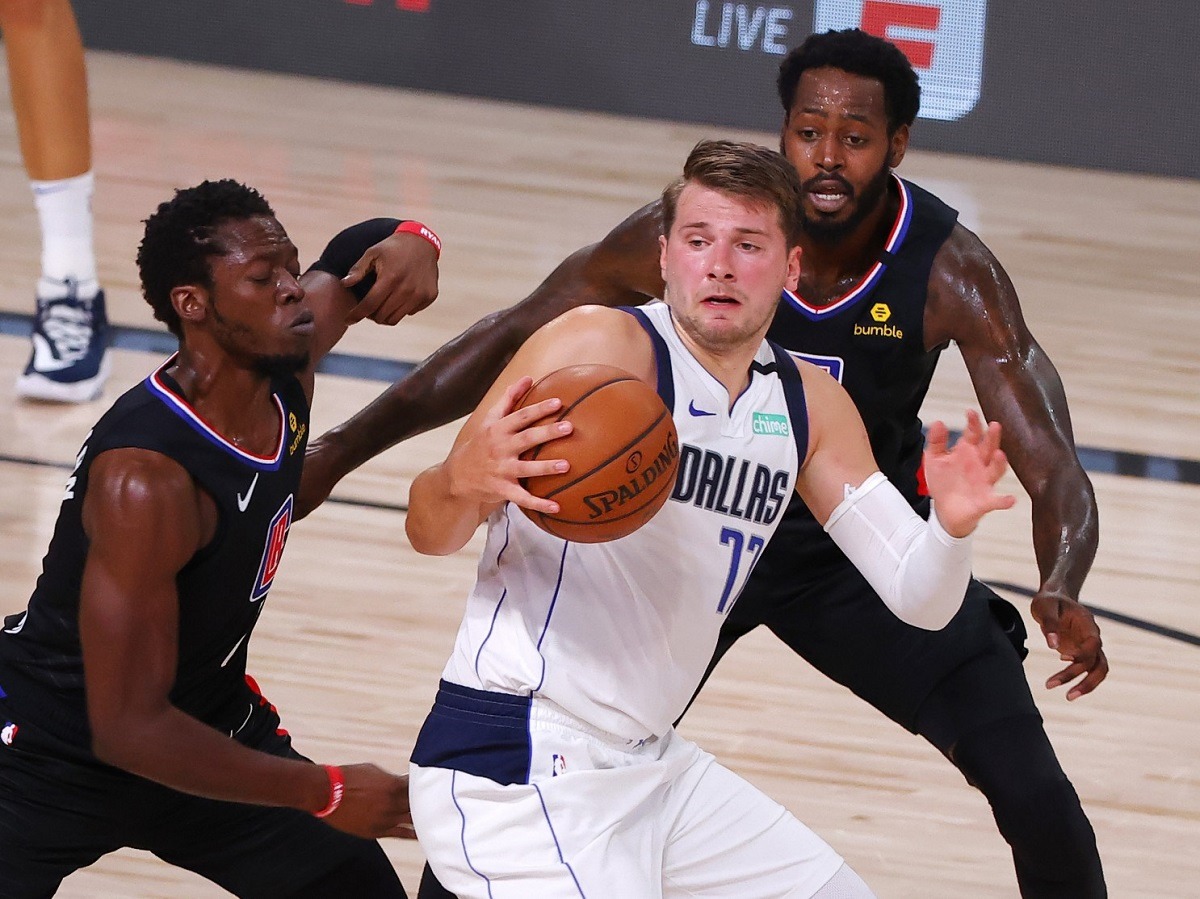 The defending champion Raptors come into Friday's playoff games as the biggest favorite on the board at -10.5, according to the Westgate SuperBook in Las Vegas.
Bookies anticipate the Clippers will bounce back against the Mavericks in Game 3. The Mavs are a +5 dog once again. Clippers point guard and top defender, Patrick Beverly, was a late scratch for Game 2. He didn't look good during the Clips' shootaround, and head coach Doc Rivers kept him out of the lineup. Beverly will be a game-time decision for Game 3.
---
NBA PLAYOFF LINES 8/21/20
Toronto Raptors -10.5 vs Brooklyn Nets (o/u 220.5)
Denver Nuggets -1.5 vs Utah Jazz (o/u 218.5)
Boston Celtics -5 vs Philadelphia 76ers (o/u 216)
LA Clippers -5 vs Dallas Mavericks (o/u 232.5)
---
The Jazz have a chance to take a 2-1 series lead without starting point guard Mike Conley, who stepped away from the Disney bubble to attend the birth of his son. He's now in quarantine and waiting to return for Game 4.
The Jazz and Nugs are the closest game on the board, with the Jazz +1.5 dogs heading into Game 3.
2-0 Toronto Heavy Favorites
Toronto Raptors' head coach Nick Nurse opted for a small-ball unit in Game 2. Pascal Siakim, normally a forward, moved over to the center position.
"It's all feel," said Nurse of his lineup shuffle. "I have tried to get my five guys who have played the best on the floor late."
The Raptors pulled away from the Nets in the fourth quarter of Game 2 to secure a 2-0 series lead. Fred VanVleet scored 24 points and added 10 assists, despite a rough night from beyond the arc shooting only 3-for-11. Norman Powell came off the bench with a hot hand, adding 24 points.
Garrett Temple led the Nets with 21 points. They committed 17 turnovers, which attributed to their late-game meltdown.
Despite not having any of their big guns (Spencer Dinwiddie and DeAndre Jordan), the Nets kept the game close. But they're clearly outgunned against the defending champs.
Western Shootout: Denver and Utah Even
After torching the Denver Nuggets for 57 points in a Game 1 loss, Donovan Mitchell scored 30 points in a Game 2 victory for the Utah Jazz. Jordan Clarkson chipped in 26 off the bench.
"I prided myself over the quarantine just how to become playmaker," said Mitchell. "Find a way to get the team involved. It may not always be scoring. I think today, just trusted my teammates."
Nikola Jokic scored 28 points and added 10 rebounds in a Game 2 loss for the Nugs. After dropping 36 points in Game 1, Jamal Murray scored only 14 points in Game 2. Utah did a much better job guarding Murray on the perimeter.
Denver rookie Michael Porter Jr. added 28 points while filling in for Will Barton, who missed action with a sore knee.
Sinking Sixers Down 2-0
The Philadelphia 76ers jumped out to an early lead in Game 2. However, the Boston Celtics quickly countered and exploded with 38 points in the second quarter to regain control. The Sixers came out of halftime flat as the Celtics built up a 20+ point lead heading into the fourth quarter.
Joel Embiid scored 34 points and hauled down 10 rebounds in the loss. Shake Milton added 14 points.
"It's a long series," said Embiid. "We've got a long way to go. Obviously, this was a tough one tonight. We've got to lock in and get ready for Game 3."
Another game, another career playoff-high for Jayson Tatum. Tatum lit up the Sixers for 33 points on 8-for-12 shooting from 3-point land.
"I'm playing confident," said Tatum. "Trying to be aggressive and trying to make the right play. I say that a lot, but that's as easy as I can break it down."
Kemba Walker added 22 points and Jaylen Brown scored 20 despite the two shooting only 3-for-13 from beyond the arc.
The Celtics played Game 2 without Gordon Hayward, who will miss up to four weeks with an ankle injury.
Mavs Pull Even with Clippers
The Dallas Mavericks blew out the LA Clippers in Game 2 after dropping Game 1 to tie their series at 1-1. The Mavs got off to a good start and didn't look back. They pulled away in the second half with a 37-point effort in the third quarter.
Luka Doncic unleashed 42 points in his first-ever playoff appearance in Game 1, but he was held to only 14 points in Game 2. Doncic rode the bench for most of the second half after picking up his fourth foul early on in the third quarter. Kristaps Porzingis led the Mavs with 23 points.
"Being on the bench, it's hard for me," said Doncic. "I want to help my team but we won the game."
Three reserves scored double-digits for the Mavs, who were lifted by a second unit that scored 47 points off the bench. Trey Burke scored 16 points, Seth Curry added 15, and fan-favorite Boban Marjanovic added 13 points and nine rebounds in just 10 minutes of playing time.
"Their bench outplayed our bench and our starters," said LA Clippers coach Doc Rivers.
The Clippers missed Patrick Beverly, who sat out due to a calf injury. Kawhi Leonard scored a game-high 35 points in the loss. Paul George had an ugly game. He scored 14 points, but went 4-for-17 from the floor and missed eight 3-pointers. Lou Williams came off the bench and added 23 points.
Montrezl Harrell came off the bench and scored 10 points for the Clippers in only 22 minutes of action.
The Clippers look to break the deadlock in Game 3 as a -5 favorite against the Mavs.