It's another bad beat in Brooklyn. Two members of the Brooklyn Nets — Spencer Dinwiddie (starting point guard) and DeAndre Jordan (backup center) — have tested positive for coronavirus. Jordan says he will opt-out of the NBA restart at Disney's World of Sports in Orlando, Florida. Dinwiddie, the Nets leading scorer, has yet to decide, but all signs point to him skipping the restart.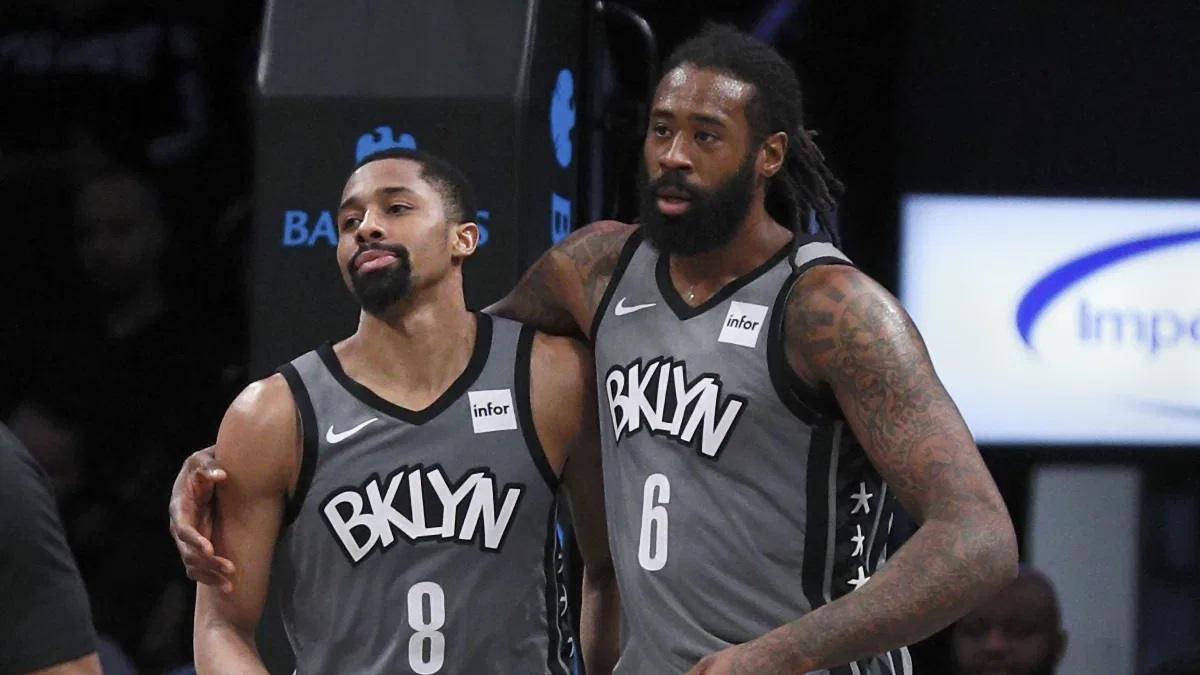 The Nets were already missing two key players with Kevin Durant and Kyrie Irving sidelined with injuries. Over the weekend, Wilson Chandler (backup small forward) expressed his desire to opt-out of the restart.
Irving suffered through a shoulder impingement injury for the majority of this season and appeared in only 20 games. He thought rest and treatment would heal his shoulder. When the shoulder didn't respond, he opted for season-ending surgery in late February.
Durant came into this season hobbled after recovering from a blown Achilles in the 2019 NBA Finals. Despite the delayed finish to this season, Durant says he won't be returning to the team until next season.
In March, Durant tested positive for COVID-19, along with several other members of the Nets (who still remain unidentified).
The Brooklyn Nets were 40/1 odds to win the 2020 NBA Championship last week. After the news dropped about losing both Dinwiddie and Jordan, the Nets' odds plummeted to 300/1 at several offshore books, including 888 and Unibet.
Found out last night and confirmed again today that I've tested positive for Covid while being back in market. As a result of this, I will not be in Orlando for the resumption of the season.

— DeAndre Jordan (@DeAndre) June 30, 2020
Nets Lose Top Gun
With Irving out for the season, Dinwiddie emerged as the team's leader on the court. He led the Nets with 20.6 points and 6.4 assists per game. Dinwiddie, 27, posted career highs in points and rebounds in his sixth pro season.
During the shutdown, Dinwiddie heard his name mentioned in numerous NBA trade rumors. The biggest gossip on the street involves the Nets trading for Bradley Beal from the Washington Wizards. The Nets want Beal as a third offensive weapon in next season's lineup alongside Durant and Irving. To acquire Beal, the Nets would have to give up a top player like Dinwiddie.
Dinwiddie has also been lumped in with Los Angeles Lakers trade rumors. The Lakers need a point guard and could throw-in as a third member in a multi-way trade among the Nets and Wizards.
The Nets will look to shooting guard Caris LeVert to provide the bulk of the scoring load moving forward. LeVert averages 17.7 points, 4.1 assists, and 4.1 rebounds this season.
Rookie Chris Croza will also see some action. The third-string point guard moved up the depth chart when Irving went down.
Expect swingman Joe Harris (13.9 ppg) and veteran guard Garrett Temple (10.3 ppg) to pick up the scoring slack.
Big Man Down
DeAndre Jordan, 31, came off the bench this season averaging 8.3 points and 10 rebounds per game. However, it's his veteran presence in the locker room that will be truly missed.
"Found out last night and confirmed again today that I've tested positive for Covid while being back in market," tweeted Jordan. "As a result of this, I will not be in Orlando for the resumption of the season."
Jordan, in his 12th season out of Texas A&M, was a fixture with the LA Clippers for almost a decade. Jordan provided the Clippers with a guaranteed double-double every night. Fantasy nerds loved Jordan for his ability to fill up the boxscore with rebounds and blocked shots.
Without Jordan at the restart, expect Jarrett Allen (10.6 ppg, 9.5 rebounds) to become the Nets' main big man. In his third season out of Texas, Allen won the starting center job this season. Jordan played a mentor role to the young center.
Power Forward Taurean Prince (12.1 ppg, 6.1 rebounds) will also have to add some muscle on the boards. Expect to see Latvia's Rodions Kurucs (4.2 ppg, 2.5 rebounds) get some playing time off the bench.