After a week into the second half of the NBA season, Steph Curry is the betting favorite to win the MVP at +180 odds, but Giannis 'Greek Freak' Antetokounmpo (+250), Nikola Jokic (+550), Joel Embiid (+600), and Ja Morant (+1000) are trying to chase him down.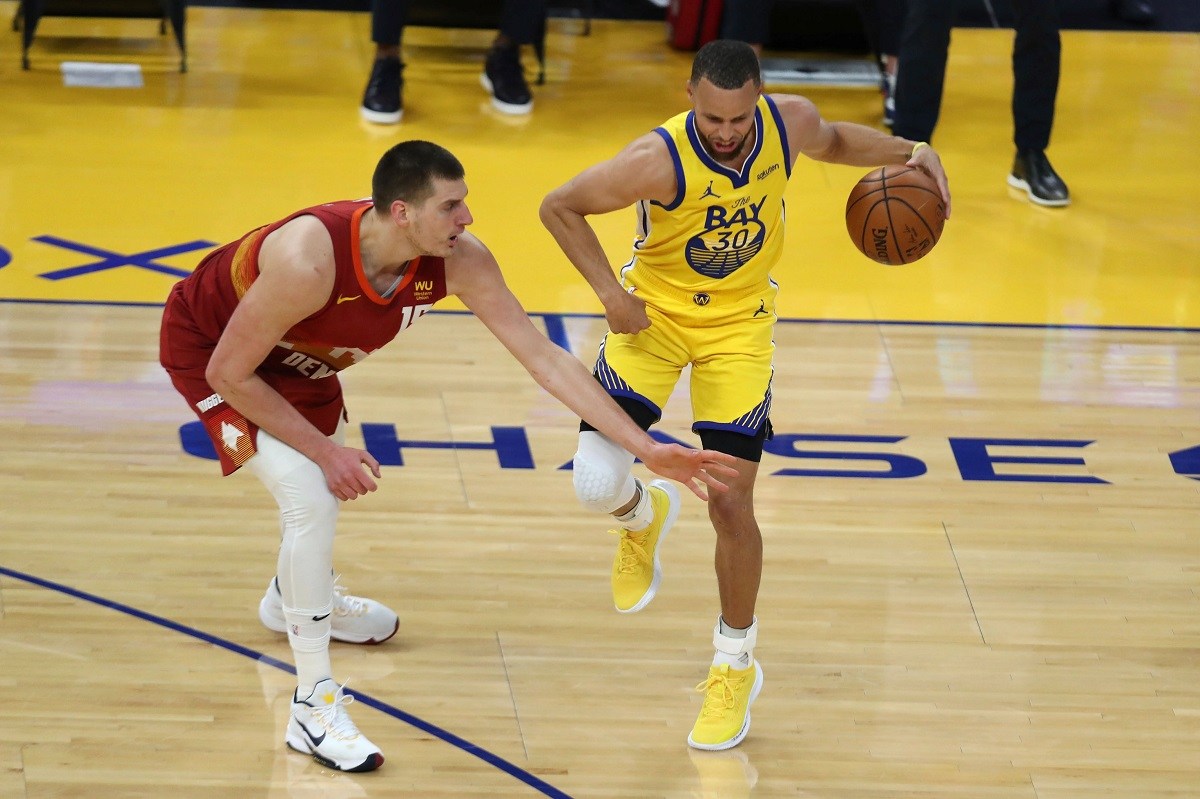 Kevin Durant was the preseason favorite to win MVP at +400 odds, but Curry took over the top spot on the prop betting board after a sizzling start to the season from both himself and the Golden State Warriors.
| | | |
| --- | --- | --- |
| | NOW | 11/11/21 |
| Steph Curry | +180 | +300 |
| Giannis Antetokounmpo | +250 | +650 |
| Nikola Jokic | +550 | +1500 |
| Joel Embiid | +600 | +1500 |
| Ja Morant | +1000 | +2200 |
| Kevin Durant | +2200 | +500 |
| DeMar DeRozan | +4500 | +7000 |
| Luka Donic | +4500 | +800 |
| LeBron James | +4500 | +4000 |
| Devin Booker | +4500 | +5000 |
| Trae Young | +4500 | +15000 |
| James Harden | +10000 | +4000 |
---
Durant slipped to +2200 odds, but he's also currently sidelined for at least another month while he recovers from an MCL knee sprain.
Big Men for MVP: Jokic, Greek Freak, Embiid
Jokic won the MVP last season, but he entered this season as the fifth betting favorite on the board at +1500 odds. Despite a slow start, Jokic played his best basketball of the season in the last couple of weeks, which is why his MVP odds improved to +550. Heck, the Joker has been on fire. He recorded four-straight triple-doubles over the last week including a 49-point triple-double in an overtime win against the LA Clippers.
Overall this season, Jokic averages 25.9 points, 13.9 rebounds, and 7.5 assists per game. He's in the top nine in all three categories, including ranked #2 in rebounds. His PER rating of 33.46 is the best in the NBA.
Greek Freak won the MVP in back-to-back seasons in 2019 and 2020, but he did not win a championship title with the Milwaukee Bucks until last season when Jokic won the MVP. Greek Freak averages 28.6 ppg, for third best in the NBA. He also averages 11.3 rebounds and 6.1 assists per game. He has the third-best PER rating in the league at 31.27. Since early November, the Greek Freak saw his MVP odds improve from +650 to +250 and he's second on the board behind Curry.
Joel Embiid is also playing some of his best ball of the season for the Philadelphia 76ers. He averages 29.4 points and 10.6 rebounds per game this season. He's the NBA's fourth-best scorer and has the second-best PER rating at 31.31. Embiid saw his MVP odds bump from +1500 to +600 in the last week, which included a 50-point game in just 27 minutes of action. He followed up his 50-pint game with 40 points last night.
Slumping Curry for MVP
Even though he's bogged down in the worst shooting slump of his career, Curry is the player to beat for MVP at +180 odds. He's been struggling to find his shot over the last few weeks. His slump began just as he was about to pass Ray Allen on the all-time 3-pointer list and it spilled over into the new year.
"I know I got to shoot the ball better," said Curry. "I obsess over the shooting numbers because that's what I do and that's what I work on. When you don't reach those levels, it's frustrating."
Curry knocked down a game-winning buzzer beater last night against the Houston Rockets, but he's still not happy with his recent performance. That's why he's one of the best in the world, because he always seeks perfection.
Curry averages 26.3 points and 6.2 assists per game this season, but during his January slump he's averaging only 21.6 ppg. In his previous three months, his averages were 27.6 ppg (December), 27.4 ppg (November), and 28.7 ppg (October).
🚨 STEPHEN CURRY CALLS GAME 🚨

His #TissotBuzzerBeater lifts the @warriors! #ThisIsYourTime pic.twitter.com/SCzYCYnKsj

— NBA (@NBA) January 22, 2022
OG's MVP: Morant
In OG's NBA Midseason Awards, we selected Morant as out first-half MVP. The bookies and betting public must've took note of our assessment because Morant saw his NBA MVP odds jump from +2200 to +1000.
Morant averages 25.1 points, 6.9 assists, and 5.8 rebounds per game for the Memphis Grizzlies. He also has a PER rating of 25.10, which is ranked #9 in the NBA and impressive for a guard. The Grizzlies who sit in the #3 seed in the Western Conference, and Morant's strong play is improving the deeper the Griz go into the season.
Morant is super hot right now with back-to-back games scoring at least 33 points. He dropped 38 points last night in Denver in a big win over Jokic and the Nuggets.