The Washington Mystics and the Connecticut Sun are each one game away from reaching the WNBA Finals, as the league's top two teams won again on Thursday to take 2-0 leads in their respective semifinal series.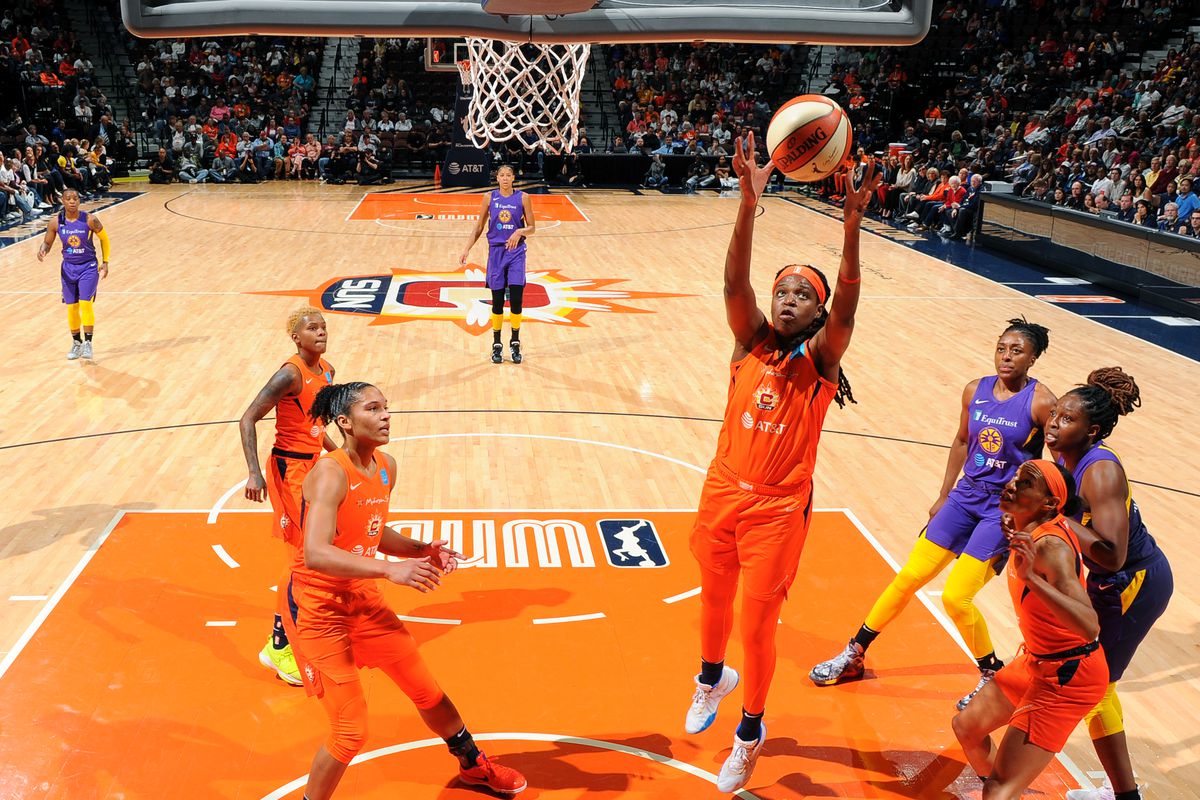 The Mystics powered past the Las Vegas Aces 103-91, while the Sun scored a dominant 94-68 win over the Los Angeles Sparks.
Six Score in Double Figures for Mystics
Washington was led by forward Emma Meesseman, who matched her career high with 30 points. Elena Delle Donne and Natasha Cloud also picked up double-doubles for the Mystics.
While the 12-point victory might seem comfortable, the Aces challenged Washington on several occasions. Las Vegas made several big runs throughout the game, including one at the end of the first half and another in the fourth quarter.
"A lot of teams that have not been through this before would have been in a tough shape mentally at halftime," Mystics coach Mike Thibault told the Washington Post. "We gave up the run right before halftime, and yet there was no sense of disaster among those players."
Washington enjoyed contributions from just about everyone, as six players scored in double figures, including Aerial Powers, Kristi Toliver, and LaToya Sanders, who scored 17 points while playing admirable defense against Las Vegas center Liz Cambage, who scored 23 points and grabbed 10 rebounds.
"My job is probably the easiest on the team, because when they're doubling on Elena or Emma, my job is basically to get wide-open jumpers and layups," Sanders said afterwards. "Cambage is a talent, she's a big girl, so I just do what I can to try to make it difficult for her."
Game 3 takes place Sunday in Las Vegas, where the Mystics are favored by 2.5 points according to FanDuel Sportsbook.
Connecticut Overcomes First Half Woes
In the other WNBA semifinal game on Thursday, the Sparks held an 11-point lead in the second quarter before the Connecticut Sun were able to settle in and eventually pull away to win by 26. Jonquel Jones led all scorers with 27 points and grabbed 13 rebounds, while Courtney Williams scored 25 along with six boards and six assists.
According to Sun head coach Curt Miller, the fact that his team clawed out of a hole to take a 41-40 halftime lead was a testament to all the little things Connecticut does well.
"We had so many second-chance opportunities that we had a lead when it didn't feel like a great first half offensively," Miller said, via the Hartford Courant. "It was all because of rebounding, and that continued as we shored up some things and strung together some consecutive stops, and we got our running game going. It really carried us when we were struggling offensively in that first half."
The two-game lead makes the Sun a clear favorite to advance to the WNBA Finals, but the Sparks will likely still have something to say about that in this series. Los Angeles is a 4.5-point home favorite for Game 3 on Sunday.
Still, it looks as though the WNBA is headed towards the Washington vs. Connecticut final so many predicted at the start of the playoffs. The Mystics are a -220 favorite to win the WNBA championship over the Sun (+230), with the Sparks (+1100) and Aces (+3600) considered longshots to even reach the finals at this point.