Ja Morant, point guard for the Memphis Grizzlies, is the leading contender for NBA Rookie of the Year and, even though he turned down an invite to the annual NBA Dunk Contest, he's been throwing down jaw-dropping dunks during the first half of the season.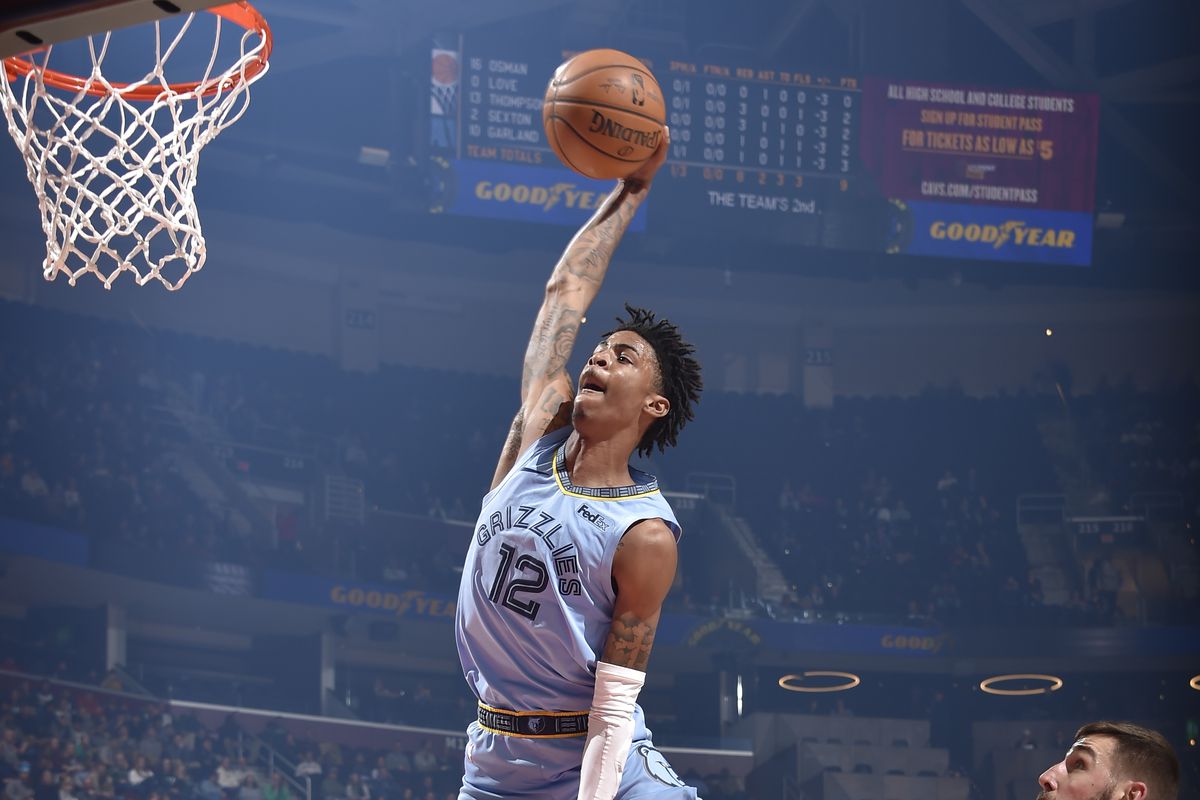 Morant, 20, leads all NBA rookies in scoring, averaging 17.9 points per game. He also leads the Griz in scoring and assists with 7.0 dimes per game.
Morant played in – or started in — 36 out of 42 games for the Grizzlies this season. He sat out a week or so with back spasms after an awkward fall in late November.
He's one of the main reasons the Grizzlies won seven games in a row and moved into playoff contention in the Western Conference.
Who is Ja Morant?
Hometown: Sumter, South Carolina
Age: 20
College: Murray State
Position: PG
Drafted: #2 Pick by Memphis in 2019 NBA Draft
Stats: 17.9 ppg, 7.0 assists, 3.5 rebounds, 18.78 PER
The Grizzlies are ranked ninth in the NBA in scoring with 113.5 points per game. A lot of that high-tempo pace has a lot to do with Morant's ability to push the ball up the court in an expedited manner.
"It's just me trying to stay focused with what I have to do here with my team," said Morant. "Keep pushing to win ball games."
Most recently, Morant outplayed the leading MVP candidate, James Harden, in a 121-110 victory over the Houston Rockets. Morant knocked down 10-of-11 shots for 26 points along with eight assists. The swaggy Morant was also overheard screaming at the Rockets bench, ""Tell that motherf—-r about me!"
Griz Playoff Bound?
The Grizzlies are only 20-22, but they currently occupy the #8 seed in the Western Conference. The Griz are currently in third place in the NBA Southwest division.
The Houston Rockets (26-14) and Dallas Mavericks (27-15) are slugging it out for the division title. Meanwhile, the Grizzlies are holding steady in third place due to a lackluster San Antonio Spurs (17-23) and a New Orleans Pelicans team struggling without Zion Williamson, who has yet to play a game in his highly-anticipated rookie season.
"Every game is a statement game at this point," said forward Jaren Jackson, Jr. "Because you are playing for seeding, playing for the playoffs. Everybody is trying to work towards that, but definitely, when you're on a winning streak, it gives you a bit more energy."
Jackson, aka JJJ, is second on the Grizzlies in scoring with 17.8 points per game. JJJ and Morant have become the Grizzlies' deadly one-two scoring punch.
Shooting guard, Dillon Brooks, is finally coming into his own averaging 15.4 ppg.
"I've seen this group grow from since I first got here," said Brooks, who was drafted out of Oregon in 2017. "Seen the fans come into the arena more. It's a great feeling and makes you want to play harder every time out."
Big man Jonas Valaciunas is averaging a double-double with 15.1 points and 10.0 rebounds per game. Veteran small forward, Jae Crowder, has been the elder statesman on the very young team, and he's only 29.
Rookie swingman Brandon Clarke from Gonzaga has been coming off the bench to provide additional scoring with 12.3 ppg.
Zion? Nah, Ja Morant the Rookie of Year
We've reached mid-January and Zion Williamson has yet to play a game. Zion went down in the preseason with a torn meniscus. He had surgery to repair his right knee and initial reports suggested the Duke stud would only miss up to six weeks. He's missed more than half the season already, but Zion is finally expected to suit up this coming Wednesday.
While Zion rehabbed his knee, Morant emerged as the leading candidate for NBA Rookie of the Year. In a short time, Morant proved why he's one of the most exciting players in the NBA, and why the Grizzlies are must-see TV. Scouts were high on Morant during his freshman year at Murray State.
When he became a sophomore, his name was mentioned as a lottery pick. However, any doubters questioned Murray State's strength of schedule and lack of competition for Morant. Sure, Morant absolutely schooled everyone in the Ohio Valley conference, and even hit a game-winner to send Murray State into the OVC Championship last season. But it's not like he was a point guard in the Big Ten or ACC, where he'd have plenty of other top-notch talent to stack up against.
All the haters and doubters were eating their words from the opening week of the season. Morant hit the ground running when head coach, Taylor Jenkins, named him the starting point guard. Morant's auspicious start made Memphis' front office look like geniuses for drafting him with the #2 overall pick and trading away their most beloved player in Mike Conley to the Utah Jazz. At present, Conley is on the IL with a nagging hamstring injury.
Despite the invite to the NBA Dunk Contest during All-Star Weekend, Morant politely declined. He's been lighting up social media with his breathtaking dunks and acrobatic moves to the basket. Against the Cavs last month, Morant jumped over Kevin Love, but missed the potential posterizing dunk.
"I'm glad Ja Morant missed (the dunk)," joked Love after the game. "Otherwise, he would have ended my career on the spot."
JA MORANT ALMOST SUBMITTED A LATE ENTRY FOR DUNK OF THE DECADE 😳 pic.twitter.com/rtTw6kt0Rp

— SportsCenter (@SportsCenter) December 21, 2019