Ja Morant, the Memphis Grizzlies point guard and Rookie of the Year candidate, will miss this week of action with back spasms. The Grizzlies (6-13) listed Morant as week-to-week on their injury report after he suffered a back injury when he fell into a group of a camera men behind the basket.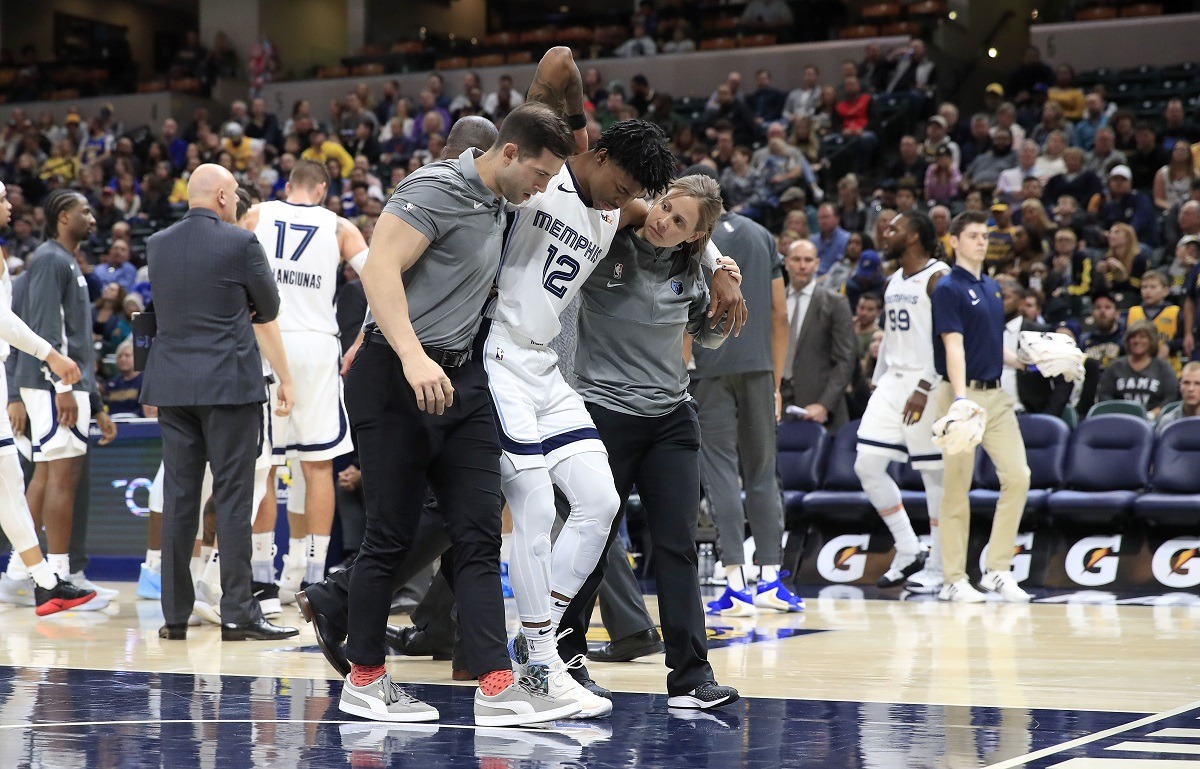 Morant leads all NBA rookies with 18.6 points and 6.4 assists. He's the leading scorer on the Grizzlies while only playing 28.7 minutes per game.
The Grizzlies management were so high on Morant that they traded veteran guard Mike Conley. To those not familiar with Conley, became Mr. Grizzly — the team's most popular player — following their move to Memphis.
NBA Rookies – Top 5 Scoring 
Ja Morant (Memphis Grizzlies) 18.6 ppg, 6.4 assists
Eric Paschall (Golden State Warriors) 17.0 ppg, 5.2 rebounds
Kendrick Nunn (Miami Heat) 16.4 ppg, 2.4 assists
RJ Barrett (NY Knicks) 15.3 ppg, 5.4 rebounds
Tyler Herro (Miami Heat) 14.4 ppg, 4.1 rebounds
Eric Paschall, a power forward from Villanova, is the biggest surprise. The Golden State rookie stepped up as the Warriors leading scorer after the team was decimated with injuries.
NY Knicks rookie forward, RJ Barrett is logging the most minutes among first-year players. He's fourth in scoring with 15.3 points per game, playing for the last-place Knicks.
The Miami Heat have two rookies learning the ropes alongside Jimmy Butler. Butler has taken a liking to Tyler Herro, a first rounder out of Kentucky. Herro is fifth overall in rookie scoring with 14.4 points per game. Kendrick Nunn, an undrafted rookie out of Oakland, sits third overall in rookie scoring with 16.4 points per game.
Ja's Freak Back Injury
Morant initially injured himself last Monday in a game against the Indiana Pacers. He fell hard into a group of cameramen after driving to the hole and drawing a foul. He needed assistance off the court. However, the gritty Morant returned to the game and finished with 19 points and 11 assists.
Ja Morant is down bad after falling down bad into a cameraman pic.twitter.com/JRtwm1g8Fp

— Chris Montano (@gswchris) November 26, 2019
On Thanksgiving Eve, Morant played against the LA Clippers. He looked great in a loss, with 20 points and 11 assists.
During Friday's game, the back spasms flared up in a loss to the Utah Jazz. Morant's game suffered, and he scored only 11 points on 4-for-13 shooting.
After the Jazz game, Memphis made the wise move to shut him down for a couple of weeks.