Khabib Nurmagomedov and Floyd Mayweather have begun to build momentum for a potential fight between the two champions, suggesting that Nurmagomedov might want to follow in the footsteps of rival Conor McGregor in taking on one of boxing's greats.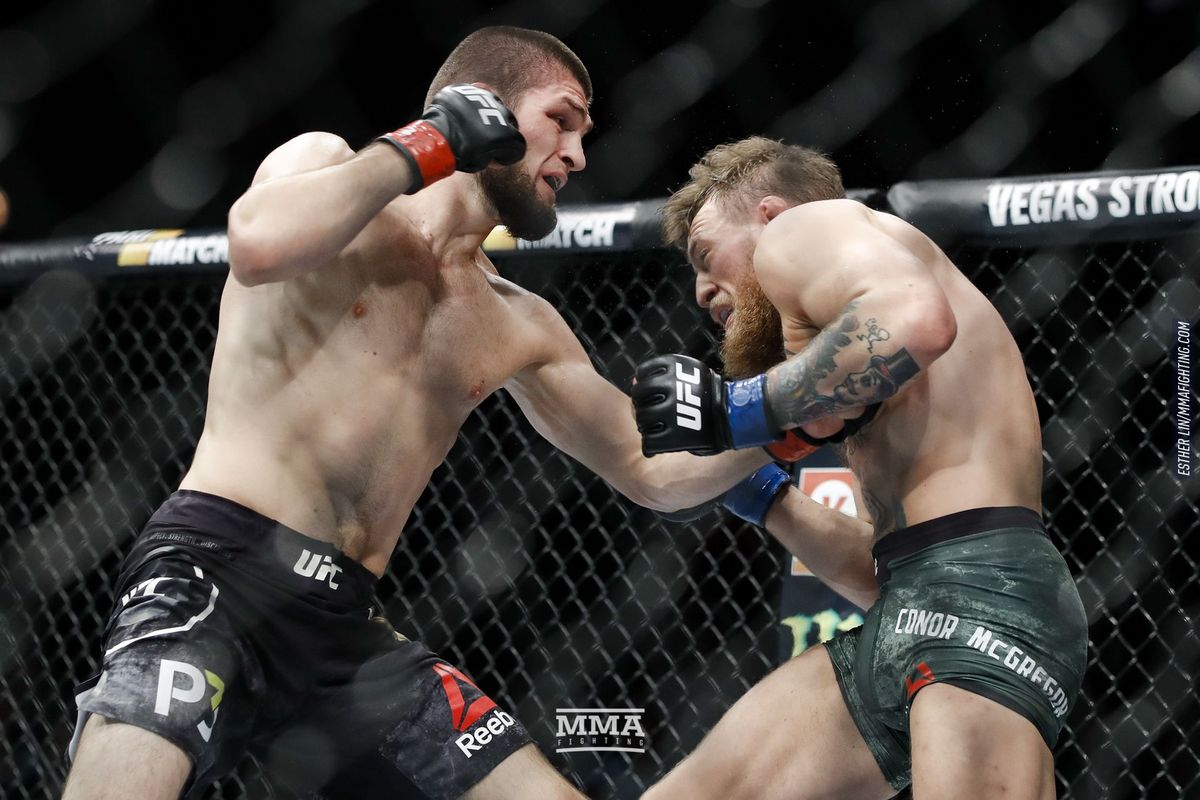 Nurmagomedov recently scored a dominating submission victory over McGregor at UFC 229, leaving him little to prove in the UFC's lightweight division. But the Dagestani wrestler has shown some interest in taking on Mayweather, something McGregor famously did in August 2017.
A Tale of Two Undefeated Champions
In that fight – a boxing match – Mayweather defeated McGregor by technical knockout in the 10th round. While it may not have been the highest quality boxing competition ever seen, the fight generated a tremendous amount of hype, which translated into massive paydays for Mayweather, McGregor, and just about everyone else involved in the event.
While talking on camera next to Mayweather Promotions CEO Leonard Ellerbe at an event in Russia last weekend, Nurmagomedov referenced that fight while issuing his own challenge to the 50-0 boxing legend.
"Let's go, Floyd, we have to fight now," Nurmagomedov said. "50-0 vs. 27-0, two guys who never lose. Let's go, why not? Because in the jungle, there's only one king. Of course, I'm the king because he cannot drop McGregor, but I drop him easily."
It didn't take Mayweather long to respond. On Monday morning, the 41-year-old semi-retired boxer took to Instagram to say it was time to "make Las Vegas great again," and suggested that he would be down to fight Khabib if the price was right.
"CBS, Showtime and MGM Grad get the checkbook out!" he wrote.
While Nurmagomedov may not have quite the fan base that McGregor boasts, there's no doubt that a boxing match – or even an MMA encounter – between him and Mayweather would still generate huge interest from fans. The prospect of two undefeated fighters clashing would be enough to create a great exhibition, even if one of them would inevitably be at a huge disadvantage depending on the fight format.
Fight Won't Happen Anytime Soon
That said, there are some pretty large obstacles in the way of any potential fight taking place. On Nurmagomedov's side, there's the fact that he is facing a suspension from the Nevada Athletic Commission for his role in the post-fight melee after his win over McGregor earlier this month. Currently, he is on a temporary ban until the commission's next meeting, but a longer suspension and a significant fine are both likely to be imposed.
Mayweather himself reacted to the brawl after the UFC 229 title fight, drawing on his own experience to make a prediction as to the potential consequences.
"It's going to be a huge fine I'm pretty sure, because with my fight against Zab Judah, there was a crazy melee in the ring and a huge penalty," Mayweather told ITP Live. "If I'm not mistaken, seven figures."
For his part, Mayweather has hinted at a wide range of plans for his future in recent months.
In March, the boxer revealed that he was planning to start training for MMA "soon," perhaps with an eye to eventually fighting in the UFC. By September, he was instead talking about putting together a December rematch with Manny Pacquiao. Just a few days later, however, Mayweather said that he would first seek to fight once in Japan before looking to hammer out a deal with Pacquiao to fight sometime in 2019.