The Nevada Athletic Commission has issued 10-day suspensions to both Khabib Nurmagomedov and Conor McGregor, initiating the formal beginning of the disciplinary process against the fighters.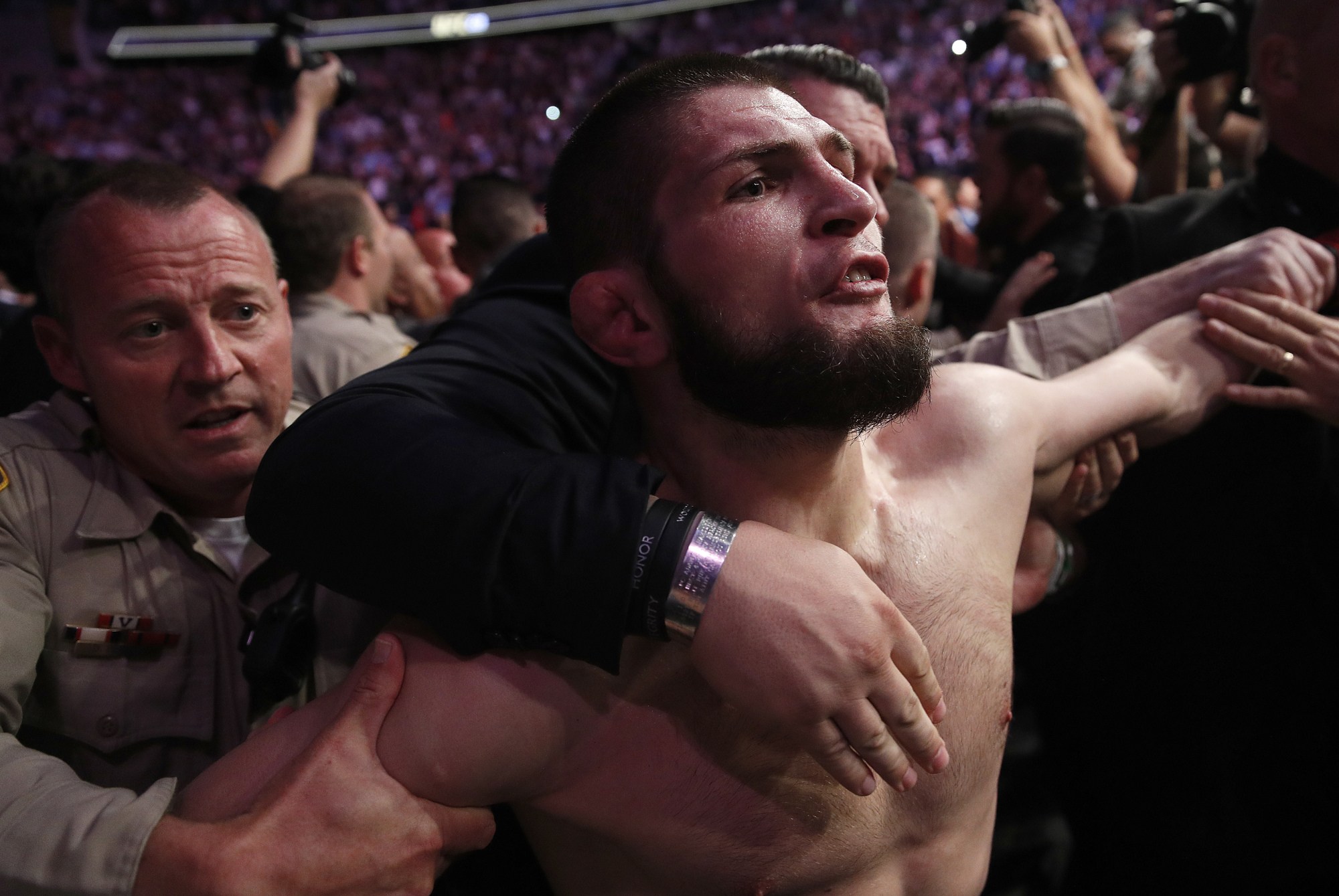 The suspensions come in the wake of the post-fight brawl that followed the UFC 229 main event, in which Nurmagomedov submitted McGregor to retain his UFC lightweight championship.
Suspensions Likely to be Extended
The temporary suspensions officially begin on Monday, Oct. 15, and run through the next NAC meeting, which is scheduled for Oct. 24.
That timing gives the commission plenty of options when it comes to enacting further discipline against the two men. At their next meeting, NAC could vote on continuing the suspensions indefinitely pending an investigation and a disciplinary hearing.
There may also be a vote on whether the commission will continue to withhold Nurmagomedov's $2 million purse while the disciplinary process continues. McGregor was allowed to take home his $3 million check following the fight, though NAC decided to suspend him as well after more video came out that showed the Irish fighter taking a more active role in the melee.
Moments after Nurmagomedov got McGregor to tap out in the fourth round of their championship fight, the Dagestani champion leaped over the Octagon cage and attacked Dillon Danis, a Bellator fighter who also serves as one of McGregor's coaches. A TMZ report suggested that Danis had been hurling insults at Nurmagomedov throughout the fight, which included anti-Muslim slurs, though Danis has denied that allegation.
Khabib Threatens to Quit if Teammate Fired
Meanwhile, members of Nurmagomedov's team came into the Octagon, with featherweight fighter Zubaira Tukhugov throwing punches at McGregor. Later video showed that McGregor also threw punches after attempting to join the melee occurring outside of the cage.
Tukhugov was scheduled to fight McGregor teammate Artem Lobov later this month, but ESPN has reported that the fight has already been canceled. In an Instagram post made on Thursday, Nurmagomedov said that if the UFC ultimately decides to fire Tukhugov, he'll leave the company too.
"Why didn't you fire anyone when their team attacked the bus and injured a couple of people?" Khabib asked, referring to the incident in April when McGregor threw a dolly at a bus Nurmagomedov was riding ahead of UFC 223. "Why do you have to punish my team, when both teams fought.. If you say that I started it, then I do not agree. I finished what he had started.
"In any case, punish me, @zubairatukhugov has nothing to do with that," he continued. "You canceled Zubaira's fight and you want to dismiss him just because he hit Conor. But don't forget that it was Conor who had hit my another Brother FIRST, just check the video. If you decide to fire him, you should know that you'll lose me too."
Despite the prospect of suspensions and fines looming over the two fighters, there has been rampant speculation that the UFC will schedule a rematch between Nurmagomedov and McGregor, with UFC president Dana White saying that McGregor has already asked for another shot at the title. Nurmagomedov would be a heavier favorite the second time around following his dominating performance last weekend, with Bovada listing the champion at -300 for a hypothetical rematch with the Irishman.