The best-case scenario for the connections of every Saudi Cup horse not named Knicks Go or Charlatan is easy to comprehend, if not easy to realize.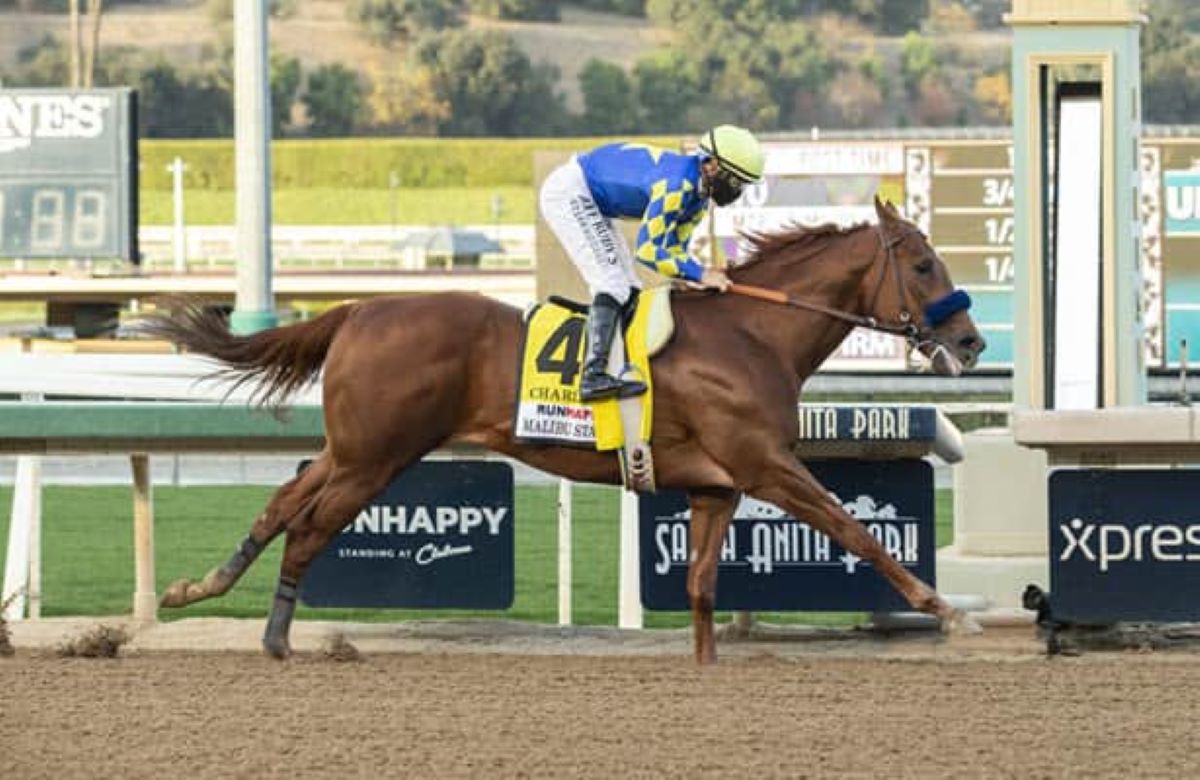 It goes something like this. Leaving from Post 5, Joel Rosario sends Knicks Go out like a shot. From Post 9, Mike Smith and Charlatan take off after Knicks Go like a fox chasing a rabbit. The two clock off furious fractions as the 12 other horses gallop along behind, waiting for the two favorites to commit speed duel hara-kiri.
When that happens, somewhere at the top of the stretch or just past it, Tacitus and backup rider William Buick motor past the tiring pair. So does Sleepy Eyes Todd, Mishriff and even the deepest of deep closers – Max Player. One of that quartet holds off the others, wins the race and pockets $10 million out of the $20 million purse.
A wonderful fantasy for the connections of those would-be horses, especially perennial Grade/Group 1 bridesmaid Tacitus. The Tapit colt, who finished fifth in the inaugural Saudi Cup last year, somehow pulled off the amazing feat of winning $3.2 million without a Grade 1 win on the resume.
Now … We Return You To Saudi Cup Reality
He's likely to keep that dubious honor. That marvelous pace meltdown fantasy bears little resemblance to what will likely happen in Saturday's 1,800-meter (about 1 1/8 miles) Saudi Cup. The world's richest race goes off at 9:40 a.m. PT from King Abdulaziz Racecourse in Riyadh.
What will likely happen is what everyone anticipates: a great duel between two of the fastest dirt route runners on the planet. Race favorite Charlatan (9/5) and second-favorite Knicks Go (5/2) are clearly the class of this race, which is vastly weaker than its inaugural predecessor in terms of talent.
Last year's third-place horse, Benbatl, was the only non-American to finish in the top-five. And he's far superior to every international horse in this field.
We Have an International Chorus of Supporting Players
In fact, the only two international horses getting any kind of attention this week are England's Mishriff (6/1) and Japanese entrant Chuwa Wizard (15/1). The former, trained by the excellent John Gosden, captured the Group 1 Prix du Jockey Club in France last summer. He comes in with three wins in his last four races after finishing second to Full Flat in last year's Saudi Derby on this track.
Chuwa Wizard won the Group 1 Champions Cup in Japan in December en route to winning Japan's Dirt Horse of the Year honors. The 6-year-old owns 10 wins in 18 career races, along with more than $4.5 million in career earnings.
And with Knicks Go and Charlatan alongside them at the outset, both of them are likely battling for lucrative – but lesser – pieces of this pie.
How Does Charlatan Respond?
Who takes the biggest slice is the overriding storyline here. Charlatan makes his first appearance since the day after Christmas, when he blew away the field in the Grade 1 Malibu at Santa Anita Park. That was his first appearance in seven months, or since a leg injury knocked him off the Kentucky Derby Trail.
Unlike Brad Cox, who turned Knicks Go loose for an easy victory in the Pegasus World Cup last month, Bob Baffert, who trains Charlatan, chose to pass on the Pegasus. He elected to put Charlatan through a series of demanding workouts at Santa Anita with an eye toward this race.
Group 1 Saudi Cup/King Abdulaziz Race Course
Morning Line (Jockey/Trainer)
Chuwa Wizard, 15/1 (Keita Tosaki/Ryuji Okubo)
Bangkok, 30/1 (Ryan Moore/Andrew Balding)
Great Scot, 50/1 (Adel Alfouraidi/Abdulla Mushrif)
Max Player, 20/1 (Mickael Barzalona/Steve Asmussen)
Knicks Go, 5/2 (Joel Rosario/Brad Cox)
Global Giant, 30/1 (Frankie Dettori/John Gosden)
Tacitus, 15/1 (William Buick/Bill Mott)
Sleepy Eyes Todd, 20/1 (Alexis Moreno/Miguel Angel Silva)
Charlatan, 9/5 (Mike Smith/Bob Baffert)
Military Law, 12/1 (Antonio Fresu/Musabbeh Al Mheiri)
Simsir, 30/1 (Adrie de Vries/Fawzi Nass)
Mishriff, 6/1 (David Egan/John Gosden)
Derevo, 30/1 (Cristian Demuro/Abdullah Mushrif)
Extra Elusive, 30/1 (Hollie Doyle/Roger Charlton)
The last of Charlatan's six post-Malibu workouts came Feb. 7, when he reeled off seven furlongs in a strong 1:24.6. A satisfied Baffert signed off and punched Charlatan's Middle East ticket. He'll run without Lasix for the first time.
"His main attribute is speed and his speed carries on," said Jimmy Barnes, Baffert's assistant who is in Saudi Arabia on behalf of his boss. "I would say he will be forwardly placed."
Charlatan Runs Without Lasix for the First Time
From Post 9, Charlatan has the luxury of not only being forwardly placed, but having Knicks Go in his sights. This allows jockey Mike Smith to see what Joel Rosario and Knicks Go are up to.
"I'm glad he drew to the inside of us. We should have a good opportunity to see where he's going to sit in the race and I would imagine we will be very close together," Barnes said. "He's a very smart horse. We'll put him in the gate and he will carry Mike on from there."
It won't be difficult to see what Rosario and Knicks Go are up to – the front of the pack. That's where Knicks Go holds court as he holds off challenger after challenger. He clocked frightening fractions in the Breeders' Cup Dirt Mile: a 21.98 opening quarter-mile and 44.40 opening half-mile, fractions that gave Cox pause. That is, until Knicks Go sustained that pace en route to a 1:33.65 mile and a track record.
Let Knicks Go Go Alone and He's Gone
That is what happens when you allow Knicks Go to control the pace. He did the same thing in the 1 1/8-mile Pegasus. While his fractions (22.98 and 46.16) didn't make the eyes pop, Knicks Go's MO came out of the Dirt Mile playbook. He seized the lead at the outset and effortlessly used the two-path during an unchallenged nine-furlong jaunt.
The lesson for Charlatan – and any other would-be pacesetter here – is clear. Don't let Knicks Go get too far away. Maybe this is the race he feels a type of pressure he hasn't felt since he arrived in Cox's barn early last year.
Or maybe it's the race everyone else feels the pressure of realizing Knicks Go is the best dirt horse in the world.
The pick: Charlatan. First, there's the fact he's outside of Knicks Go, so Mike Smith can see what his rival is doing, then react accordingly. Unlike Knicks Go, Charlatan doesn't need the lead to be lethal. He has enough tactical speed to hang with Knicks Go – an important key here — or stalk him and pounce in the stretch. And as we've seen, when Charlatan pounces in the stretch, he's uncatchable.