Every time Brad Cox looks at his first Eclipse Award as 2020's Champion Trainer, he should give thanks to Knicks Go. For if there was ever an example of how important a trainer's impact is on an individual horse, the story of Knicks Go is Exhibit A.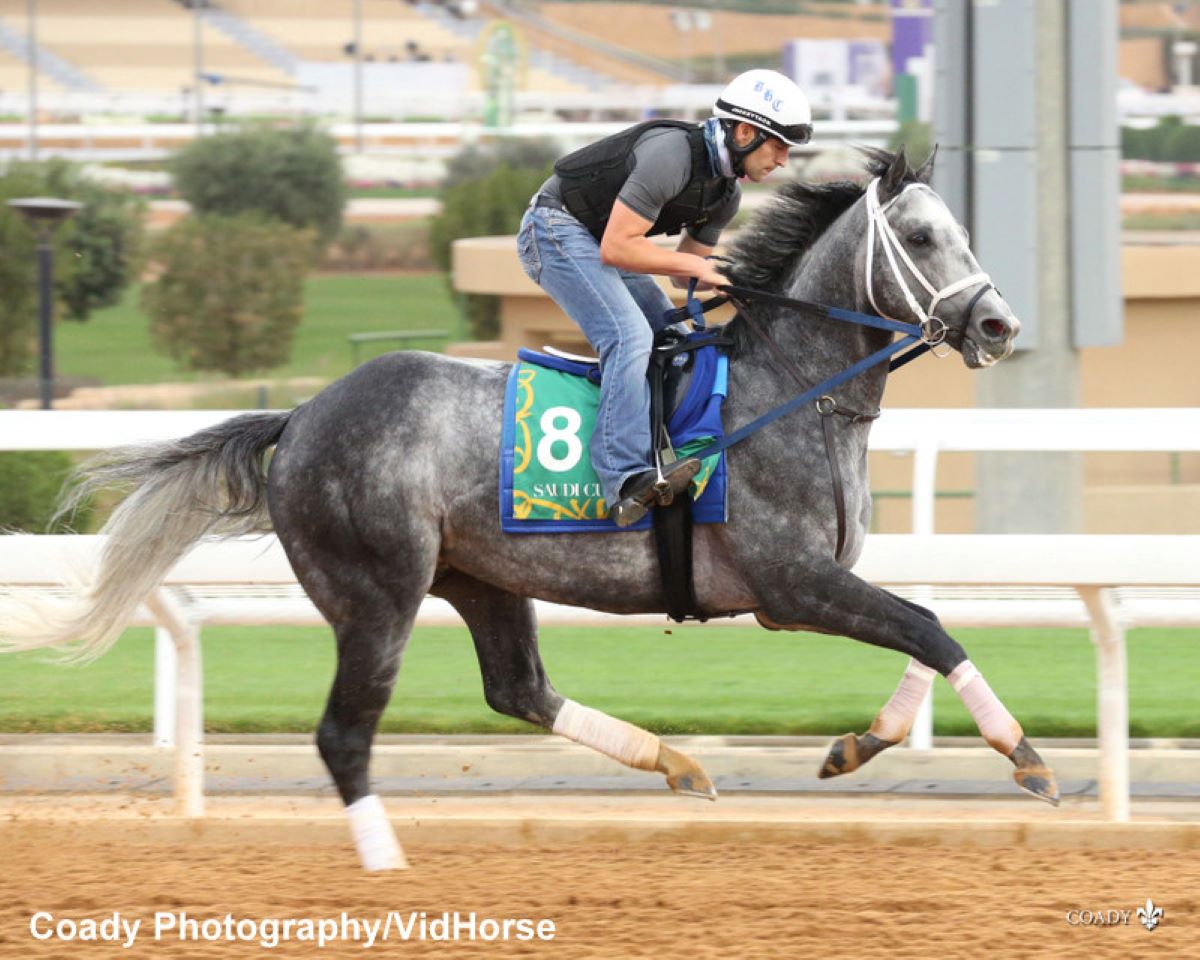 And if there was ever an example of giving a horse just one more chance, well, here's Exhibit B. Because at this time last year, Knicks Go was on the verge of retirement.
Now, he's on the verge of equine superstardom. The 5-year-old Paynter offspring is one of the two favorites for Saturday's Saudi Cup. Knicks Go went from underachieving, distracted colt to front-running horse on a mission.
To learn how, we have to go back to the end of 2019 when Knicks Go was an aggressive colt who liked to train. He didn't like to race, however, even though the talent was there. Knicks Go was a 70/1 Grade 1 winner as a 2-year-old and finished second at 40/1 to Game Winner in the 2018 Breeders' Cup Juvenile.
Knicks Go Found His Horse Whisperer
In other words, Knicks Go fell into the trap that's captured thousands of horses over the years. They never find the right outlet, trainer, or system to maximize their talent, and their results don't match their potential.
So, how could a horse with this much speed, who loved to run, win only two of 14 races under former trainer Ben Colebrook? How could, in November 2019, Knicks Go finish 10th out of 11 horses in the Grade 3 Commonwealth Turf Stakes at Churchill Downs?
The Korea Racing Authority, which owns Knicks Go, stopped scratching their heads. Instead, they put them together. Robby Medina, the general manager of Blackwood Stables and former assistant trainer to Shug McGaughey, called Cox and asked him to take Knicks Go and see what he could do.
Apprentice Riders Need Not Apply
"They warned us he's an aggressive horse who likes to train," Cox told the Saudi Cup notes team. "It really takes a good rider to handle him. He's forward, he's tough and he's eager, and that makes him a very good workhorse. You lead him over to the races with confidence because of that."
Knicks Go's first race under Cox came 3 ½ months later – an allowance optional claimer at Oaklawn Park. And it was a revelation. With Cox asking for a front-running, seize-the-moment race, Knicks Go led at every call. He pulled away down the stretch and won by 7-½ lengths. His 109 Equibase Speed Figure was a 22-point improvement over his November figure.
"The first race he had with us was (an allowance condition) at Oaklawn and we thought, 'If this horse doesn't show up and run, then mentally he's done. Because you can't train that well and not compete,'" Cox said. "Then he showed up and ran big, but had a setback, and the owners were talking about retiring him. But I told them we should just give him the time and see how he comes back. And if he doesn't, then we can just retire him."
Cox Earned More Than His Keep With One Decision
That's how close Knicks Go came to going bye-bye. After 7-½ months on the shelf, Cox talked his KRA owners into giving Knicks Go another shot. That shot came at Keeneland in an October allowance where Knicks Go turned in a 10-¼-length demolition of his rivals.
His 116 Equibase remains his career-high, a tick above his 114 for his record Breeders' Cup Dirt Mile victory a month later (114) or the 115 for his Pegasus World Cup win last month.
Those two victories put Knicks Go on a fast break reminiscent of another late bloomer, Arrogate. He won seven races between June 2016 and March 2017, including the Breeders' Cup Classic and Pegasus World Cup, which was then the richest race in the world.
Knicks Go almost didn't run the Pegasus, but Cox saw speed figures that changed his mind. Two weeks before the race, Knicks Go turned in a 1:39 mile gallop at Fair Grounds. Cox was sold.
Simple Running Makes Knicks Go Go Faster
"I don't know how anyone else trains but myself, but one thing we do with him and all our horses, is we allow them to train on," Cox said. "We let them stretch their legs and do strong gallop-outs and keep them happy. Two weeks before the Pegasus, he put in a phenomenal piece of work that gave us the confidence that he would go (1,800 meters, the Saudi Cup distance) … We put draw reins on him and let him gallop. He raced a lot as a 3-year-old, was lightly raced as a 4-year-old, and now is totally sound as a 5-year-old, and you can see that in the way he moves. He floats over the ground right now."
That's not to say Knicks Go is an easy ride. Not hardly. Cox told jockey Joel Rosario before his Keeneland allowance win that he'd "just have to hold on." Rosario had no problems, telling Cox "man, this is a really nice horse." The two are unbeaten in three races together.
Knicks Go Returns 35.5 Times His Price Tag
Meanwhile, Knicks Go – an $87,000 Keeneland September Yearling Sale purchase in 2017 – brings career earnings north of $3 million into the Saudi Cup. A win here puts a '1' before the '3' giving him more than $13 million. And this is February of his 5-year-old campaign. There remain many lucrative spots for Knicks Go, including the Hollywood Gold Cup, the Whitney, and of course, the Breeders' Cup Classic.
The retirement talk can wait until then. Knicks Go has more to prove. But Cox, never one to rest on a horse's laurels, remembers what he and his owners were thinking about at this time last year. That was more than $2.3 million ago.
"It was that time of year, around March, when it wasn't like he could go off to stud and get any business, so we brought him back and it worked out well, obviously," Cox said.