As of now, nine horses are probable for the June 20 Belmont Stakes, a total that includes four Grade 1 winners. But how is the New York Racing Association setting Belmont Stakes guidelines for what is the first leg of the Triple Crown? What happens if more than 16 horses want in?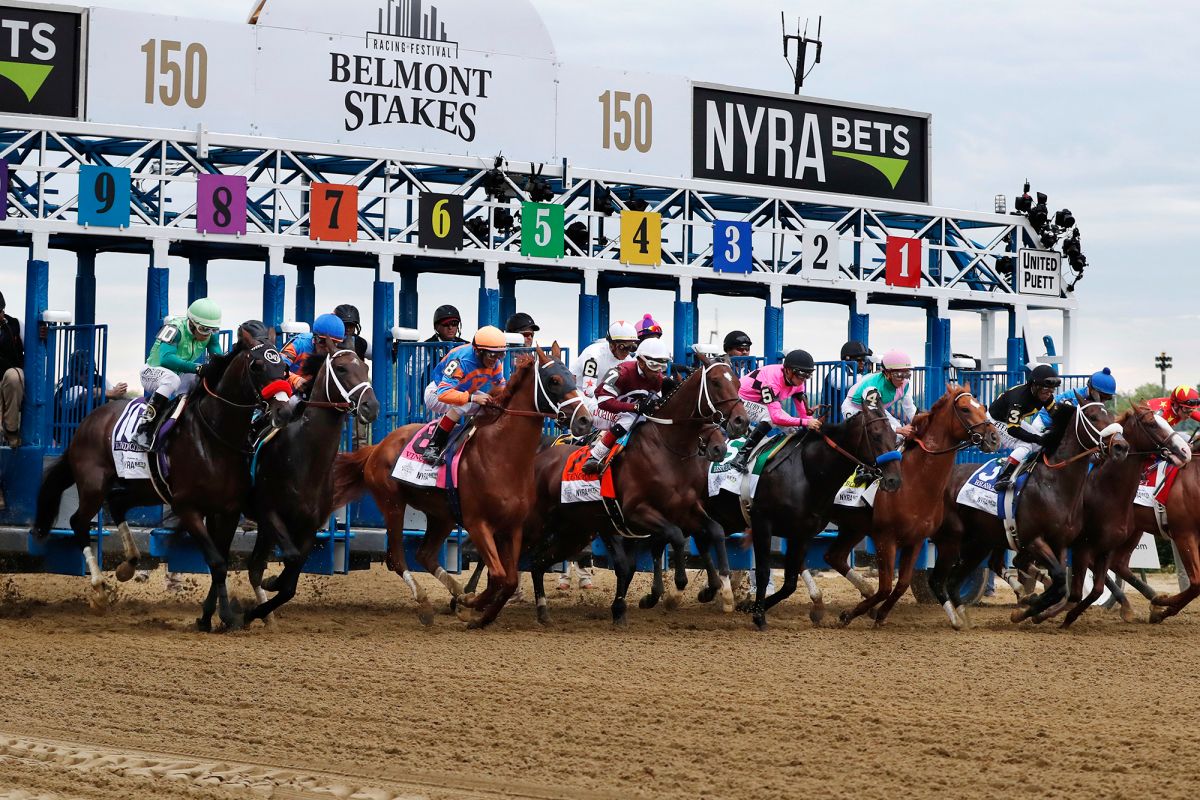 The NYRA's condition book for the Belmont illustrates the path of preference for entries, provided more than 16 horses enter. Like everything else in this COVID-19 era, officials are figuring this out as they go. And it's not like they have a blueprint to draft off of, since the Belmont has always been the third and final piece to the Triple Crown.
That's why Churchill Downs instituted a point system in 2013 for Kentucky Derby eligibility. Of course, that came before historic pandemics threw existing traditions out the window and demanded the creation of contingency plans.
New Guidelines in Belmont Condition Book
Here's how the NYRA spells out the Belmont Stakes guidelines in its condition book:
The first eight starters get preference based on earnings in graded stakes races a mile or longer.
The next five starters earn entry according to non-restricted stakes earnings regardless of distance. The "non-restricted stakes" clause rules out state-bred races. For example, a horse running a race exclusive to New York-bred horses could not count earnings in the race toward Belmont eligibility.
There are no restrictions "other than age or sex." The 3-year-old restriction is a given, but what about fillies? Could they run the Belmont this year?
The final three places go to horses chosen by something called the "Belmont Stakes Selection Committee." Figure that committee picking horses it thinks gives the Belmont the strongest field. That likely means "name" horses from "name" trainers.
Accomplished Field Gives Belmont a Needed Boost
The Belmont already has the makings of a strong field, even run at 1 1/8 miles around one turn. The nine probables include the aforementioned four Grade 1 winners, Arkansas Derby winners Nadal and Charlatan from Bob Baffert's barn, New York-bred Florida Derby winner Tiz the Law, and Runhappy Hopeful Stakes winner Basin. The other probables are Gouverneur Morris, Modernist, Farmington Road, Max Player, and Sole Volante.
In addition to those nine horses, there are three others with connections pondering the race. First among equals is Maxfield, who returned to action after a 7 ½-month layoff with an impressive victory in last Saturday's Matt Winn Stakes. Brendan Walsh, Maxfield's trainer, told Bloodhorse he and Godolphin Racing, which owns Maxfield, are playing wait-and-see with the Belmont.
"It looks like he came out of the race good, but we don't know yet about the Belmont Stakes," Walsh told Bloodhorse. "We'll have to see once he gets back to training."
The other two candidates are Ny Traffic and Shivaree. Ny Traffic finished a strong second to Maxfield at the Matt Winn. Shivaree, meanwhile, was last seen running second behind Tiz the Law at the March 28 Florida Derby at 80/1.
Two Glaring Omissions Illustrate a Quirky Derby Trail
You won't see Baffert's undefeated Authentic or John Shirreffs' Honor A.P. Those two will renew their California rivalry in the Santa Anita Derby on June 6.
Connections have plenty of time to ponder the Belmont as their next Derby Trail stop. The entry deadline is June 17, the Wednesday before the race.