We already know Knicks Go and Life Is Good were headed to the Pegasus World Cup Invitational. Now, the invite list also includes the hottest horse in North America, Flightline.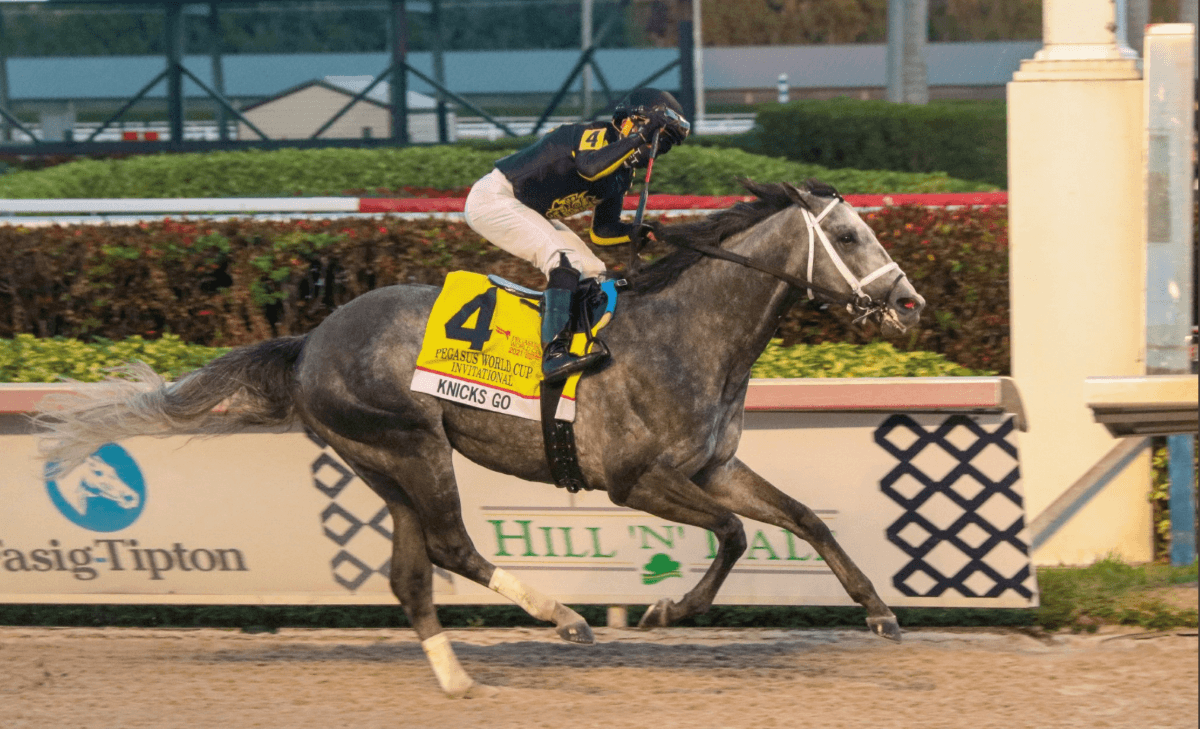 That standout trio headlines the 19-horse invite list to the $3 million Grade 1 Pegasus World Cup, which headlines the Jan. 29 Gulfstream Park card. That card offers horseplayers seven graded stakes worth $5.2 million in purses. Another $1 million comes from the 1 1/8-mile Pegasus World Cup Turf Invitational, with $500,000 up for grabs in the first year Pegasus Filly & Mare Turf.
Most eyes will be on the 1 1/8-mile Pegasus World Cup. And plenty of those eyes will be on Knicks Go in his farewell race before his retirement to the breeders' shed. The likely Horse of the Year in waiting won his last four races ending 2021, including Grade 1 scores in the Whitney and Breeders' Cup Classic. He opened the year with a 2 ¾-length victory in last year's Pegasus World Cup, bidding to be the first repeat champion in event history.
Waiting for him is his successor as Breeders' Cup Dirt Mile champion, Life Is Good. That victory was his fourth stakes score and first Grade 1 win of the year. He's been in Florida training for the past month.
Pletcher pointing toward the Pegasus
"Life Is Good, we've been pointing for the Pegasus since the Breeders' Cup Dirt Mile. He got a short freshening at WinStar (Farm) and he's come in with that as our goal," trainer Todd Pletcher told Gulfstream Park. "Everything has gone according to plan. He's never run at Gulfstream, but he's the kind of horse where his style should suit Gulfstream well."
Pletcher also has Dr. Post, Fearless, and Happy Saver on the invite list.
"We're kind of waiting to see how Dr. Post and Happy Saver and Fearless train," Pletcher said. "We also have the mile race that day on the dirt as an option for those horses. We're also considering maybe Happy Saver going to Saudi (for the Saudi Cup), so we're just kind of, as always, seeing how everyone's training and how they're coming up to these.
That mile race Pletcher refers to is the Grade 3 Fred W. Hooper, a $150,000 race on the undercard.
Could we see Mandaloun, Concert Tour?
Knicks Go's trainer, Brad Cox, has Mandaloun and newcomer Concert Tour on the invite list. He hasn't run since winning the Grade 1 Haskell via Hot Rod Charlie's disqualification for interference. Mandaloun finished second in the Kentucky Derby and won the Pegasus Stakes at Monmouth.
Concert Tour hasn't run since his woeful ninth in the Preakness Stakes. Since then, he moved from Bob Baffert's barn to Cox's.
That brings us to Flightline, who captivated the racing world with his 11 ½-length dissection of the Grade 1 Malibu at Santa Anita Park on Dec. 26. That third victory in three races gave Flightline his wins by a combined 37 ½ lengths. Trainer John Sadler hasn't said where Flightline will run next, although he did say the Met Mile at Belmont Park in June is on the table. Likely, that means at least one prep race beforehand.
---
2022 Pegasus World Cup Invite List
Dr. Post
Eight Rings
Express Train
Flightline
Ginobili
Happy Saver
Knicks Go
Life Is Good
Mandaloun
Midnight Bourbon
Sir Winston
Super Stock
Chess Chief (AE)
Concert Tour (AE)
Endorsed (AE)
Fearless (AE)
Officiating (AE)
Stiletto Boy (AE)
Title Ready (AE)
*Also Eligible
---
Rounding out the invite list are Eight Rings, Express Train, Ginobili, Midnight Bourbon, Sir Winston, and Super Stock.
Concert Tour, Fearless and Endorsed join Chess Chief, Officiating, Stiletto Boy, and Title Ready on the also-eligible list. They'll get in based on defections from the main invite list.