In Ivy League basketball action, Yale (16-4) hosts Harvard (13-6) on Friday for their first of two meetings this regular season. Yale, the consensus favorites to win the Ivy this season, is currently tied with Princeton for first place with a 4-0 record in the conference standings.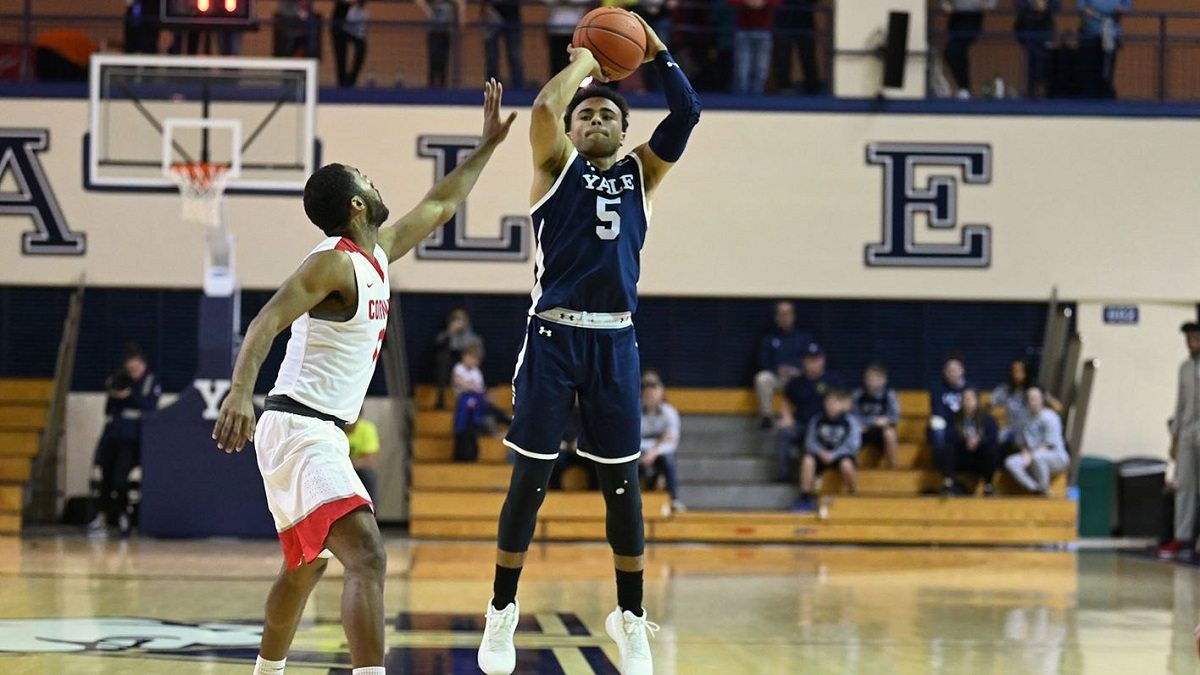 Yale opened as a -6.5 favorite over Harvard. Oddsmakers set the line at 136.5.
In their most recent meeting last March, Yale picked off top-seeded Harvard 97-85 to win the 2019 Ivy League men's basketball conference tournament. Yale advanced to March Madness, while Harvard settled on a trip to the NIT instead.
Ivy Standings
Yale 4-0 (16-4)
Princeton 4-0 (9-8)
Harvard 2-2 (13-6)
Penn 2-2 (10-7)
Brown 2-2 (9-8)
Columbia 1-3 (6-14)
Cornell 1-3 (4-13)
Dartmouth 0-4 (7-12)
The two universities have a deep relationship and 145-year rivalry. In November 1875, Harvard and Yale met in a football game that kicked off the rivalry. The two schools have now played "The Big Game" against each other 136 times.
In the 2019 installment of the Big Game, Yale defeated Harvard 50-43 in overtime. The football game had been delayed when climate change protestors from both schools stormed the field. The student protestors occupied midfield until school officials finally convinced them to let the game resume.
Who knows if this week's Yale and Harvard basketball will also be interrupted by socially-conscious, Ivy League protestors? Tune in to ESPNU to find out on Friday evening.
Payback for the Crimson
In 2019, Harvard (19-2) and Yale (22-8) were regular season basketball co-champions with the same 10-4 record in the Ivy League. Harvard beat Yale twice, which is why they earned the #1 seed in the Ivy League conference tournament, also known as Ivy Madness.
Yale dropped their first meeting in 2019 by 16 points, but lost the second game by only two points. In their third meeting that season in Ivy Madness, Harvard couldn't match Yale's up-tempo pace. They also couldn't stop Yale's swingman, Miye Oni, who would later get drafted by the Utah Jazz. Oni and Yale knocked off Harvard to advance to 2019 March Madness.
Instead of going to the Big Dance, Harvard settled on a berth to the 2019 NIT. Harvard upset Georgetown in the opening round, yet lost a 1-point heartbreaker against NC State in the second round.
No Love for Smart Kids
The Ivy League is one of many minor conferences that draw very little attention from the hoi polloi at the NCAA selection committee. Earning an automatic bid is the only way an Ivy League team will advance to March Madness. The stingy and stuck-up selection committee doesn't typically dole out at-large bids to the second-best team in the Ivy League.
Even though KenPom ranked Yale #46 overall in his latest rankings, Yale has a minescule chance at an at-large bid if they don't win Ivy Madness. Harvard is currently ranked #113 on KenPom.
Yale doesn't get love from the NCAA suits, but East Coast teams are aware of James Jones' excellent coaching skills, and Yale's dominance in the Ivy League over the past five seasons. Yale has been unable to find East Coast teams to play them in order to bolster their strength of schedule rating.
"We've struggled over the last several years of being able to find teams in the region that would actually play us," said Jones. "We haven't had a team on our schedule in the state of Connecticut in three years. Teams have dropped us, and they don't want to play us."
UConn dropped them after Yale upset the Huskies a few years ago.
Ancient 8 Action
Harvard and Yale have yet to meet this season. Their first meeting occurs this Friday night in New Haven, Connecticut. Their second matchup marks the last game of the regular season in Boston on March 7.
Harvard (13-6) had an eight-game winning streak stopped cold by Penn last Friday night. They lost to Princeton on Saturday, and slipped into a tie for third place. Harvard lost both games last weekend by four total points.
Yale won six games in a row, including 13 out of their last 14 games. The Elis started the Ivy season with a 4-0 clip, but they're on an eight-game conference winning streak dating back to the end of last season.
Only the top four teams qualify for Ivy Madness. Yale and Princeton are tied for first place with a 4-0 record, while Harvard is in a 2-2 logjam with Penn and Brown. Harvard and Yale both have 10 conference games remaining on their schedule.
Harvard at Yale Preview
Harvard is missing their top-scorer, Bryce Aiken (16.7 ppg). The 6-foot-1 senior guard averaged 22.2 points per game last season, but he only played in seven games this season before he sprained his foot in December.
Chris Lewis (12.2 ppg, 6.9 rebounds), a 6-foot-9 senior forward, stepped up for Harvard when Aiken went down. He's averaging 15.1 points per game since Aiken's been on the bench.
Noah Kirkwood, a 6-foot-7 sophomore guard, is currently Harvard's second-best scorer with 11.1 points per game. Kirkwood led Harvard in scoring in their previous game with a season-high 21 points in a loss against Princeton.
Yale is led by 6-foot-10 big man, Paul Atkinson (17.1 ppg), junior shooting guard Azar Swain (15.3 ppg), and 6-foot-9 senior forward Jordan Burner (12.2 ppg, 9.5 rebounds).
Against the Spread
Current Line: Yale -6.5
Harvard ATS: 7-11
Yale ATS: 14-4
If Atkinson and Burner shut down Lewis, Harvard will have a difficult time keeping up with Yale once again. In home games, Yale holds opponents to only 60.7 points per game.
Yale barely missed covering the point spread in their victory over Cornell last Saturday. They're still one of the best teams in the country against the spread. Yale improved to 14-4 ATS in games  they've played that had a point spread. The over is 7-2 in Yale's previous nine games.
Harvard is 0-5 ATS in their last five games. Harvard is also 3-8 ATS in their last 11 road games. The over is 9-5-1 in Harvard's last 15 games.