Harvard (4-5) and Yale (8-1) square off in the second-oldest rivalry in college football Saturday, when they meet for the 136th time since 1875. This year's "Big Game" has Ivy League title implications for Yale, which needs a victory over Harvard, and a Dartmouth loss to claim the Ivy championship.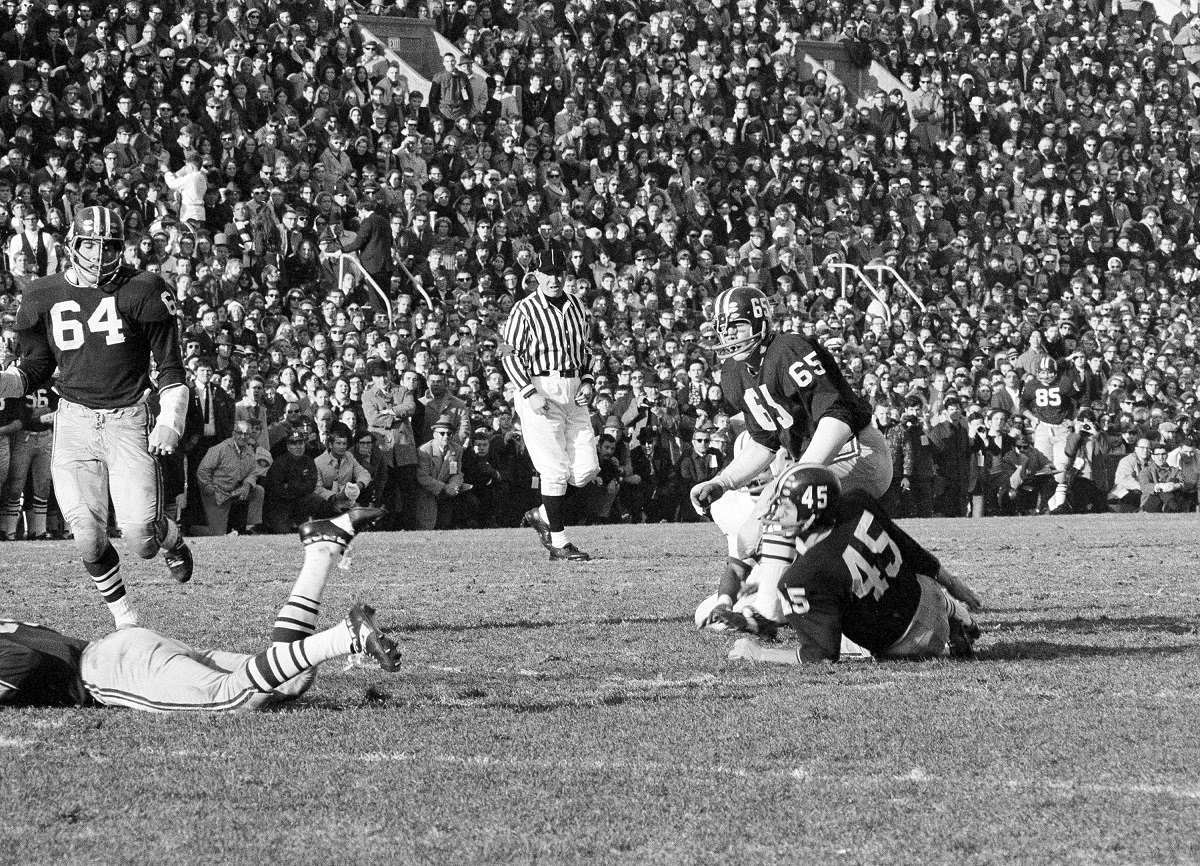 Dartmouth (8-1) had a chance to lock up the Ivy League crown last weekend, but second-to-last place Cornell upset the Big Green, and ruined their perfect season. Dartmouth controls their own destiny and faces last place Brown, which will come in as a +24 home dog in Providence on Saturday.
A first-place tie won't suffice for Yale, because Dartmouth holds the tiebreak with a heads-up victory. The odds are stacked against Yale, but they'll be rooting heavily for Brown on Saturday. Meanwhile, Yale needs a Dartmouth loss and a victory over Harvard to secure their second Ivy title in the last three seasons.
Harvard Crimson (4-5) vs. Yale Bulldogs (8-1)
Kickoff: 9:00am PT
Location: Yale Bowl, New Haven, CT
Point Spread: Yale -7.5
Over/Under: 54.5
Money Line: Yale -310 / Harvard +230
Yale comes into this game as a favorite by a little more than a touchdown. Yale is undefeated (5-0) at home this season, while Harvard is only 1-3 on the road.
In the latest STATS FCS Top 25 Poll, Yale cracked the Top 25 with a #24 ranking.
After a 4-1 start, Harvard dropped four straight games. All four losses were close affairs where they lost by one score or less.
Yale Outside Shot at Title
Yale lost only once this season in a 42-10 drubbing by Dartmouth in Week 4. They won five games in a row since then to put themselves in position to win the Ivy League in the last game of the season.
Yale scored 45 or more points in each of their last four games, which includes a 51-14 win over Princeton last Saturday. They come into this game with the Ivy's top-ranked offense, averaging 37.4 points per game.
Yale will be tested by Harvard's defense, ranked #12 in FBS, which allows 19.8 points per game.
Senior QB, Kurt Rawlings threw 24 touchdowns this season. Rawlings tossed 11 touchdowns in the last two games, including six against Princeton. He's only thrown one interception in his last five games.
Senior WR, JP Shohfi caught nine TD passes this season, including a career-high four scores against Brown two weeks ago. Senior WR, Reed Klubnik scored nine touchdowns this season including three last Saturday against Princeton.
Historic Rivalry
The Harvard/Yale football rivalry first began when the two schools played each other on Nov. 13, 1875. The original game was more like rugby meets soccer, with 15 players on each side. Harvard won the inaugural meeting 4-0.
The first game in 1875 also marked the first-time football teams wore specific uniforms to distinguish sides.
Yale leads this football series 67–60–8. Harvard won last year's game 45-27, which they played at Fenway Park in Boston.
Harvard won 15 out of their last 18 meetings, dating back to the start of the 21st Century.
The annual "Big Game" became a part of popular culture when canonized by an episode of "The Simpsons".
Harvard Beats Yale 29-29
Harvard and Yale met in 1968 in what is considered the most famous game in Ivy League football history. It featured two 8-0 teams fighting to finish out an undefeated season, and secure an Ivy League title.
Yale, ranked nationally at #16 at the time, blew a 22-0 lead. Harvard stormed back to score 16 points in the closing minute to the tie the game at 29-29 at the end of regulation. Both schools finished the season 8-0-1. Despite the tie, Harvard alums claimed they won the game. Yalies, to this day, lament over a series of poor flags from officials, which gifted Harvard an opportunity to tie the game.
The 1968 game inspired the documentary film "Harvard Beats Yale 29-29". Actor Tommy Lee Jones ("Cobb", "The Fugitive"), a member of the Harvard football team, played in the game and appeared as an interview subject in the film.
The documentary, directed by Harvard alum Kevin Rafferty, came out in 2008 to commemorate the 40th anniversary of their 1968 meeting during the height of the Vietnam War.
MIT Pranks the Big Game
A fraternity at MIT hijacked the Big Game to play a huge prank in 1982. A group of alumni and MIT engineering students created a hydraulic press contraption that would unleash a large balloon during the Harvard/Yale game. The fraternity brothers snuck into Harvard Stadium in the middle of the night to bury their device.
Halfway through the second quarter on the Big Game, the ground split open at the 46-yard line. An inflated balloon, with "MIT" scribbled on its surface, emerged from field. The balloon grew the size of a small couch before it popped.
"I sat there and didn't really know what to think," Harvard president Derek Bok told the Boston Globe. "I thought the Phoenix was again rising from the ashes."
The next edition of the MIT student newspaper included the headline: "Saturday's Score: MIT 1, Harvard-Yale 0".
If you enjoy Ivy League athletics and rogue musicians, take a peek at our piece on the notorious Columbia Marching Band.