Three days before their first home football game, Columbia University officially banned the Columbia University Marching Band (CUMB) from all school events, including the halftime show, where their hijinks and questionable musical talent have been entertaining students, alumni, and fans since the early 1950s. Columbia University placed the notorious CUMB on "double secret probation" after they pulled funding for the current school year.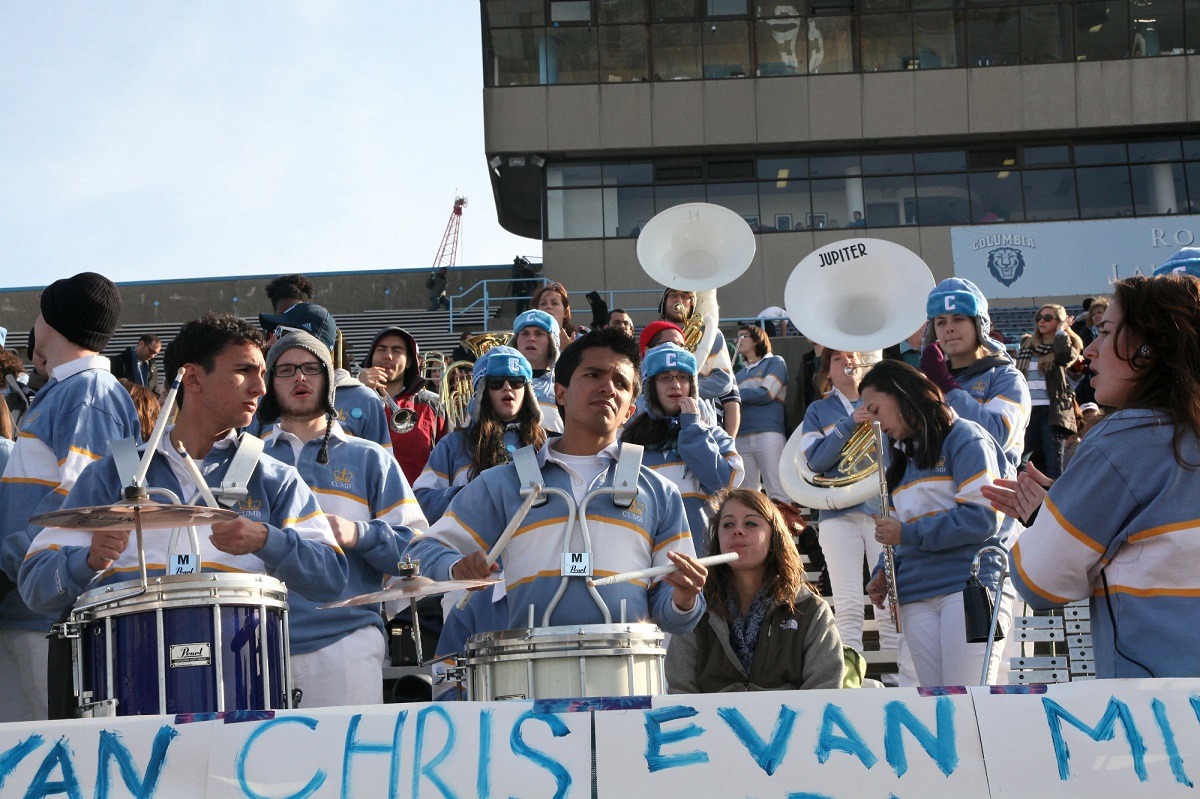 Columbia University football is known for two things, 1) losing streaks, and 2) where Charlie from "Party of Five" played college football. Actor Matthew Fox, also known for his role on "Lost", played wide receiver for the Lions during their horrendous losing streak in the mid-1980s.
The Columbia Lions dropped 44 games in a row in between 1983 and 1986. The Lions also demonstrated their futility this decade, going 0-24 during a losing streak that began in 2012 and ended in 2015.
"As a Columbia alum, I can safely say the only uplifting moment at a Columbia football game was when the band took the field," said OG News contributor, Amy Calistri.
Columbia is the lone Ivy League school in New York City. Academics are a top priority at Columbia, but their athletics suffer. It takes a true fan to endure the elements every Saturday, and root on a terrible team year after year. It also takes a special group of musicians and entertainers, like CUMB, to conjure up team spirit during the darkest times.
CUMB Origins
The tagline for the CUMB website reads, "If you're not part of the solution, you're part of the band."
CUMB formed in 1904 as an actual marching band. The beatnik influence in the early 1950s inspired the current philosophy of a "scramble band" where chaos is more important than marching in straight lines in formation.
"We decided that the whole marching around and forming rhombi thing had gone out of style with World War II," CUMB explains on their website. "So we introduced the world to the 'scramble band' concept – so named for the way bandies would scramble from one interesting formation to the next."
"We like to have fun," said CUMB member, Sam Losee. "We are a little chaotic and loud."
Members of the Columbia band are smart, but they're no pushovers. CUMB were involved in a well-publicized brawl with the Harvard band in 1973.
In recent years, the band emphasized humor over musical talent, and CUMB became more like a comedy troupe. CUMB added non-traditional instruments known as 'miscies', including a toilet seat, wet floor caution signs, and an empty bucket.
CUMB fosters a deep and politically charged legacy. In the 1960s, the band used formations that resembled topless dancers and the birth control pill. During the Vietnam War, in a game at West Point, CUMB morphed into a formation they dubbed "Burning a Cambodian Village".
"It started as a typical marching band, then it became an inflammatory scramble band, and now its categorization is unclear," said Zach Crutchfield from the Columbia Spectator. "Our current CUMB is activist but not activist, a music ensemble but not a music ensemble; it's a comedy troupe for some, and perhaps a social club for others."
CUMB and Orgo Night
In the late 1970s, CUMB began a tradition when they stormed Butler Library at 11:59pm and played a Midnight set on the eve of the Organic Chemistry final.
The University banned Orgo Night in 2015 after the OG Chem nerds complained to the administration. Shutting down the 35-year tradition was just the beginning of the end for CUMB.
After sneaking into Butler for an impromptu Orgo Night in 2018, the university retaliated by cutting back $15,000 in funding for the 2019-20 academic year. The school informed CUMB they needed to take steps to become an official and registered student group to regain access to funding. Even after CUMB submitted the paperwork, the university balked, claiming that CUMB missed a deadline.
"We're working to meet their demands," said CUMB member, Isabel Sepulveda. "But they don't seem to want to go to the table. They just want to get rid of us."
Double Secret Probation
In the history of the NCAA, only one other entity had been placed under Double Secret Probation. In the fall of 1962, Dean Wormer at Faber College placed Delta Tau Delta fraternity under Double Secret Probation.
Numerous points-shaving scandals in college basketball almost landed schools like Boston College and NYU on the secret watch list. However, it had not been enacted in nearly 57 years, until CUMB chaffed the administration.
It's unusual that an ultra-liberal school, known for its activism and students standing up to authority, would be at odds with a fun-loving and spirit-inducing organization such as CUMB.
CUMB came under fire in the 2010s for their usage of phallic symbols during halftime formations. Humorless school officials quickly censored halftime show scripts, which required approval from the University. Officials also scrutinized formations and flagged anything that could be remotely associated with an erect penis.
After decades of a contentious relationship, disbanding the band became official this week. Columbia banned CUMB marching band from all sanctioned events. That includes the halftime show at Columbia football games. In the ultimate troll job, Columbia University hired a high school band to perform at the first home game of the season.
"But the band will not disappear," said CUMB Head Manager, Cameron Danesh. "We'll still be here, just not at the football stadium. The show must go on, the band will continue to play."
CUMB has a lot of fight left in them, and you haven't heard the last of them, even if Columbia banned their marching band.
Official Statement from the Board of the Columbia University Marching Band regarding Columbia Athletics' decision to ban the Band from all sporting events:

(https://t.co/jx7KNT5Mdd) pic.twitter.com/E8eAGWTh89

— The CUMB (@CUMB) September 25, 2019
In case you were wondering, Columbia still sucks at football. Columbia (1-1) lost 24-10 to Georgetown on Saturday in the Lou Little Cup.