The high-scoring Dayton Flyers (16-2), led by sophomore forward Obi Toppin, jumped six spots and moved into #7 in the most recent AP Top 25 Poll. Dayton debuted at #19 in the Top 25 for the first time back in Week 5. The Flyers flirted with the Top 15 a couple of times, but finally advanced to the Top 10 in the latest poll after a tumultuous week in college hoops.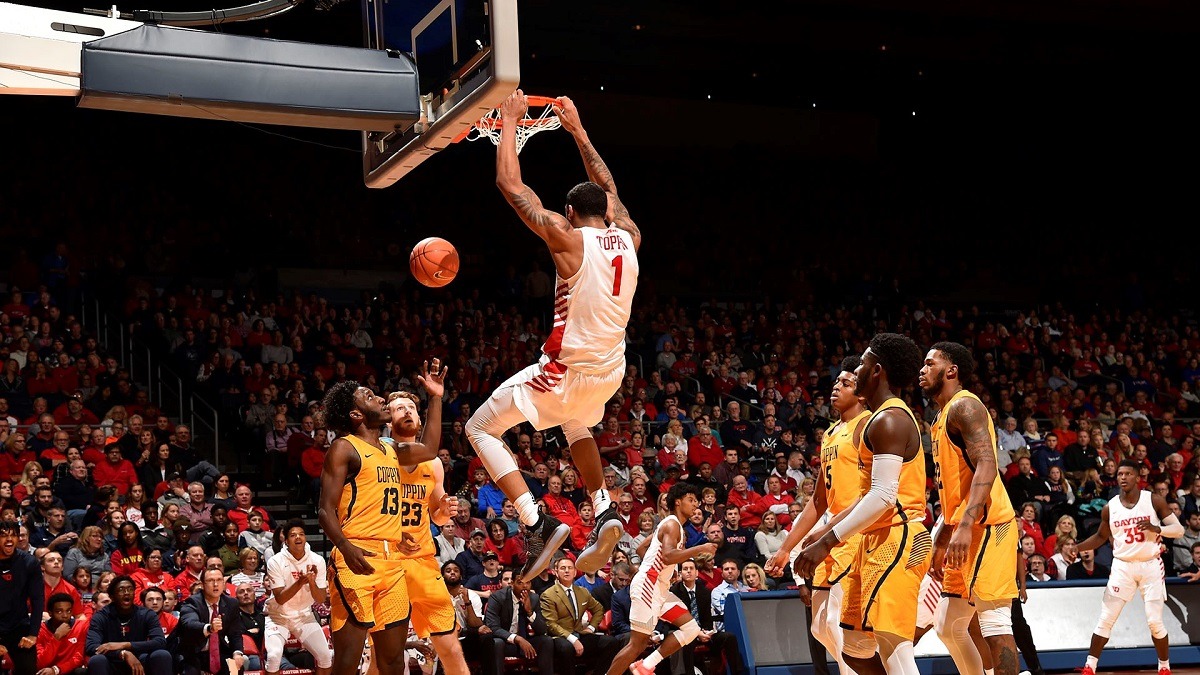 Dayton, which comes out of the Atlantic 10, started the season 7-0 before they lost a close game against unranked Colorado, 78-76. Most recently, Colorado has been in the back end of the Top 25.
Kansas, ranked #4 at the time, beat Dayton at home 90-84. Kansas is the only ranked team Dayton has played this season, but the Flyers fell short. Since that loss, Dayton won five straight games and held opponents to 62 or fewer points three times.
Anthony Grant, a former swingman from Dayton, previously coached at VCU and Alabama before spending time in the NBA as an assistant coach with the Oklahoma City Thunder. He returned to his alma mater in 2017 after ex-coach Archie Miller accepted the Indiana job.
After a rough first season in Dayton with a 14-17 record, Grant improved to 21-12 in his second season. Dayton bubbled the college basketball tournament last season and settled on an NIT bid. This season, Grant and the Flyers are on a mission to win the Atlantic 10 and punch their ticket to March Madness. With a 16-2 record, Dayton is 5-0 in A10 conference play, and currently sharing first place with Duquesne.
Moving Day
This past week in college basketball saw a seismic shakeup in the AP Poll. Baylor (15-1) became the seventh team to hold the #1 ranking after the Bears jumped ahead of Gonzaga (20-1). The Zags held the top spot for over a month, which marked the longest tenure of any team this season, but they haven't beaten any impressive opponents outside of the Mountain West.
Dayton in the Rankings
#7 (Week 12)
#13 (Week 11)
#15 (Week 10)
#20 (Week 9)
Three teams in the Top 5 lost big games last week, and Duke (15-3), Auburn (15-2), and Butler (15-3) were all booted lower down the rankings. Duke slipped to #8, while Butler dropped to #13. Auburn's undefeated season came to a halt with back-to-back losses, and the Tigers plummeted from #4 to #16.
San Diego State (19-0) and Florida State (16-2) were rewarded with spots in the Top 5. Meanwhile, it was moving day for #6 Louisville (15-3), #7 Dayton, and #10 Seton Hall (14-4). All three were bumped into the Top 10 after impressive wins, including Louisville toppling #3 Duke at Cameron Indoor Stadium. Dayton finally cracked the Top 10, but coach Grant is trying to not let the rankings get into Dayton's heads.
Obi and Ibi Show, Toppin Lottery
Dayton is fun to watch because the Flyers have the seventh-best scoring offense in college hoops. The high-octane Flyers average 82.8 points per game with the Obi and Ibi Show.
Obi Toppin, a 6-foot-9 sophomore forward from Brooklyn, leads Dayton with 19.6 points and 7.7 rebounds per game. Toppin is also knocking down 61.4 percent of his shots. He scored a career-high 31 points against North Florida. Pro scouts project Toppin as a potential lottery pick in the upcoming 2020 NBA Draft.
Ibi Watson, a 6-foot-5 junior shooting guard, averages 11.8 points per game. He's connecting on 47.9 percent of his treys. Watson can be streaky at times, but he lit up Grambling for 30 points on 8-for-12 shooting, and a perfect 10-for-10 from the charity stripe.
Point guard Jalen Crutcher, a 6-foot-1 junior, leads the Flyers with 5.0 assists per game. Crutcher is the second-best scorer at Dayton behind Toppin with 13.7 ppg.
On Deck: Bonnies, Spiders, and Duquesne Dukes
The Dayton Flyers have yet to lose a conference game this season. They host St. Bonaventure (12-6) tonight, where the Bonnies are a +18 home dog.
Dayton heads to Richmond this weekend to battle the Spiders (14-4). Next Wednesday, Dayton visits Duquesne (15-2) for a big showdown against the Dukes to determine first place in the A10.
If Dayton wants a shot at the Top 5, they'll need FSU or pugnacious Kansas to lose. The Flyers can help their own cause with a couple of blowouts in their next two conference games. The Obi and Ibi show will be in full effect this week, with Toppin ready to put on a couple of prime-time performances.