The Baylor Bears earned 33, first-place votes to take over the No. 1 spot in the AP men's college basketball poll on Monday, inching past the Gonzaga Bulldogs as the top team in the country.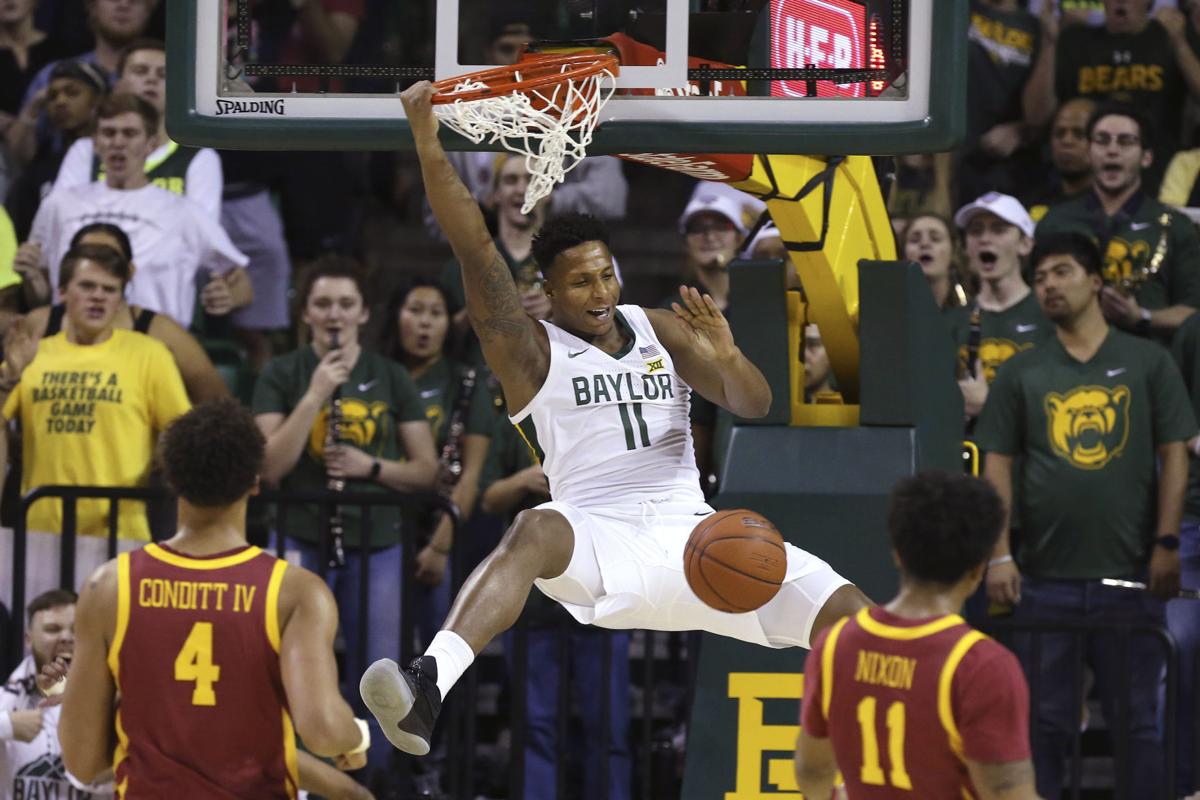 Baylor (15-1) is the seventh team to occupy the top spot in the poll this year, tying a record set in 1983 for the most No. 1 teams in the same season.
Baylor Edges Gonzaga With Tougher Schedule
The Bears edged out the Bulldogs, earning 1,591 total poll points to 1,588 for Gonzaga (20-1).
Both schools won twice in the previous week to make their cases for the No. 1 ranking. But while Gonzaga had relatively soft conference matchups with Santa Clara and BYU, Baylor took care of business against stronger, Big 12 competition in Iowa State and Oklahoma State, which was apparently enough to sway some voters.
Kansas (14-3) placed third in the poll, earning the only other first-place vote. Undefeated San Diego State (19-0) and Florida State (16-2) rounded out the top five.
"It takes a team to win," Baylor coach Scott Drew said after learning of the No. 1 ranking. "As a coach, you're just really proud when different people step up, especially guys that have been working hard."
Gonzaga fared better in the USA Today coaches poll. There, the Bulldogs managed to hold on to the No. 1 spot for the fifth straight week, earning 19 of 32 first-place votes. No. 2 Baylor picked up the other 13 votes, however, and were just four points behind Gonzaga overall.
Turbulent Season Produces Parity at the Top
The shifting nature of the polls reflects a season of upsets, uncertainty, and parity in college basketball. At FanDuel Sportsbook, Gonzaga is the favorite to win the national championship, but is listed at +1000 – hardly a statement of dominance.
Kansas (+1100) and Louisville (+1100) lead a group of seven more teams that are listed at +2000 or shorter, including Duke (+1200), Baylor (+1300), Michigan State (+1400), Oregon (+1600), and Butler (+2000). San Diego State is also getting some respect from oddsmakers, and is listed next at +2200.
That level of parity can be seen even further down in the poll. Rutgers (14-4) clocked in at No. 24 in the AP top 25 this week, marking the first time since the end of the 1978-79 season that the Scarlet Knights have appeared in the poll.
Iowa, Arizona, and Houston also jumped into the top 25 this week. Meanwhile, Wichita State, Michigan, Ohio State, and Creighton all fell out of the rankings. The Buckeyes (12-6) have had a particularly spectacular fall from grace, dropping five of their last six games after once being ranked as high as No. 2 in the country.
"We have a lot of games left," Ohio State center Kaleb Wesson said after a loss to Indiana last week. "But we can't say that after every game."