Fortnite Season 10 has come to an end, courtesy of an event that was literally titled "The End." And while it may feel like the game will be stuck in a black hole forever, the reality is that it will likely be coming back online sooner rather than later – and at least one oddsmaker is taking bets on exactly when that will happen.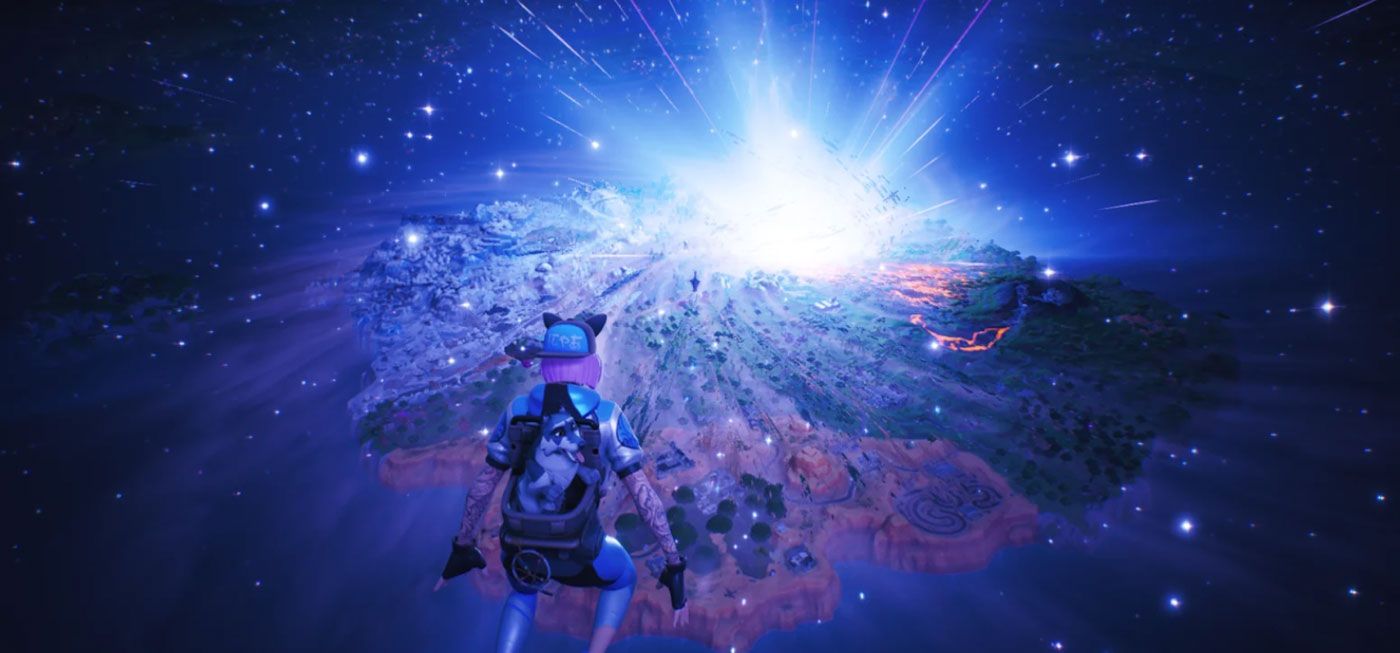 In what appears to be Fortnite's most ambitious event yet, the game's map was destroyed by a meteor (and some rockets), leaving behind only a black hole that is now being watched by tens of thousands of players at any given time in live streams on Twitch.
Fortnite Players See Only Black Hole
The map was destroyed at about 2pm ET on Sunday. The timing of the end of Season 10 wasn't a complete surprise, as the date had been announced in advance. However, the magnitude of the event came as a surprise to just about everyone.
Not only is the black hole the only thing that anyone can see either on the game's website or in the game itself, but the game's official Twitter feed has been wiped clean, and there has been no word as to when the game will be available to be played again – or what it will look like when it does return.
The great unknowns have created a betting opportunity with at least one, well-known bookmaker that isn't afraid to offer unusual wagers. Paddy Power has posted a market with a list of dates on which Fortnite could come back online, with Oct. 17 being the favorite at even money.
---
Fortnite Return Odds
October 14: 10/1
October 15: 8/1
October 16: 5/1
October 17: Even
October 18: 4/1
Not Before October 20: 10/1
Not in 2019: 50/1
Never: 100/1
Odds via Paddy Power
---
That date – this Thursday – is seen as the most likely return date, as it is traditionally when the game has been reset between seasons, though that process has previously happened over the course of hours rather than days. Other days this week – particularly later in the week – also have reasonable odds, with Friday Oct. 18 being the second choice at 4/1.
Leaks Suggest Tuesday, Thursday as Likely Return Dates
It would be inconceivable to most that the game would go offline forever, or even for more than a week or so. Still, there are long odds available for those who want to dream of a world without Fortnite. At 50/1, bettors can predict that Season 11 won't begin in 2019. If you think that Season 11 is never coming at all – a potentially popular option for those who think Elon Musk wasn't joking when he said he might buy the game just to delete it – then you can back that option at 100/1.
"Spare a thought for any Fortnite fans, who are currently unable to play the game and have to go outside and deal with real life humans," A Paddy Power spokesman said in a statement. "Though I'd quite like to blame Elon Musk for the disappearance of the game, our odds suggest it'll be back in a few days."
Originally, there seemed to be a few hints that the game would come back online on Tuesday, including Ninja himself tweeting a voice clip of him whispering "Tacos" as a clue, and a leaker finding coding that suggested the event would last until Tuesday morning. That same leaker later said that those lines of code were updated to end the event on Thursday at 4 am instead.
Here is your hint, and I'm not joking. pic.twitter.com/Tqh9dhFEEL

— Ninja (@Ninja) October 14, 2019
Fortnite fans may have already gotten a glimpse of what the next season will look like. A leaked 30-second trailer appeared to show footage for Fortnite Chapter 2, Season 1, which looked to feature major changes like rideable boats, and the ability to carry other players around the map.