Those of you wanting to see Essential Quality run again must wait until the Nov. 6 Breeders' Cup Classic. Want to see Knicks Go? Trainer Brad Cox is a bit more accommodating. He'll turn the 5-year-old loose in the Oct. 2 Lukas Classic at Churchill Downs.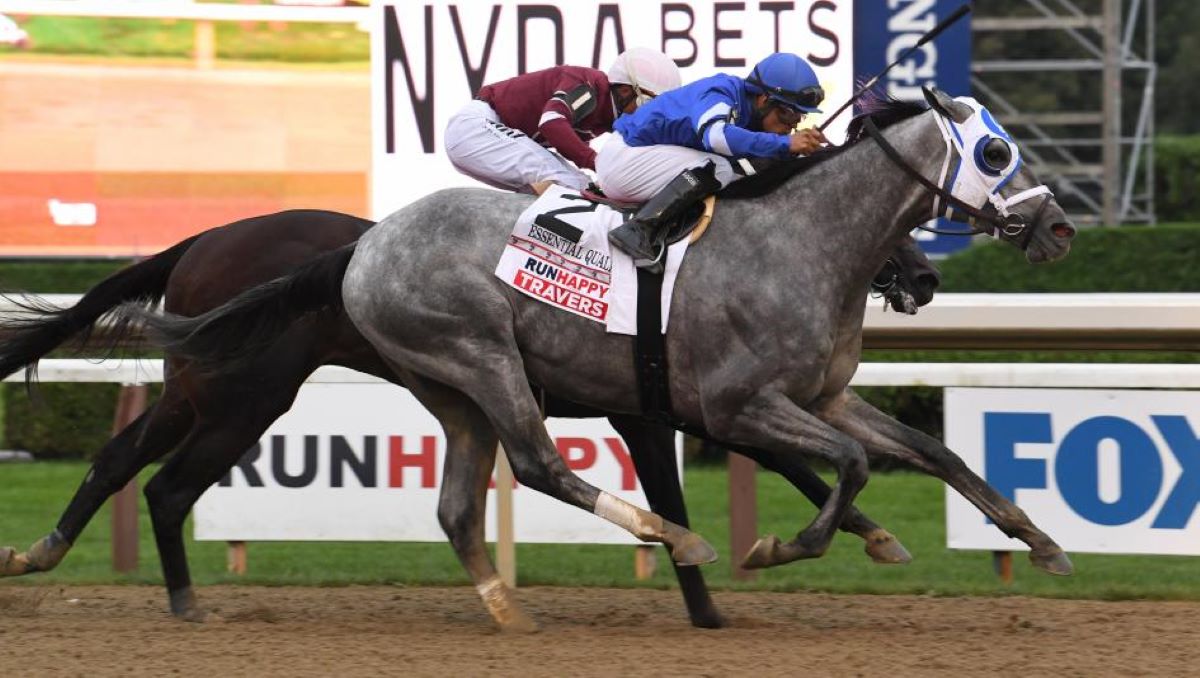 Cox told the Daily Racing Form he's going to train Essential Quality up to the Breeders' Cup Classic. He'll keep the standout 3-year-old colt at his Churchill Downs base, using the Aug. 28 Travers Stakes as his "prep" for the Classic.
"The plan is to have all his works here," Cox told the DRF. "He'll pretty much work every Saturday from here on in until we leave for Del Mar. It's 10 weeks from the Travers to the Classic, and that's just fine."
Cox told Horse Racing Nation he's doing that because Essential Quality hasn't had much of a break this year. He didn't race between last year's Breeders' Cup Juvenile in early November until the late February Southwest Stakes. But, Essential Quality ran roughly every four to five weeks from that point on, save for a seven-week break between his epic Belmont Stakes victory on June 5 and his Jim Dandy score on July 31.
Essential Quality has one loss in nine career races
He's 5-for-6 this year, winning the Southwest Stakes on Feb. 27, the Blue Grass on April 3, the Belmont, the Jim Dandy, and the Travers on Aug. 28. Sandwiched between the Blue Grass and Belmont was his only career loss — that a fourth by a length in the Kentucky Derby.
Essential Quality's first workout in almost a month came last Saturday with a 49.40-second half-mile breeze at Churchill Downs that was 54th of 110 running that distance that day.
Knicks Go, meanwhile, will get in another race before the Classic. Cox told Horse Racing Nation it made more sense to squeeze in a race for the Whitney champion because that race came on Aug. 7, or three weeks before his stablemate's Travers victory. So, Knicks Go will use the 1 1/8-mile Lukas Classic as his Breeders' Cup Classic prep.
Knicks Go's early speed proves problematic for rivals
This year, the 5-year-old Paynter progeny is 3-for-5. His last two races were portraits of dominance: a 10 ¼-length demolition of an outclassed Cornhusker Handicap field (at 3/5) at Prairie Meadows and a 4 ½-length beat-down of a small, but outstanding Whitney field at Saratoga as the even-money favorite. His 113 Beyer Speed Figure in the Cornhusker and his 111 in the Whitney are the best two Beyers of any horse at any distance on a North American track this year.
Knicks Go turned in a 1:12.80 six-furlong breeze at Churchill Downs last Saturday.
That the two roads lead to one destination — Del Mar — in one of the year's biggest races, provides a testament to Cox's skill guiding the top 3-year-old and top older horse to this point. Their different running styles are a testament to what kind of race awaits horse racing and horseplayers come the first Saturday of November.