The cliché "quality over quantity" washes over this year's Grade 1 Whitney Stakes at Saratoga like the wake from Knicks Go's last race. It floods the zone like Maxfield's last two outings and Silver State's last trip around Belmont Park.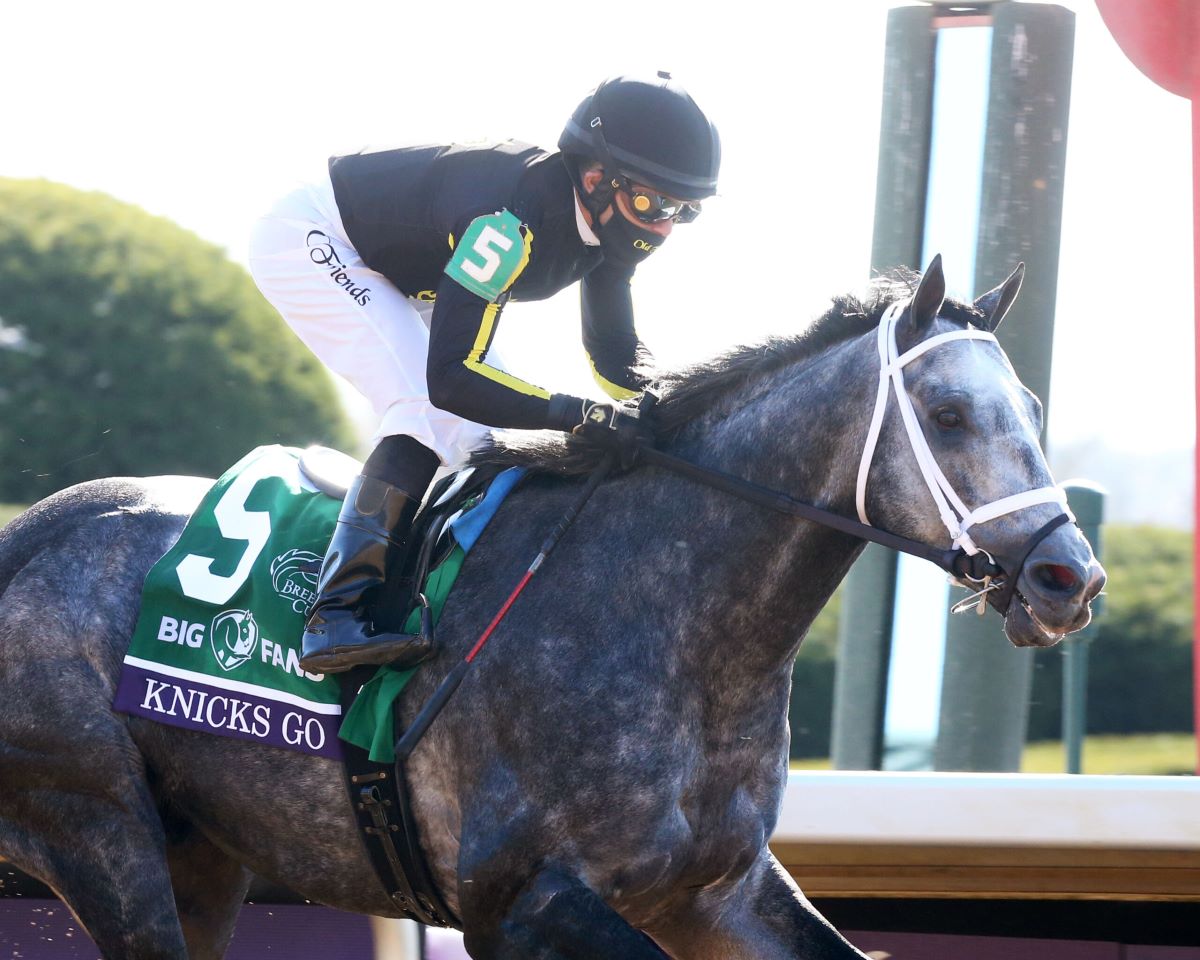 If you're going to send only five horses around Saratoga's main track on a summer Saturday afternoon, you can easily do worse than the five tangling in one of the best older horse races in the country. In fact, this year's Whitney and its inch-wide/mile-deep field has a Breeders' Cup Classic feel about it, which is apt, considering the winner earns a berth in that $6 million flagship event this November at Del Mar.
How deep are we talking here? Let's start with Maxfield, who is 7-for-8 in his career. That one loss came when trainer Brendan Walsh shipped him to California and watched him finish third in the Grade 1 Santa Anita Handicap – another top-shelf older-horse race. All Maxfield did after that race was clock triple-digit Beyer Speed Figures in the Grade 2 Alysheba (105) the following month, and the Grade 2 Stephen Foster (103) in late June.
He won the Alysheba by nearly four lengths. He captured the Stephen Foster by 3 ¼. He's the No. 2 ranked horse in the recent National Thoroughbred Racing Association Top Thoroughbred poll. This makes him a natural morning-line favorite, right?
Nope. Maxfield is 8/5.
Go figure: Knicks Go is your Whitney favorite
Your 6/5 morning-line favorite is Knicks Go, who ended a recent two-race losing streak by parachuting into Iowa's Prairie Meadows and dismantling the Cornhusker Handicap by 10 ¼ lengths. His 113 Beyer from that romp was the highest Beyer by a North American older horse going a mile-plus this year.
"It gave us the confidence to try the Whitney," trainer Brad Cox told the New York Racing Association. "The race solidified that the horse needs two turns, which he'll get in the Whitney. We're excited about getting him back in the Grade 1 ranks going around two turns."
The Whitney's race dynamic begins and ends with Knicks Go for one simple reason: that frightening early speed. Nobody else in this field – accomplished as they are – has that gear. This boxes everyone else into a tactical Hobson's Choice. Do they try going out with him and take their chances that Knicks Go feels the heat? Or do they let him run, well aware that an un-pressured Knicks Go on the lead is virtually impossible to reel in?
Silver State did beat Knicks Go — on one turn
Trainer Steve Asmussen will attempt to answer that with another example of the Whitney's ridiculous depth, Silver State. He's the 4/1 third choice despite bringing a six-race winning streak into Saratoga's starting gate, and despite beating Knicks Go in the Met Mile the last time he raced on June 5.
That one-turn mile on the Belmont Stakes undercard convinced Cox that Knicks Go needs two turns. It was also the race that convinced Asmussen – who tied Dale Baird's record for wins by a North American trainer (9,445) on Friday – that Silver State is ready for more big game.
"His work the other day was exactly what we asked," Asmussen said, referring to a July 28, 1:00.28 bullet workout on the Oklahoma training track. "(Assistant trainer) Scott (Blasi) said he'd give you a lot of confidence and I said, 'The only one more confident than me or you is him.' He's won six in a row. The Whitney will establish the leader of the division. I have nothing but respect for who's in it, but we're very fortunate to have a horse as good as Silver State to run in it."
Swiss Skydiver returns to the track: Does form follow?
That includes the wildcard, 6/1 Swiss Skydiver, who probably would carry better odds if she carried better form into these deep waters. She's trying to be the first filly to win the Whitney since Personal Ensign in 1988. And if this was 2020, you'd like her chances better.
Swiss Skydiver's audacious trainer, Kenny McPeek, was boxed into running her in the Whitney because he wants her on the track. She hasn't raced since finishing third to Letruska and Monomoy Girl in the Grade 1 Apple Blossom at Oaklawn Park in mid-April. Following that, McPeek scratched her out of the Grade 1 Ogden Phipps with a fever.
Then, Swiss Skydiver was caught up in the equine herpesvirus episode in the Saratoga barn McPeek shares with Jorge Abreu. That 21-day quarantine kept her out of the race McPeek wanted her in, the Grade 3 Shuvee.
Swiss Skydiver's third race against the boys
"She's had a bumpy first half of the year," McPeek said about Swiss Skydiver's third outing against males. "No major issues, but just stuff that kept her from showing off. She had a little hind leg infection that was bothering her. It didn't appear to be a big deal going into Oaklawn, but it might have been why she ran a little flat that day. We're excited about it (the Whitney). The Shuvee would have been ideal, she's been ready to run. I've always thought if you're here, you run where you're at. It's a little bit out of the box, but she's ready."
Someone's got to be the long shot in this field. By My Standards (10/1) draws that short straw, despite winning seven races and hitting the board 13 times in 16 starts. Not even finishing second in this race last year to Improbable, nor finishing second in the Met Mile to Silver State last time out keeps the Goldencents colt from being the only double-digit play on the board.
Trainer Bret Calhoun understands why. It starts not only with the quality of this field, but the fact that By My Standards is the only horse of the five without a Grade 1 victory.
Grade 1 Whitney Stakes/Saratoga
Morning Line (Jockey/Trainer)
By My Standards, 10/1 (Gabe Saez/Bret Calhoun)
Silver State, 4/1 (Ricardo Santana Jr./Steve Asmussen)
Swiss Skydiver, 6/1 (Irad Ortiz Jr./Kenny McPeek)
Knicks Go, 6/5 (Joel Rosario/Brad Cox)
Maxfield, 8/5 (Jose Ortiz/Brendan Walsh)
"He's been a very consistent and good training horse," Calhoun said. "He runs well and brings it every time. We're unfortunate to not get a Grade 1. This will be a deep and high-quality field. He has a good shot in there, but it's obviously very, very tough. It would be great to have the Whitney on his resume. It's good to win any race at Saratoga, much less a graded stakes and even more so the Whitney given the reputation that race has and the weight it carries."
The pick: Knicks Go. Saratoga's reputation as the "Graveyard of Champions" is well-earned. But it's easy to run past the graveyard when you have the gear Knicks Go has. Cox understood that putting Knicks Go back around two turns reignites his chief weapons: early speed and the ability to maintain it at a distance he is comfortable running.