Dustin Poirier came from behind on the scorecards to beat Dan Hooker by unanimous decision in the main event of UFC Fight Night in Las Vegas on Saturday.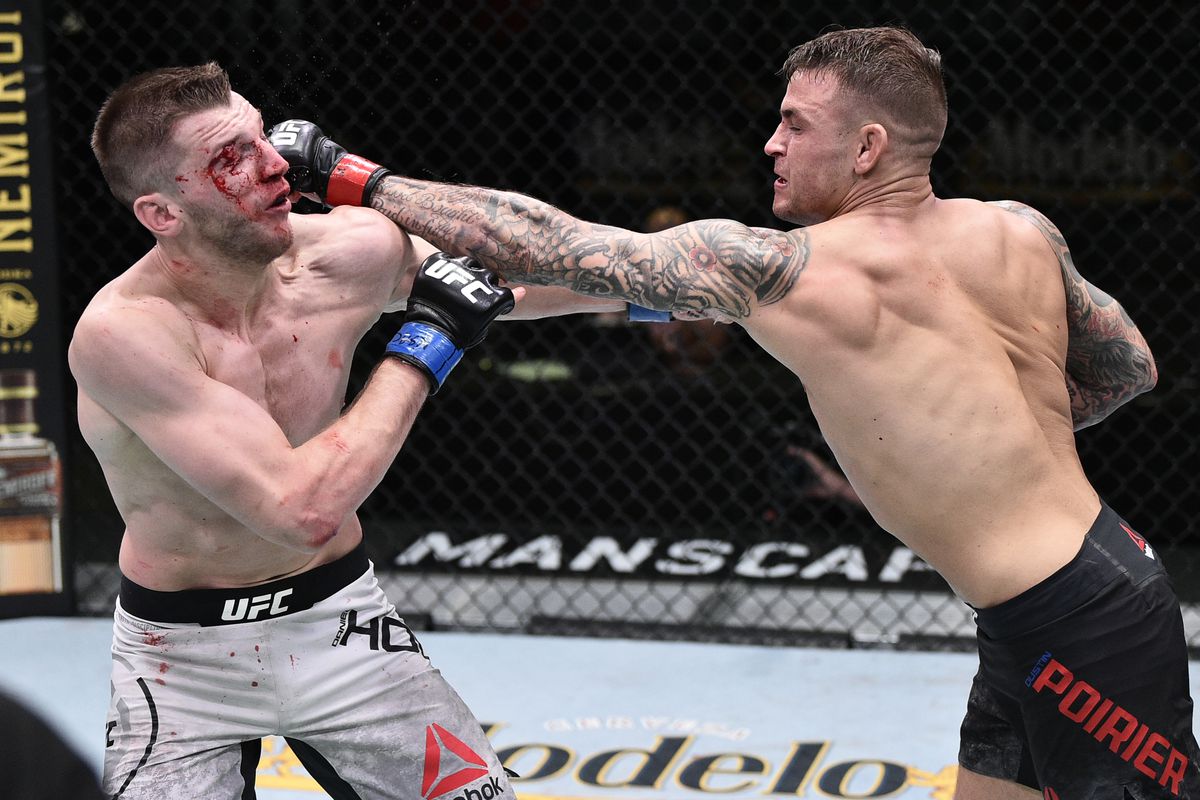 Poirier won 48-47, 48-47, 48-46 in a bout that many are hailing as a potential fight of the year contender.
Poirier Wins Final Three Rounds to Take Decision
Both men landed plenty of hard shots throughout the fight, but neither backed down despite taking punishment for 25 minutes.
Hooker (20-9) nearly ended the fight near the close of the second round when he landed a big knee to Poirier's head along with a sustained combination of punches.
"That's fighting," Poirier said in his post-fight interview. "A fight isn't a fight until there's something to overcome. That's what we did tonight."
Poirier (26-6) started his comeback in the third round. While the two traded blows throughout the fight, Poirier began to get the best of the exchanges in the third, then dominated the striking in the fourth and fifth as Hooker tired.
All three judges gave the first two rounds to Hooker and awarded the final three rounds to Poirier.
"It was a tough one, man. Dan came to fight," Hooker said. "He's a tough guy. He's on the rise and really thought he was going to get past me."
Poirier indicated that he will take some time off before taking his next fight.
"Maybe I'll fight at the end of the year. Maybe I'll fight next year," Poirier said. "I just want to go home to my daughter."
Jones Willing to Vacate Belt Over Financial Dispute
UFC light heavyweight champion Jon Jones says that he's willing to sit out multiple years and give up his title in order to defend his position in his financial dispute with the UFC.
Jones has lobbied UFC president Dana White for more money, both for himself, and generally in terms of the percentage of revenue that goes to fighters in the promotion.
"I'm not asking for anything outrageous, and I know we're in a pandemic, and I know when you're a multimillionaire and you're asking for more, it makes you see like this greedy person," Jones said on the Wild Ride podcast. "I'm very aware of all of this, but I'm also very aware that I have the voice and the platform to make change."
Jones talked about other UFC fighters he knows who have second jobs or live at gyms because they can't afford their own place.
"If I have to have a bad relationship with Dana, sit out for two years, three years, to bring light to what's happening, then these are the things people remember you for more than winning belts. I stood for the younger fighters."
Allen Out with Nose and Orbital Fractures
Middleweight prospect Brendan Allen (15-3) defeated Kyle Daukaus by unanimous decision on Saturday, running his UFC record to 3-0, and his overall MMA winning streak to seven fights. But Allen's manager, Brian Butler, tweeted Sunday that Allen suffered fractures in his nose and orbital floor during the bout.
UPDATE: @BrendanAllenMMA suffered 3 fractures in his nose and orbital floor in last nights fight. Likely out the remainder of the year but considering return at 205lbs. pic.twitter.com/ZliF22QY7e

— Brian Butler-Au (@BrianButler_Au) June 28, 2020
Allen will likely miss the remainder of 2020 due to the injuries.