UFC light heavyweight champion Jon Jones took to social media on Sunday to say that he's ready to give up his title and take time off from fighting due to his ongoing pay dispute with UFC president Dana White.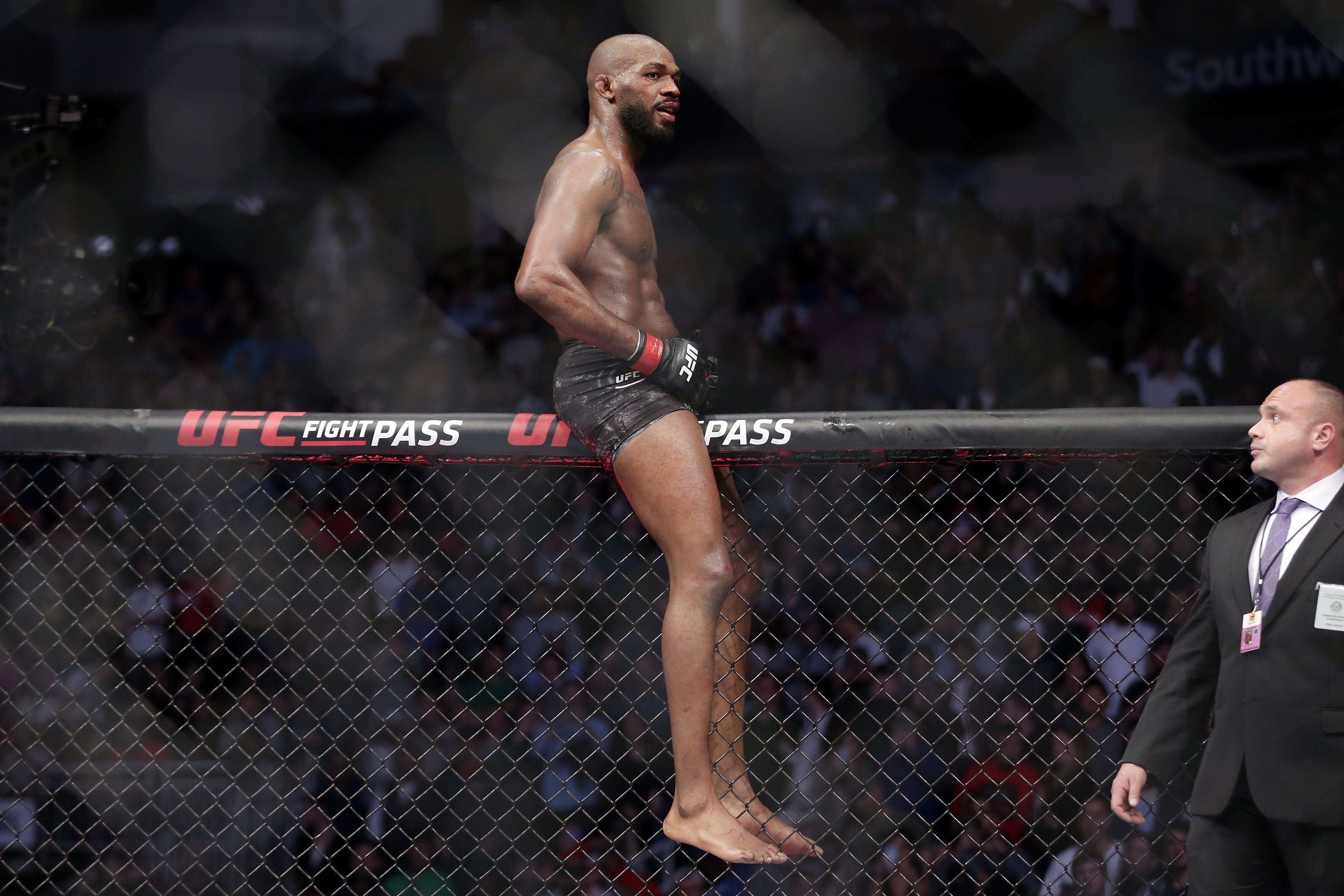 While Jones could be using the threat of leaving as a negotiating ploy, ESPN's Ariel Helwani reported that the champion is serious in his stance.
Jones, White Spar Over Pay for Heavyweight Fight
Jones took to Twitter on Sunday to suggest he is on his way out of the UFC.
"Bones out," Jones wrote. "When you see me in the streets just call me JJ."
Bones out, when you see me in the streets just call me JJ 🤙🏾

— Jon Bones Jones (@JonnyBones) May 31, 2020
"To the light heavyweight title, Veni, vidi, vici," he wrote in a second tweet.
The UFC has attempted to get Jones into a heavyweight fight with Francis Ngannou. White publicly discussed the negotiations in a press conference after Saturday's UFC card in Las Vegas.
"He can do whatever he wants," White told reporters. "He can say whatever he wants publicly. It's his God-given right in America. He can say whatever he wants. When he's ready to come back, he can. In one of his tweets, he said I tarnished his name. I tarnished you? You've done a very good job of tarnishing you."
Jones has a history of legal trouble. He most recently pleaded guilty to a DWI charge in New Mexico in March.
White has publicly accused Jones of asking for too much money for the Ngannou fight.
"For the amount of money he's asking for, it's not going to happen," White told ESPN. He couldn't be asking for a more absurd amount of money at a worse time."
It's interesting to just sit here and watch your boss lie to the camera like this. We never discussed any increase in pay. Immediately the conversation was that I already made enough. I never made a number offer. https://t.co/YYx4FMHeIs

— Jon Bones Jones (@JonnyBones) May 29, 2020
White said Jones asked for an amount comparable to the $30 million boxer Deontay Wilder earned in his last fight, a figure Jones has disputed.
Burns Moves Into Title Picture After Pounding Woodley
Gilbert Burns crushed former welterweight champion Tyron Woodley in the main event of Saturday night's card, winning every round on his way to a 50-45, 50-44, 50-44 unanimous decision victory. Burns came close to finishing Woodley early and was never in trouble throughout the fight.
While Burns came into the fight as the No. 6 contender in the division, the big win puts him in the middle of the title picture. He used his post-fight interview to call out champion Kamaru Usman, who is also one of Burns' teammates at Sanford MMA in Fort Lauderdale, Florida.
"I want to fight for the title," Burns said. "Lot of respect, a lot of love for [Usman]. But I think I'm next. I'm next. I'm right there."
Blaydes vs. Volkov Moves to Vegas
The UFC announced Saturday that a planned heavyweight tilt between contenders Curtis Blaydes and Alexander Volkov is back on for June 20. The company booked the fight for a UFC Fight Night event in Saskatoon, Saskatchewan on that date, but the card was scrapped due to the coronavirus pandemic.
Blaydes and Volkov will now fight at the UFC's Apex facility in Las Vegas. Blaydes is the No. 3 contender in the UFC heavyweight division, while Volkov is ranked seventh.