Portland Trail Blazers All-Star, Damian Lillard, set a career-high and a franchise record with 61 points in a 129-124 overtime victory against the Golden State Warriors. Lillard also set a new NBA record for most points scored on the Martin Luther King, Jr. holiday.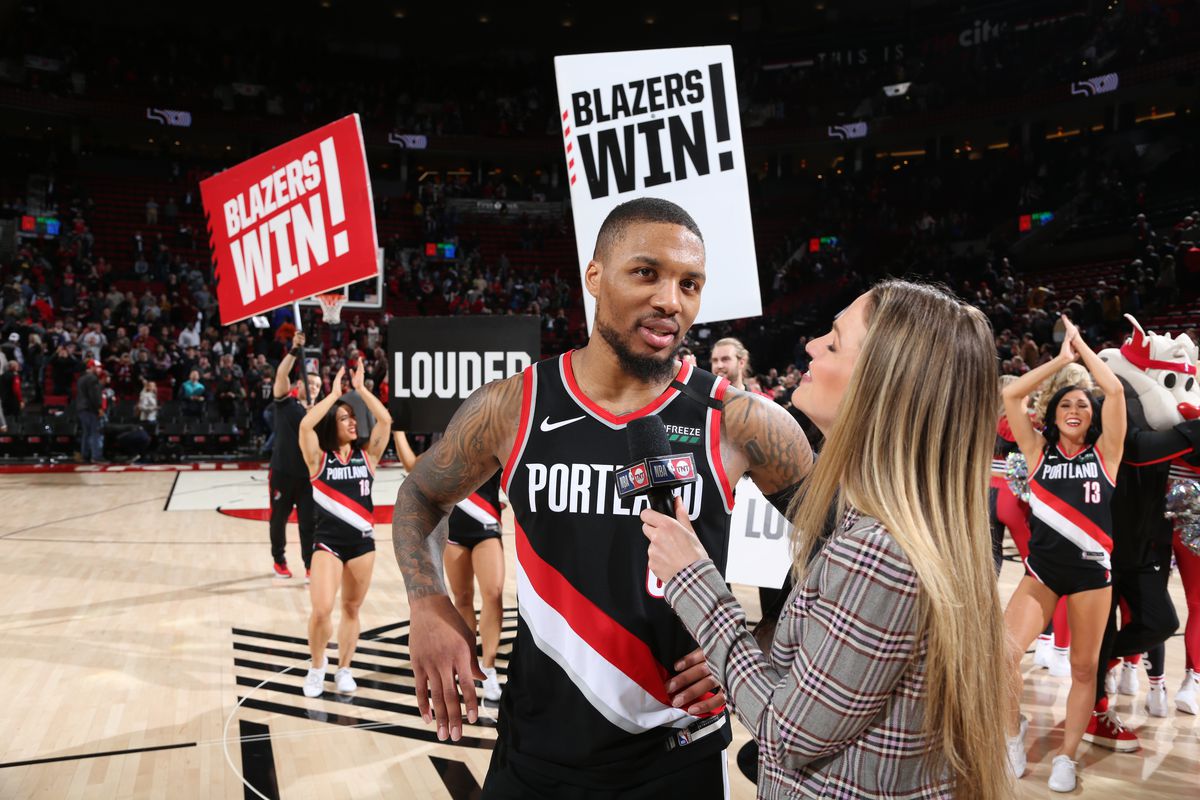 Lillard dropped 60 points earlier this season to set a Portland franchise record and a previous career high. He eclipsed his old record on a night without starting backcourt mate, CJ McCollum, who was out with a sprained ankle. Lillard put the team on his back and carried the Blazers to victory in overtime to end a two-game skid.
"I'm excited about it, I'm happy about it, but I wish it counted for three wins instead of one," said Lillard. "It was just one of those days. When I came here, I wasn't coming here to lose this game."
Lillard knocked down 11 three-pointers, which also set a new career high. Overall, he shot 17-for-37 from the field, including 11-for-20 from 3-point range, and a perfect 16-for-16 from the free throw line. He finished with 61 points, 10 rebounds, and seven assists in 45 minutes of action.
Fans at the Rose Garden chanted loud chorus of "MVP! MVP! MVP!," while Lillard connected on both free throws to secure a new career-high and clinch the win in OT.
⌚D ⌚A ⌚M ⌚E ⌚ pic.twitter.com/ODusdELvrw

— Portland Trail Blazers (@trailblazers) January 21, 2020
Lillard 61, the Super Hero?
With an average of 27.9 points per game, Lillard ranks fifth in the NBA in scoring.
With his second 60-point game, Lillard joins an exclusive group of NBA superstars with multiple games scoring 60 or more points, including Wilt Chamberlin, Kobe Bryant, James Harden, Michael Jordan, and Elgin Baylor.
Chamberlin leads everyone with an astonishing 32 games where he's put up 60+ points. The second closest is Kobe Bryant with six.
In 43 games, Lillard scored 30+ points in 17 games this season. Back in November, Lillard exploded for 60 points in a 119-115 loss to the Brooklyn Nets.
"It's not simple as me just saying it," said Lillard. "Because that would mean I have superpowers."
"You run out of adjectives," said Portland coach Terry Stotts. "He's an amazing player."
Dame Erupts
In his two previous games without McCollum, Lillard scored 34 points in consecutive loses to the Dallas Mavericks and Oklahoma City Thunder.
Against the Warriors, the Blazers played short-handed once again. The roster was reduced to only nine players, with injuries to McCollum, and a recent trade involving Kent Bazemore and Anthony Tolliver.
Center Hassan Whiteside added 17 points, 21 rebounds, and six blocks to help the cause. Carmelo Anthony added 14 points on 7-for-14 shooting.
"Earlier this year I had 60, and we lost," Lillard told TNT sideline reporter Allie LaForce. "I'm happy we won this one. I had a great performance in a game we needed to win, which is the most important thing. I try to play the game the right way. Try to give the guys who do not play a lot of minutes, get the opportunities. Be a little more aggressive and more assertive. I didn't want to run out of gas. I wanted to pace myself a little bit more and pick my spots better."