Point guard Damian Lillard scored 41 points for the Portland Trail Blazers and set a franchise-record 10 three-point shots in a 115-112 victory over the Orland Magic.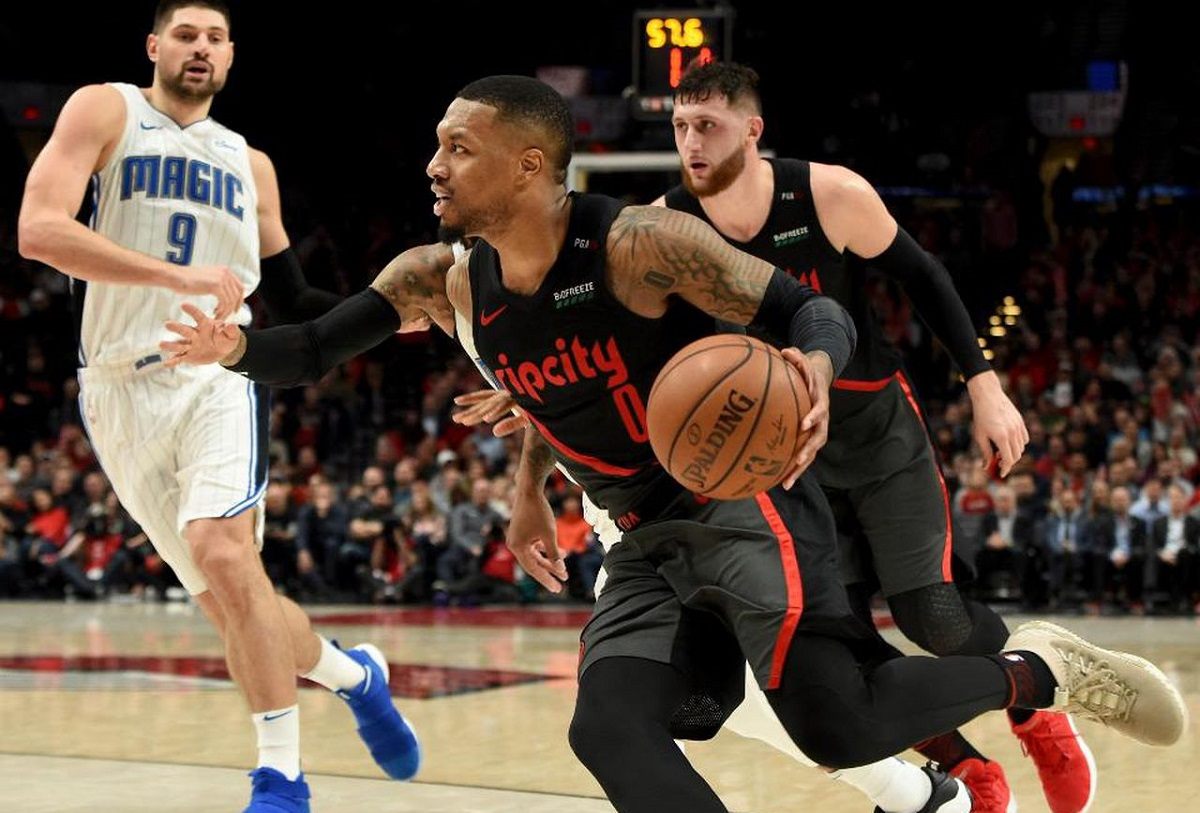 Lillard helped the Blazers end a three-game losing streak. The Blazers (13-8) are the fifth-best team in the top-heavy Western Conference.
With an uptick in overall scoring in the NBA, there have been some magnificent individual performances. Kemba Walker dropped 60 points, James Harden unleashed 54, Steph Curry scored 51, and LeBron James added 51 for his new Lakers' squad.
No Stranger for 40
Over his six-year career with the Blazers, Lillard averaged 23.3 points per game. This season, Lillard is having another sensational year averaging 27.1 points per game, 6 assists, and 5.3 rebounds.
Earlier in the season, Lillard dropped 40-plus points in consecutive games against the Magic and the Miami Heat.
Lillard erupted for 40 against the Washington Wizards, but he only shot 3 of 10 from long range. He earned the bulk of his points that night from the free-throw line on 13 of 15 shooting.
Ten Treys
The Blazers lost three games in a row and were stuck amidst a losing streak going into a game against the Magic. In a four-point loss to the LA Clippers, Lillard had an off night, shooting 12 of 27 overall from the field, including an atrocious 3 of 13 from downtown.
Lillard and the Blazers snapped out of their funk against the Magic. Lillard looked unstoppable and finished the game with 10 of 15 from three-point land. In the third quarter, the Blazers exploded for 40 points and Lillard nailed seven three pointers.
"I honestly didn't know I made ten," Lillard said. "If I had known, I would have went for the record. What is it? Fourteen? Oh, I could have got that, too."
Klay Thompson from the Golden State Warriors set the NBA record earlier this season with 14 three pointers.
Lillard broke his own record of nine treys in a game, which he shared with Nicolas Batum. Lillard also set a franchise record for most treys in a quarter with seven.
"Damian in the third quarter was incredible," said Blazers' head coach Terry Stotts. "He carried us like he does often."
PDX: Big Fish, Little Pond
Lillard plays in somewhat obscurity in Portland. The Blazers do not get the same national coverage as other teams.
The sleepy northwest city has become a pop culture punchline for its influx of hipsters in recent years. For several decades, the Blazers were the only professional team in Portland. The fan base is rabid and owner Paul Allen never intended to move the team anywhere else.
Fantasy basketball players are well aware of Lillard's skills, but he does not garner as much attention as he should. If Lillard played in a bigger city, such as New York, Boston, or Chicago, he'd be a megastar.