Conor McGregor will make his long-awaited return to the UFC on Saturday, when he faces Donald "Cowboy" Cerrone at UFC 246 in Las Vegas. But McGregor has his eyes on another potential payday in the boxing ring, whether that's against his old rival Floyd Mayweather Jr. or another big name opponent.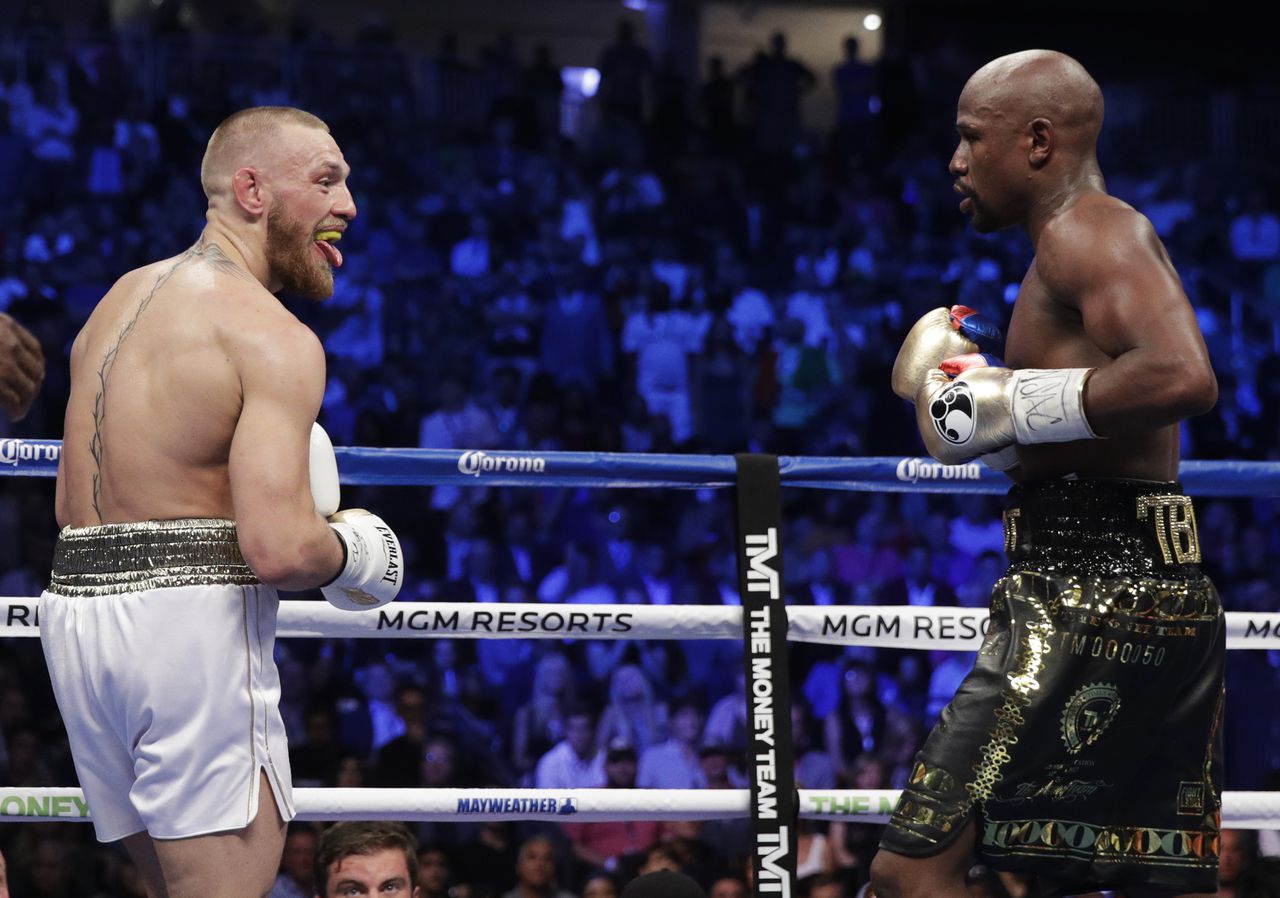 In a Monday interview on Ariel Helwani's MMA Show, McGregor said he'd enjoy a rematch against Mayweather.
McGregor Says Mayweather Ducked MMA Fight
"It was a great, great experience, and, you know, I look forward to doing it again," McGregor told Helwani, speaking of his first matchup with Mayweather. "It's going to happen again."
McGregor and Mayweather clashed in a boxing match on Aug. 26, 2017, in what became one of the largest pay-per-view events of all time. Mayweather, undefeated as a professional boxer, started out slow, but eventually finished a tiring McGregor in the 10th round of what was the Irishman's boxing debut.
According to McGregor, Mayweather made a verbal commitment to follow up that bout with an MMA fight, but that never came to fruition.
"It was supposed to be me boxing, then we do a mixed martial arts bout," McGregor said. "That's what was said, and it came out of his mouth as well. It was not written, but it was a verbal agreement. Obviously that's not going to happen, and I'm not going to push him on that, either."
Mayweather has alluded to the idea of training seriously for MMA, but has never stepped inside the Octagon in the UFC, or for any other promotion. Recently, UFC president Dana White said that he had reached a handshake agreement with Mayweather to do some cross-promotional work that would involve him competing in some capacity. White did not reveal whether that would involve boxing or MMA, though he did say an event was likely in the fall of 2020.
Pacquiao Fight Also in the Cards
If a fight with Mayweather can't be made, McGregor believes that are other marquee matchups he could pursue.
"I would be open to other boxing bouts," McGregor said. "You know, Manny [Pacquiao]. We're actually close to signing Manny. There's been talks about the Manny fight as well."
McGregor would earn a massive paycheck for fighting either Mayweather or Pacquiao, as would his opponent. According to Forbes, Mayweather walked away from the first fight with about $275 million in earnings, while McGregor had to make due with a comparatively modest $80 million. While odds for the potential fights are not yet available, McGregor would certainly be an overwhelming underdog to either of the former champions in the ring.
First, though, McGregor has his much more competitive bout against Donald Cerrone to deal with. FanDuel Sportsbook has McGregor as the -290 favorite in the bout over Cerrone (+220), who is currently ranked as the No. 5 contender in the lightweight division.
McGregor says that he'll be much more prepared for this bout than he was forhis last fight in Oct. 2018, when he was submitted by lightweight champion Khabib Nurmagomedov.
"I was drinking all bleeding fight week the last time," McGregor told ESPN. "I've made mistakes. And, you know, I've been man enough to admit them and correct them. And that's what I've done. I mean, I might not be perfect, right? But with a good sleep and a full belly, I'm damn close."