As notable programs face their most significant COVID-19 spikes of the season, the College Football Playoff committee said Monday it's willing to postpone New Year's Six bowl games, including its semifinal round and championship.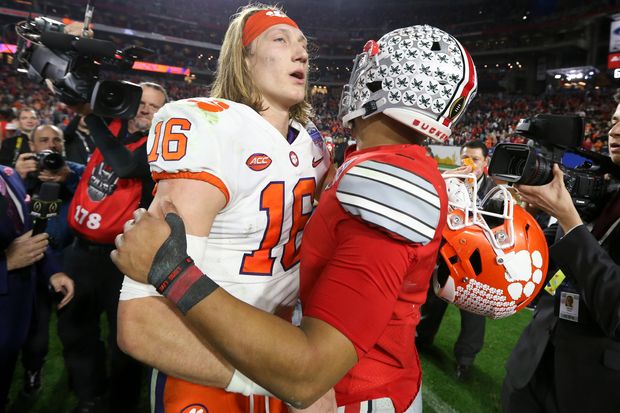 If Saturday's decision to move the Rose Bowl Game from Pasadena, CA, to Arlington, TX, after the committee denied such a move was in the works, several bowl games are likely to be postponed, especially if CFP executive director Bill Hancock's continued hedging is any indicator.
"We are planning to play the games when they're scheduled," Hancock told ESPN Monday. "We've said all along that we will be ready for any circumstance, and we will. But if one or both teams are not available and have to postpone a bowl game or the championship game, we will do it."
Hancock refused to elaborate on what programs might be shut down or what games might have to be moved, but the potential for last-minute switch-ups seems high as the number of second-tier bowl games shrinks, college programs opt-out and/or shut down entirely as 2020's fractured season limps to the finish.
Here's what we know.
Sugar Bowl
No. 3 Ohio State was missing 22 players from its roster during its Big Ten Championship victory Saturday over Northwestern in Indianapolis, with insiders saying the team's positive tests only continued to grow on Sunday and Monday. Even with the newly relaxed COVID-19 protocols instituted Monday by the Big Ten, many of its players won't be cleared to play No. 2 Clemson in New Orleans on Jan. 1.
Fiesta Bowl
After being exposed during the Big 12 Championship game vs. Oklahoma, which had as many as 12 players off its depth chart on Saturday, No. 10, Iowa State is currently testing and following contact tracing protocols. The school hasn't yet released the results. Their Jan. 2 Fiesta Bowl opponent, 4-2 Oregon is, thus far, COVID-free.
Orange Bowl
No. 5 Texas A&M is on the outside looking in at the CFP playoff bracket and will face No. 13 North Carolina in Miami Gardens, FL, on Jan 2. North Carolina is the highest-ranked team in the ACC that's not in the semifinal, and Texas A&M won their final seven games after losing to Alabama 52-24 in week two. Texas A&M had several postponements this season, most recently in the first week of December as Ole Miss canceled after outbreaks within its program. The Aggies haven't reported any cases over the past two weeks. The Tar Heels had several small outbreaks this season, including one in September. Both programs should be able to go in Miami.
Peach Bowl
The No. 9 Georgia Bulldogs lost eight players who opted out of the Peach Bowl on Sunday and will, instead, enjoy their holidays at home. The depleted Bulldogs, a program that had multiple outbreaks this season, are following contact tracing protocols. Their Peach Bowl opponent, No. 8 Cincinnati, has faced COVID-19 issues all month, forcing them to cancel their regular-season finale the first week of December vs. Tulsa. It's unknown how many players are affected as the Jan. 1 meet-up in Atlanta creeps closer.
Cotton Bowl
The Cotton Bowl, set for Wednesday, Dec. 30, features No. 7 Florida, which had several outbreaks this season, including one in late-November. The Gators have already lost their star tight end and several other players who opted to cut their season's short. They'll face No. 6 Oklahoma, the Big 12 leader in COVID cases this December, with 27 among active players as recently as three weeks ago.
The Rose Bowl
The CFP Semifinal at the Rose Bowl in Arlington, TX, will feature No. 1 Alabama vs. No. 4 Notre Dame on Jan. 1. The Crimson Tide had several outbreaks this season, starting with training camp and ending in late November with coach Nick Saban sidelined for a game while he dealt with the virus. Thus far, the program reports it is mostly unaffected. Notre Dame, whose coach Brian Kelly made a stink about playing in Pasadena during Southern California's shelter-in-place regulations, reported zero cases in late-November and early December.