Though the college football nation awaits the result of No. 2 Notre Dame's match vs. No. 3 Clemson in Saturday's ACC Championship Game, it was the two programs' coaches who made headlines Friday with their comments about the Rose Bowl.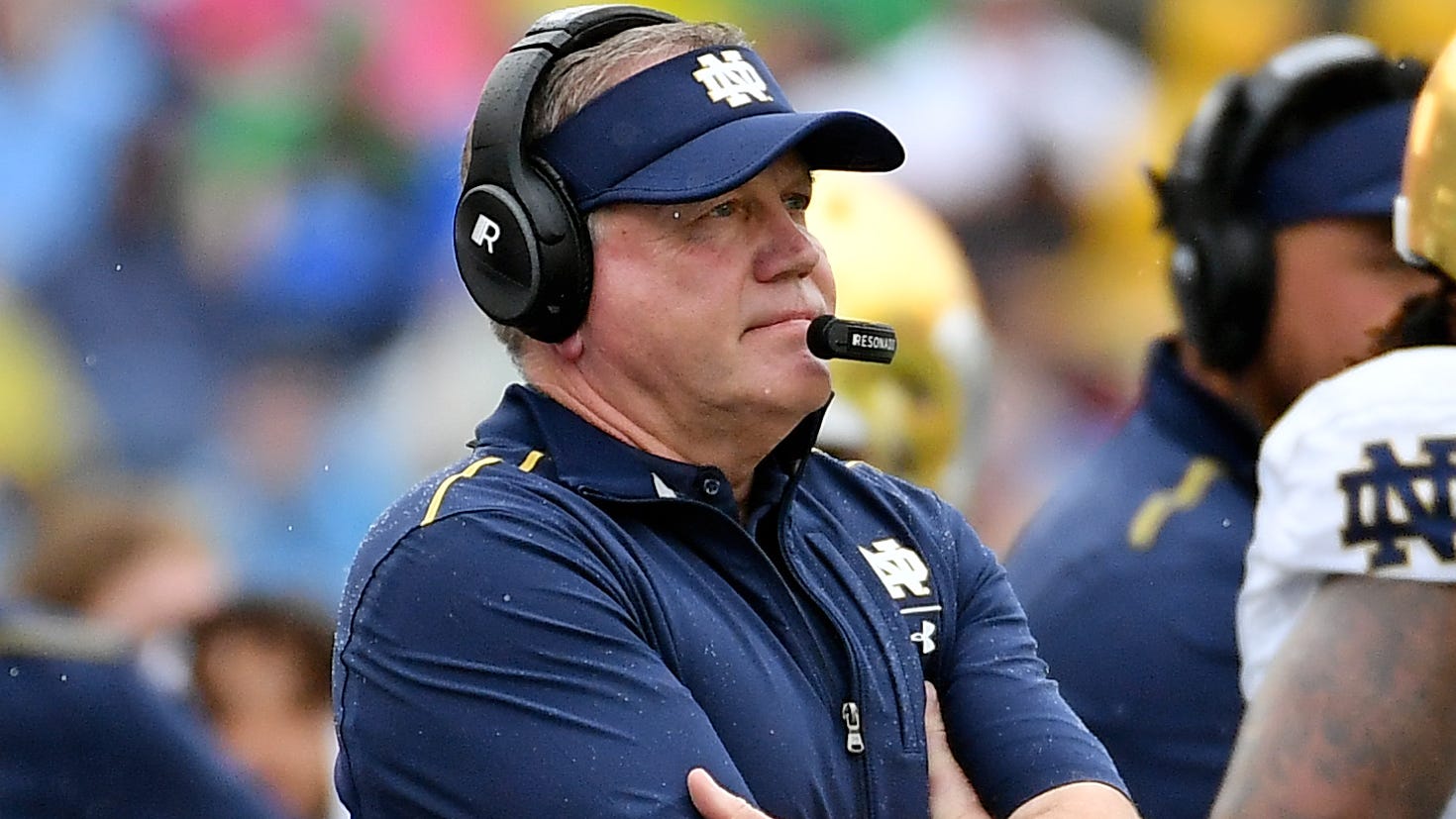 Earlier this week, the College Football Playoff commissioners discussed whether to stage the CFP's New Year's Day semifinal round in Pasadena in light of the state's current stay-at-home order in effect throughout Southern California.
The order mandates that residents in the affected region must stay in their houses unless there's an emergency, or to run essential errands. Events, including professional and college football, are allowed so long as there are no people in attendance.
Brian Kelly Likes the Idea of Rose Bowl … in Vegas
This is where Notre Dame coach Brian Kelly decided to weigh in. He said he doesn't want his program to be part of the Rose Bowl if families can't be in attendance.
"If not sure if we'll play in the playoffs if parents can't be there," he said in a Friday press conference. "Why can't it be the Rose Bowl in Las Vegas? Why can't it be the Rose Bowl in another town? Where's the flexibility? We're worshipping the ashes of tradition. They're not thinking about the student-athlete, and that's the issue."
Clemson coach Dabo Swinney had a similar take on Friday, but didn't go as far as to say playing at a specific stadium with some pandemic-related restrictions is "worshipping the ashes of tradition."
"There are plenty of venues," Swinney said. "If it doesn't work out [for families to attend], punt and push it to next year. You try to have fairness for the four playoff teams."
Kelly's comments came as a wave of death and a deluge of terminal cases overwhelms California's healthcare system. Since the first week of December, the state has experienced a surge of the virus unparalleled in number anywhere in the US.
There are Few ICU Beds Left in California, Football Debate Slogs On
ICU bed capacity has plunged to zero in many parts of the state, including in most of Southern California.
"We're experiencing an explosive and very deadly surge," Los Angeles County Public Health Director Dr. Barbara Ferrer said in a press conference on Friday.
State and local officials are enforcing and bolstering quarantine protocols, but the aggressive stay-at-home measures already in place haven't yet slowed the spread. As of Friday, California was reporting an average of nearly 40,000 new cases per day.
As a result, one option discussed by the CFP committee this week is to move the semi-final game to AT&T Stadium in Arlington, Texas, home of the Cotton Bowl. Greg Sankey, the SEC Commissioner and a member of the CFP management committee, denied the suggestion that his conference is driving to move the game further east, and to a state with more relaxed COVID-19 protocols.
"Any implication that the SEC is part of a proactive charge of lobbying effort to change the location of any CFP location is inaccurate," he said Monday.
Still, it appears that if ACC coaches have their way, Sankey and his fellow commissioners will get their venue.