While the College Football Playoff attempted to maintain some buzz about the playoffs that will be — and the season that wasn't — the developing story Sunday was seasons cut short amidst a new pandemic spike.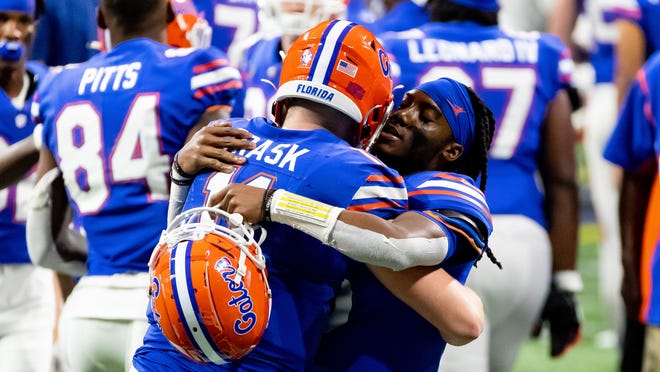 It started late Saturday night as the CFP committee made the awaited announcement that the Rose Bowl Game will move from Pasadena, CA, to Arlington, TX.
Unparalleled Times Bring Dramatic Decisions as CFP Plugs Along
The last time the granddaddy of all bowl games was played outside the confines of Arroyo Seco was in 1942 when Oregon State and Duke competed in Durham, NC, because the West Coast was deemed unsafe after the Japanese attacks on Pearl Harbor on Dec. 7, 1941.
It's been that kind of historic year with teams and individual athletes seeing rivalries canceled after a century, seasons cut short or even not started due to COVID-19, health and safety warnings from the mayors of every college town in the Big Ten, and finally—programs and players saying they've had enough.
Georgia Bulldogs' Mass Exodus and Florida's Star Tight End Gone
After being shut out of the CFP, Georgia started shedding athletes early Sunday, including cornerbacks Eric Stokes and DJ Daniel, safety Richard LeCoute, linebacker Monty Rice, center Trey Hill, tight end Tre' McKitty, right guard Ben Cleveland, and wideout Mark Webb.
Florida's star tight end, Kyle Pitts, opted out of the Cotton Bowl that will pit the No. 7 Gators against No. 6 Oklahoma on Dec. 30 at AT&T Stadium in Arlington, TX.
Pitts, a true junior and projected top 10 pick, wrote on his social media accounts Sunday morning that "I will forego my senior season and enter the 2021 NFL Draft. and will not be playing in the bowl game. I am eager to pursue my dreams of playing in the NFL, but I will always be a Gator. 84 Out."
Following Florida's 52-46 loss Saturday to No. 1 Alabama, Gators' head coach Dan Mullen, expecting a wave of players to defect, said the loss was likely the final time that iteration of his team will take the field together.
"That was the last time this team will play together, I imagine," Mullen said Saturday in the post-game interview. "Whatever the future holds, I imagine this team as a whole of how it is will be the last one played here."
More individuals, especially those with NFL aspirations, are expected to take to their social media accounts and bid farewell. The number of programs making the preemptive move to cancel seasons altogether, even while bowl eligible, grew to 22.
Pac-12, Big Ten, and ACC Programs Start Shutting Down
These Football Bowl Subdivision (FBS) schools rushed to release statements Sunday morning on their cancelations. Seven Pac-12 programs, including UCLA and USC, located in the middle of the nation's pandemic hot zone, are done. Six ACC teams opted out Sunday as well.
Big Ten bowl-eligible programs Maryland, Michigan State, Minnesota, and Penn State, are all calling it a wrap, with a handful more expected to make formal announcements over the next couple of days. Minnesota Golden Gophers' head coach PJ Fleck painted the starkest picture of what bowl season looks like for a player in 2020.
"Everything shut down. Can't go anywhere," Fleck said. "And the thought of your son on Christmas morning having a box lunch, sitting in the room because he can't go anywhere. That's Christmas."
---
No Bowl: FBS Bowl-Eligible Schools Opting Out
Arizona State
Boise State
Boston College
Florida State
Georgia Tech
Kansas State
Louisville
Maryland
Michigan State
Minnesota
Penn State
Pitt
San Diego State
SMU
Stanford
UCLA
USC
Utah
Virginia
Virginia Tech
Washington
Washington State
---
With no schools to play in them, half (16 out of 32) bowl games have been canceled, including the College Football Playoff semifinals and national championship. As if all this isn't absurd enough, the absence of active, bowl-eligible programs has led to a phenomenon never before seen: five schools from a single conference (the SEC), all with losing records, will play in bowl games.
SEC teams below .500 going bowling:

— 2-8 South Carolina (Gasparilla)
— 4-6 Kentucky (Gator)
— 3-7 Arkansas (Texas)
— 3-6 Tennessee (Liberty)
— 2-7 MissState (Armed Forces)

— Bryan Fischer (@BryanDFischer) December 20, 2020
---
Canceled Bowl Games
Birmingham Bowl (ACC vs. SEC)
Frisco Bowl (SMU vs. UTSA)
Guaranteed Rate Bowl (Big 12 vs. Pac-12)
Bahamas Bowl (C-USA vs. MAC)
Celebration Bowl (MEAC vs. SWAC)
Fenway Bowl (AAC vs. ACC)
Hawaii Bowl (AAC vs. Mountain West)
Holiday Bowl (ACC vs. Pac-12)
Independence Bowl (Army vs. TBD)
Las Vegas Bowl (Pac-12 vs. SEC)
Los Angeles Bowl (Pac-12 vs. Mountain West)
Military Bowl (ACC vs. American)
Pinstripe Bowl (ACC vs. Big Ten)
Quick Lane Bowl (ACC, Big Ten, MAC)
Redbox Bowl (Big Ten vs. Pac-12)
Sun Bowl (ACC vs. Pac-12)