Alabama head coach Nick Saban disclosed Wednesday he tested positive for COVID-19 earlier this week and presented mild symptoms.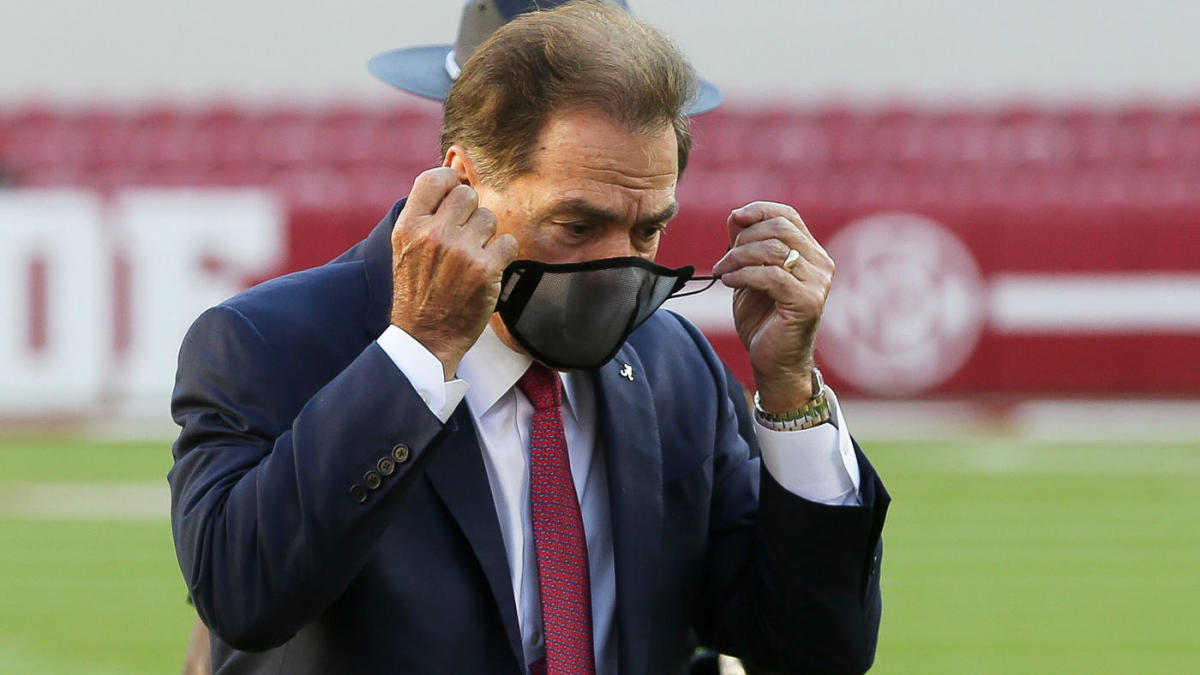 Saban, 69, will quarantine at home for at least 10 days, which means he is ineligible to coach Saturday's game at home against Auburn. Instead, offensive coordinator Steve Sarkisian will take over the headset on Saturday. Alabama, which opened at -23.5, has become slightly more of a favorite (-24.5) at most sportsbooks following the news.
"This morning, we received notification that coach Saban tested positive for COVID-19," Dr. Jimmy Robinson and Alabama head trainer Jeff Allen said in a joint statement. "This test will not be categorized as a potential false positive. He will follow all appropriate guidelines and isolate at home."
Saban Could Return for Arkansas if Symptom-Free
Saban's earliest possible return to the team is the Friday before the Dec. 5 game at Arkansas, assuming he is symptom-free. SEC protocol states individuals must have at least a day "since last fever without the use of fever-reducing medications and symptom improvement."
Saban said he'll watch the game from home from a closed-circuit feed, though he cannot coach remotely.
"We have a lot of very capable coaches," he said in a phone call from his home Wednesday afternoon. "And the biggest thing I'm going to miss about it is being with our players, being a part of our team, and helping those players have the best opportunity to be successful."
On Oct. 14, Saban received a false positive test, but later had a trio of negative results and coached Alabama's win over Georgia. The Crimson Tide are currently No. 1 in the College Football Playoff rankings.
Oklahoma vs. West Virginia Shuffled
On Wednesday evening, news came down that No. 14 Oklahoma has paused team activities due to recent positive COVID-19 tests and contact tracing.
The Sooners' Saturday night game at West Virginia has been postponed, and the game is tentatively rescheduled for Dec. 12.
This is the third Big 12 conference game postponed this season. The other two, Oklahoma State at Baylor and Texas at Kansas, also have Dec. 12 make-ups scheduled.
Turkey Day Shootout in Mountain West Cancelled
The Mountain West Conference Wednesday canceled Thanksgiving night's Colorado State at Air Force game because of coronavirus cases and contract tracing, leaving the Rams' program short.
The conference declared the game a no-contest.
Cincinnati vs. Temple is Off
The American Athletic Conference announced Wednesday that No. 7 Cincinnati at Temple on Saturday is off the board. The game may be rescheduled for Dec. 5 when both schools have a bye week.
"The American's return-to-play protocols would not allow for a sufficient number of student-athletes to be available for competition on that date," the AAC's statement said.
The Bearcats will return to play Dec. 12 at Tulsa if Tulsa is healthy (see: below) and are on track to play in their conference championship game the following week.
Other Week 13 Cancellations
Big Ten:
Minnesota at Wisconsin: The matchup is canceled as Minnesota puts its program on pause after nine athletes and six staff members tested positive for COVID-19 this week. No. 16 Wisconsin is now ineligible for the Big 10 Conference Championship game. 
SEC: 
Arkansas at Missouri: The matchup is postponed due to positive tests in the Razorbacks program. Missouri rescheduled to play Vanderbilt on Saturday.
Pac-12:
Washington at Washington State: The game is declared a no contest.
Utah at Arizona State: ASU failed to meet the requirement for minimum scholarship players available. The game is declared a no contest. With their seasons in jeopardy, both teams could finish 0-1. 
Mountain West:
San Diego State at Fresno State: The game is declared a no contest.
Conference USA:
Louisiana Tech at FIU: The game is declared a no contest. 
Tulsa at Houston: This is the seventh cancellation or postponement this season for Tulsa. The game is declared a no contest.